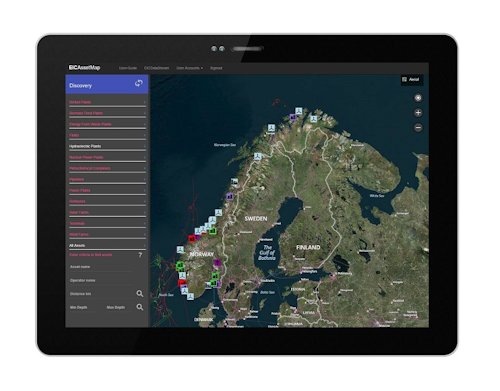 Offshore staff
STAVANGER, Norway– The Energy Industries Council (EIC) has launched its newly upgraded opex database, EICAssetMap, at ONS 2018.
The tablet friendly database now displays more than 800 Norwegian producing assets in addition to more than 2,000 UK energy facilities. Including onshore and offshore developments across the oil and gas, power, nuclear and renewables industries, it is the only O&M database of its type to cover all energy sectors.
Users can search for facilities by location, sector, and operator. As well as giving an overview of the asset, it also provides contact information for the site operator and many of its contractors. Updated daily by the EIC's analysts, the database charts the full lifecycle of plants from start-up through to decommissioning.
EIC Head of Oil and Gas and Business Development Neil Golding said: "The newly upgraded EICAssetMap now enables users to win work in the highly lucrative Norwegian opex market as well as in the UK.
"Used in conjunction with our capex project database EICDataStream, our members can now track developments from feasibility studies to start-up right through to decommissioning – the complete project lifecycle."
At ONS 2018, EIC is hosting the UK pavilion.
08/27/2018