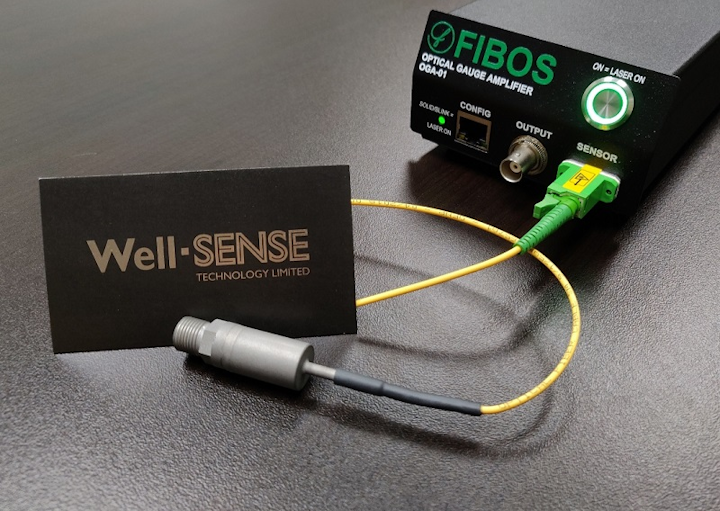 Offshore staff
HOUSTON – Well-SENSE has introduced a miniature optical pressure-temperature gauge as part of its FiberLine Intervention (FLI) system.
The gauge is said to expand the well surveillance application envelope for FLI offshore and onshore, providing a lower-cost and disposable alternative to permanent downhole sensors and other electronic logging devices.
Well-SENSE adds that in combination with FLI's other features, such as a simple deployment mechanism and distributed sensing, the gauge can deliver savings of 50-90% compared to conventional logging methods.
The optical gauge is a Fiber Bragg grating-based device with no electronics, batteries, external connections or power supply requirement.
It is integrated into the fiber line and is suited to harsh environments, with the capability to measure up to 10,000 psi (689 bar) and 150°C (302°F), optionally enhanced to 20,000 psi (1,379 bar) and 300°C (572°F).
The Aberdeen-based company has developed its technology in partnership with Toronto-headquartered optical sensor specialist Fibos. The new gauge, which is around 10 cu mm in size, can be combined with other sensors and incorporated inside Well-SENSE's smallest FLI probe, allowing deployment in narrow access wells to log data during descent and to capture bottom hole temperature and pressure over time.
It can be left in the well with the FLI system for months if need be, streaming real-time, live well data along the optical fiber back to surface.
Well-SENSE CEO Craig Feherty, said: "Typically, optical sensors have been combined into complex well surveillance systems which are costly and deliver sophisticated levels of capability. Systems run in wireline require either batteries or electrical power and also need specialist equipment to be deployed, which inflates operational costs…
"The [new] technology is…sensitive to suit high value production logging operations, whilst the flexibility and simplicity of the FLI system allows it to access places in the well that wireline sensors physically can't at a much lower cost."
Well-SENSE is exhibiting at stand 1161-1.
05/07/2019