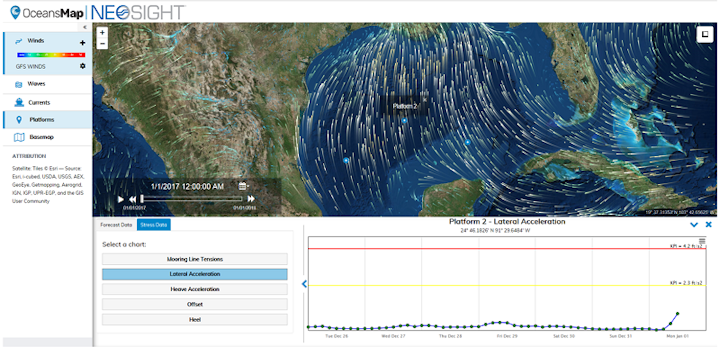 Offshore staff
HOUSTON – Stress Engineering Services Inc. (SES) and RPS Group have implemented their respective products, NeoSight FPS and OceansMap as a pilot program for Shell. These previously separate tools have been fully integrated to improve management of floating production facilities.
The pilot program provides Shell with automation, digitalization, and data analysis techniques and is said to enable users to make more informed decisions for asset management. The program focuses on facility motions, riser and tendon response data and environmental data. Future phases of the program will incorporate other asset information to provide a single pane of glass solution to monitor system performance.
Ilkay Darilmaz, robotics and automation technology lead at Shell Deepwater Technology, said: "The NeoSight system will be an important element in our digital asset integrity management plan. The system enables us to manage our assets more proactively by providing: a visual dashboard; indications of the current condition of our assets; a unique advisory system equipped with pre-set key performance indicators; and optimized inspection frequencies to ensure structural integrity."
NeoSight FPS is a digital twin for floating production systems built on SES' proprietary NeoSight platform. It leverages physics-based models and data science algorithms to provide integrity management and operational support. The system, the company said, is also well suited to provide life extension assessments.
Dr. Kenneth Bhalla, SES senior principal / chief technology officer, said: "NeoSight FPS utilizes our proven global performance, mooring and riser analysis software, RAMS. The NeoSight FPS tool is able to provide predicted responses of the entire facility, including stress and fatigue along the entire length of tendons, mooring lines, risers and umbilicals using only environmental data. The system is capable of simulating any floating facility type, including FPSOs, spars, semisubmersibles and TLPs."
OceansMap was originally developed by RPS to aggregate and manage global, regional, and local metocean data. It is used by major oil companies and mission critical agencies such as the US Coast Guard to support global search and rescue activities.
Eoin Howlett, RPS Group's executive director, said: "OceansMap combines sophisticated data visualization capabilities with data analysis tools and robust web services to facilitate exploration and discovery of weather and ocean data. It enables the seamless integration of external data sources, NeoSight and other RPS tools. These data can then be visualized to create everything from data plots to stunning map-based animations. This latest implementation expands OceansMap's capabilities by moving beyond metocean data to include information regarding asset health and performance."
05/06/2019