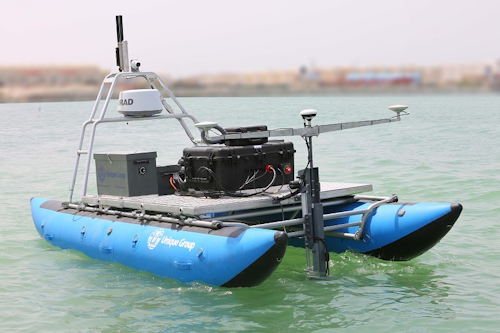 Offshore staff
SOUTHAMPTON, UK– Unique Group has designed and developed its first unmanned surface vehicle (USV) called Uni-Cat.
With proven hydrographic survey capabilities, the Uni-Cat can be used for bathymetry survey offshore and in shallow waters. It is said to be ideal to be used in locations where conventional survey methods are not feasible.
The new USV is purpose built with a long-lasting battery and the endurance of the boat can be customized to client requirements by mounting different sonars and ancillary sensors suitable for hydrographic, search and recovery, oceanography and monitoring as well as inspection surveys.
The Uni-Cat has a 16-ft (5-m) Cataraft platform and is designed to provide ease of mobility and operability in areas which are difficult to access. The boat is integrated with multibeam, ancillary sensors and communication links into a remote-controlled platform for quick and easy deployment. It also has a real-time positioning and obstacle warning alarm unit along with a heading sensor for safe and guided navigation.
04/09/2019