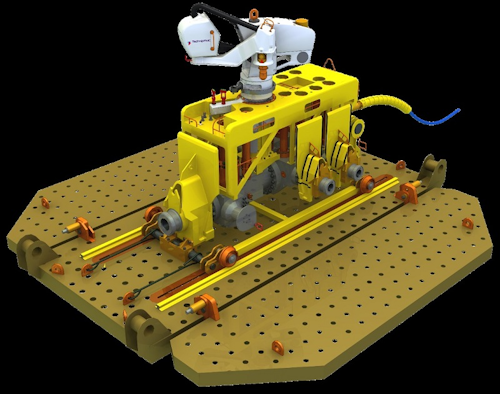 Offshore staff
HOUSTON– TechnipFMC has won an OTC Spotlight Award for the for its Subsea 2.0 in-line compact robotic manifold design.
The compact manifold design reduces size, weight, and manufacturing cost. It incorporates a robotic arm for valve actuation, can be installed using the same vessel laying the flowline, and increases the flexibility for capex over the life of the field.
The product is designed to be half the size and weight of its conventional counterpart and reduces cost and delivery up to 30%. In addition, its production schedule can be compressed up to 30%, providing faster time to first oil and return on investment, the company said.
The new compact manifold integrates all the functions of the conventional manifold pipe work and structure into a few cross drilled blocks with integral valve cavities and common interfaces to bolt on the branch and header hubs. All hydraulic functions have been eliminated, the company said, to further reduce the complexity through the use of manually operated valves. The result is a simpler manifold that can be produced with 10-times fewer parts and requires no structure for support or lifting.
The leaner, smarter design is said to eliminate the fabrication complexity of welded pipe, bends, fittings and other structures. Its compact size and in-line feature offer more installation options and flexibility throughout the life-of-field.
The in-line compact manifold is optionally coupled with an integrated robot that operates the manual valves assembled into the block. The robotic valve controller is an all-electric system operated by the topsides master control station. The valves can be manually, hydraulically, or electrically actuated.
At OTC 2019, TechnipFMC will exhibit at booth #2038.
03/28/2019