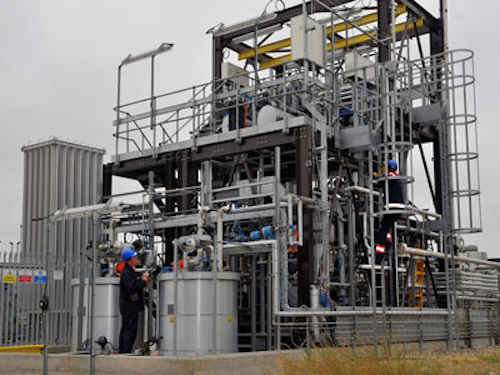 Offshore staff
TEESSIDE, UK – Gas reforming company Gas2 has achieved a breakthrough at its natural gas-to-liquids test facility in northeast England.
The company has commissioned and started up the Fischer Tropsch (FT) reactor at the 3 b/d Wilton Research Centerpilot plant, using syngas formed in the syngas reactor to produce hydrocarbon liquids.
The syngas reactor has been operating at a range of operating pressures, with minimal loss of conversion at higher pressures, the company says.
Gas-to-liquids (GTL) is a two-step petrochemical process to convert natural (methane-rich) gas into liquid hydrocarbons such as synthetic crude oil (syncrude). Synthesis gas (syngas) is generated from a combination of natural gas and oxygenate. FT reactor units then convert the syngas into GTL fuels.
Gas2' says its GTL system is less complex than other GTL processes, one advantage being the elimination of the intermediate compression stage between syngas and FT reactors. This could help cut capital and operating costs.
Operating syngas reactors at higher pressures with minimal loss of conversion, the company adds, is critical to intermediate compression elimination.
Managing director Fleming said: "We are developing a modular system which will offer significant economic and environmental advantages, with higher hydrocarbon conversion rates than existing technologies."
Next priorities will be to optimize the syngas reactor design and to run further parametric tests on the FT reactors ahead of scale-up engineering.
Applications for the Gas2 GTL technology include development of smaller, more remote gas reserves far from infrastructure, and providing a disposal solution for offshore associated gas, rendering flaring unnecessary.
This would facilitate development of remote oil fields where flaring is prohibited and/or where gas reinjection wells are either too costly or potentially detrimental to reservoir performance.
01/29/2014