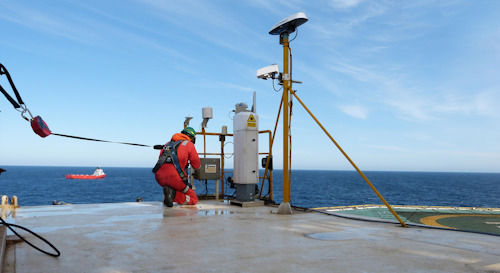 Offshore staff
WALLINGFORD, UK – When Aberdeen-based Diamond Offshore wanted to add new functionality to the existing helideck monitoring system on the Ocean Guardian drilling rig in the North Sea, Fugro developed and delivered a fully integrated, user-friendly solution to fulfil the requirements.
Diamond Offshore and its client wanted to better understand the correlation between the wind, waves, and the performance of the rig anchoring system, along with accurate station keeping, particularly during storm events.
Fugro GEOS Managing Director Anthony Gaffney says, "Our standard helideck weather and motion monitoring system was already on board theOcean Guardian and recently we've expanded this to include wave monitoring and made live data available online to support oil and gas UK helicopter operations."
Diamond Offshore wanted added accuracy in positioning and anchor tension but did not want three separate systems. Fugro integrated rig positioning and anchor tensioning, bringing together multiple sources of information so that real-time data was correlated within a single system.
TheOcean Guardian's enhanced monitoring now includes helideck monitoring of weather, cloud, visibility, and helideck motion, as well as wave and air gap data for ballasting operations. It produces data on positioning, anchor mooring tensions, rig motion (heave, pitch and roll at the moon pool), and excursion monitoring around the wellhead. It also provides tidal predictions and compares weather forecasting with live observations.
08/04/2014