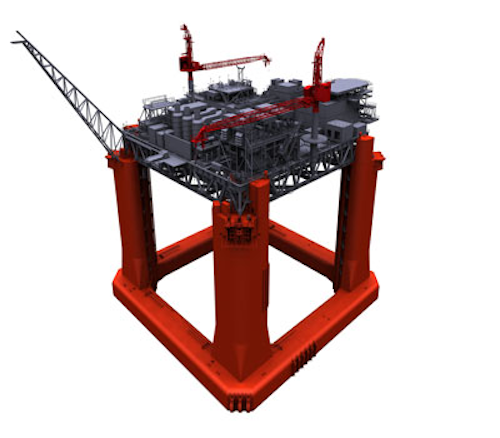 Offshore staff
HOUSTON – 2H Offshore will conduct detailed design on a steel catenary riser system for LLOG's Delta House development in the deepwater Gulf of Mexico.
The production and export risers will be tied back to the Exmar OPTI-11000 semisubmersible to be moored in 4,500-ft (1,372-m) water depths in Mississippi Canyon block 254.
LLOG is currently developing the Marmalard field, in MC block 300, and the SOB2 field, in MC block 431, as tiebacks to the FPU, with first production slated for 1Q 2015. Plans call for five additional LLOG-operated fields to tie back to the semi, which is similar in design to theExmar OPTI-EX unit serving LLOG's Who Dat development in the deepwater GoM.
The Delta House FPU will have a production capacity of 100,000 bo/d and 240 MMcfd of gas. The unit will be able to accommodate up to 20 risers, or nine fields with dual flowlines.
"2H has supported and provided riser engineering services to Exmar since 2005 in their development of the OPTI-EX semisubmersible which was used to develop LLOG's Who Dat Field," said 2H Offshore Inc. VP David Walters. "We look forward to providing our expertise in detailed design on the first SCRs attached to the OPTI-11000 semi-submersible."
02/28/2013