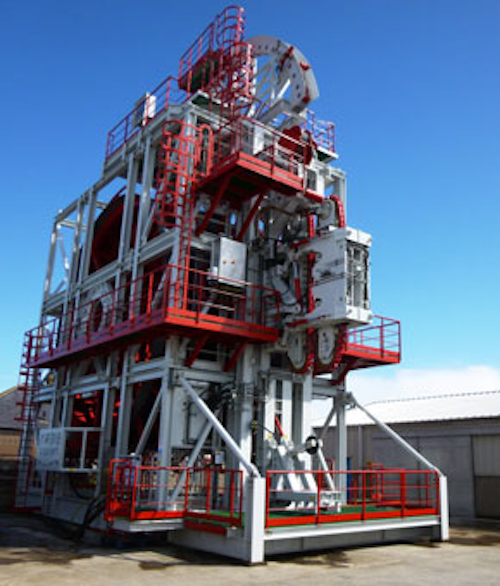 Offshore staff
PORTSMOUTH, UK – Magma Global has introduced a flexible pipe deployment and retrieval system.
The Integrated Deployment Package (IDP), which uses 3,000 m (10,000 ft) ofm-pipe, Magma's lightweight carbon composite pipe, is designed for high flow rate, high-pressure hydraulic pumping from the back-deck of small vessels.
Magma claims the system reduces the risk and costs of light well intervention and can provide time savings for this task of around 30% over most offshore light well intervention operations with coiled tube.
The IDP is a compact, multi-function system designed for installation, retrieval and storage of 3-in. 15ksi m-pipe, a high-strengthcarbon fiber and Victrex PEEK thermoplastic composite pipe said to be one-tenth the weight in water of equivalent steel or non-bonded flexible pipe.
With the IDP, m-pipe can be deployed through the moonpool or the side of the vessel.
Following tests in the UK, the system will be transported during the fall to the Gulf of Mexico for use by operators on a day rate rental by the end of 2016.
Magma claims the combination of the IDP's flexibility and durability, and the ability of m-pipe to withstand fatigue, pressure, high temperatures and corrosive intervention fluids, means the entire system can used on multiple intervention projects over many years.
Steve Hatton, technical director, said: "We knew operators were seeking an integrated pumping system they could rely on, to tackle the limitations of coiled tube for deepwater, high flow rate pumping and light well intervention...
"What we have now is a compact and fully integrated package that takes up minimum back-deck space, and which allows us to deploy our m-pipe to provide high pressure, high flow rate intervention fluid pumping to the depth of any current subsea well."
05/18/2016
Share your news withOffshore at news@offshore-mag.com