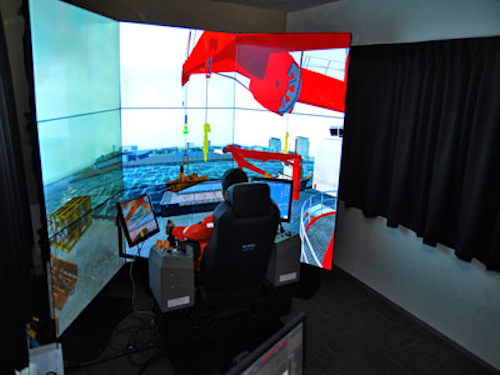 Offshore staff
SCHIEDAM, the Netherlands – Huisman has added an offshore mast crane simulator at its service facility in Singapore.
This will be used for regular or customized education/training purposes and for investigations into any type of Huisman crane.
The simulator combines all options available in the company'scrane range, such as a main and auxiliary hoist, tuggers, and a heave compensation system.
Operations are simulated through use of nine screens and an operator chair with crane controls in order to create a realistic operating experience.
It is equipped as a 400-metric ton (441-ton) offshore mast crane but can be adjusted to other Huisman crane types if requested.
Training scenarios include simulated effects on the vessel, crane, and load caused by sea state, wave, current, wind, and atmospheric conditions.
In addition, engineers, crane inspectors, and marine surveyors of insurance companies can use the facility to perform engineered lifts in simulated environments, i.e. high-risk lifts.
Huisman's other two simulators, a 400-metric ton offshore mast crane and a dual multi-purpose drill tower, are at its academy in the Netherlands.
A fourth simulator, a copy of the new one at Huisman Far East, is under construction at Huisman North America Services in Rosenberg, Texas, in the Houston area.
05/26/2016
Share your news withOffshore at news@offshore-mag.com