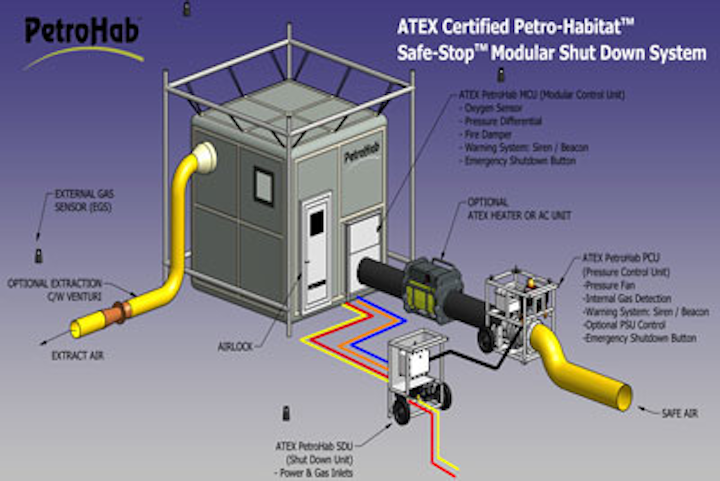 Offshore staff
HOUSTON– PetroHab will introduce its ATEX certified Safe-Stop automatic shut down system during OTC at NRG Park.
Designed and manufactured in Dundee, Scotland, the Safe-Stop modular shut down system (MSDS) works in conjunction with the US-made pressurized Petro-Habitat hot work safety enclosure (HWSE).
By continuously monitoring the pressure inside the Petro-Habitat HWSE, the new system enhances safety by only allowing hot work to be conducted inside the HWSE if the air pressure within it exceeds the air pressure outside of it, thereby creating what is often referred to as a "positive pressure environment." This serves to prevent unwanted flammable gases from entering the enclosure, which allows hot work to be safely undertaken in the Petro-Habitat, without the need to shut down the facility where the hot work is to take place.
The Safe-Stop system consists of three main components: the modular control unit (MCU), the pressure control unit (PCU), and the shut down unit (SDU). The MCU is incorporated into one of the wall panels of the Petro-Habitat. The operating airflow inlet, fire damper, and oxygen sensor are housed in the compact MCU. A pressure differential sensor, and siren and beacon warning system, are also part of the MCU, while the PCU contains the main control unit, H2S and methane gas detection, a fan to pressurize the habitat, as well as an additional siren and beacon.
Upon detecting either a loss of pressure, or high or low oxygen levels inside the enclosure, the ATEX Zone 1 system will automatically shut down the hot work operations, while keeping the intake blower running in order to pressurize the Petro-Habitat. Should any hazardous gases be detected in the feed to the PCU, the new system will shut down both the hot work operations and the flow of air.
Hermann Twickler, managing director of PetroHab Ltd. in Dundee, said: "The Safe-Stop MSDS system was designed with the end user's gas detection and safety needs and requirements in mind. Among the many functions that the Safe-Stop system performs are the monitoring of pressure within the Petro-Habitat and the detection of various gases both inside and outside the HWSE."
PetroHab is exhibiting at booth #574.