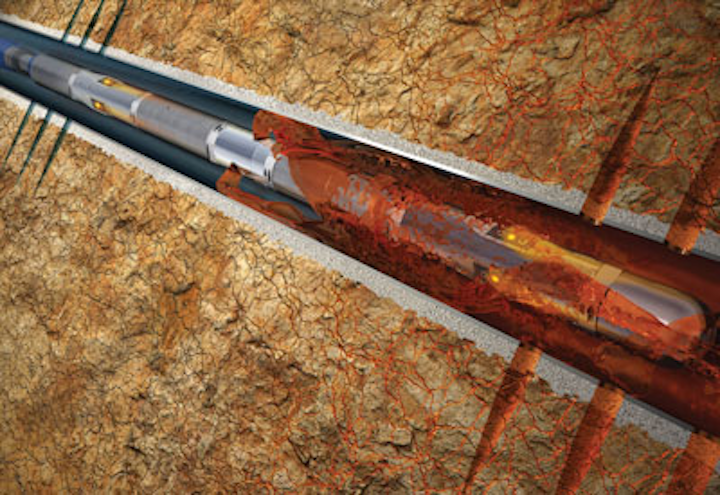 Offshore staff
HOUSTON – Schlumberger has unveiled the ACTive Q coiled tubing real-time downhole flow measurement service, which delivers real-time injection diagnostics and treatment evaluation in one run in a well. 
Amerino Gatti, president of Well Services, Schlumberger, said: "Fluid injection monitoring and placement often requires customers to reach conclusions through trial and error or time-consuming logging operations.
"With the ability to measure pressure, temperature and fluid velocity in real time during interventions, the ACTive Q service improves our customers' understanding of downhole wellbore and reservoir behaviors while intervention is ongoing. This helps facilitate customers' decision making and improve the effectiveness of treatment placement."
With the new service, which couples fiber-optic telemetry and calorimetric flow measurements, users can evaluate the flow rate contribution to each interval, review the data in real time, and adjust the pumping schedule as needed for diversion and subsequent stimulation stages.
The service has provided real-time flow measurement information for several operators in the Middle East, North Africa, and Central America. For example, when a water injector well in the Sabriya field exhibited falling injection rates and an increase in injection wellhead pressure, Kuwait Oil Co. wanted to effectively target sections that needed stimulation or diversion while avoiding additional logging runs.
Using the ACTive Q service, two primary thief zones at each extremity of the well were identified. The middle section that was not taking any fluid was targeted for acid placement. As a result, the wellhead injection pressure decreased from 1,000 psi to 0 psi with a constant injection rate of 8 bbl/min.
In addition, the ability to combine real-time flow monitoring, injection profiling, and acid stimulation in a single run reduced costs by eliminating three days of operations.
03/23/2016
Share your news withOffshoreat news@offshore-mag.com