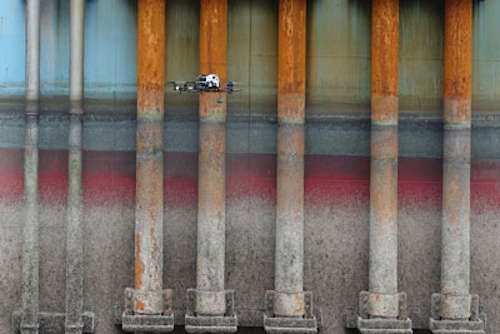 Offshore staff
LONDON – Lloyd's Register (LR) has issued the first phase of its guidance notes for drones, otherwise known as unmanned aircraft systems (UAS). These are designed in part to give operators confidence in using UASs for offshore surveys and in-service inspections.
LR's chief technology officer Nial McCollam said: "We are developing these guidance notes to provide a consistent approach to risk in UAS and drone deployment, offering practical operational considerations relating to regulations, personnel, quality, safety, hardware, software, and operations."
UASs provide an alternative to traditional methods of in-service operational assessment and survey, especially of structures at significant heights, in difficult to access locations or in hazardous environments.
According to LR,Shell and Maersk Drilling are using the technology.
In collaboration with LR, Maersk Drilling and its partners have conducted numerous pilots to assess UAS capabilities for inspection at heights and difficult areas.
Jan Holm, managing director of Maersk Drilling Singapore, said: "One area we want to focus on is the safety aspect of this new technology - how we integrate it with existing safety processes...
"It only takes one or two accidents or near miss reports to set a bad record forrobotics and unmanned systems in the industry, so the guidance notes will help the industry take into consideration important considerations."
The guidance notes will be updated regularly to provide information on issues such as how best to use UAS for inspection in confined spaces, particularly in marine applications where class surveys are needed.
"In addition to tried and tested applications such as safely inspecting assets of flare stacks and other outdoor critical infrastructure, we are collaborating with industry to enable inspection of the undersides of offshore structures maritime vessels and confined spaces such as storage tanks," said an LR official.
"With increasing capabilities, we believe UAS will in the future have the ability to autonomously follow a pre-defined flight path, enabling higher measurement accuracy and repetition of collecting more relevant data and operational defects while inspecting and data-gathering in real-time."
03/22/2016
Share your news withOffshore at news@offshore-mag.com