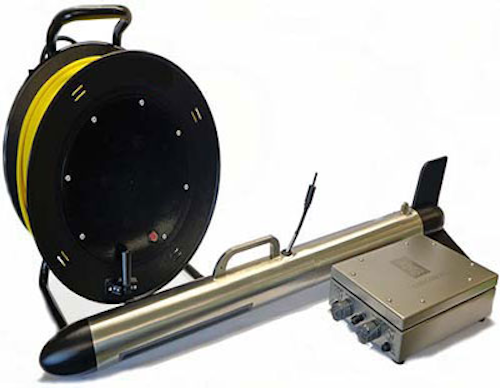 Offshore staff
KONGSBERG, Norway –Kongsberg Maritime has introduced a new tow fish side scan sonar for use in search and recovery, underwater inspection, and engineering and scientific surveys. Developed by Kongsberg Geoacoustics, PulSAR is designed for deployment by non-specialized personnel, enabling short-notice surveys from vessels of opportunity.
PulSAR acquires high-resolution acoustic images of the seabed using a stainless steel tow fish operated from a water protected deck unit and cable hand reel. Large areas can be surveyed to show small objects and structures in detail, said Kongsberg PulSAR operates in a frequency range of 600 kHz to 1 MHz and both FM and CW source signals can be selected.
PulSAR is battery or mains powered, using 24 VDC or 110/230 VAC. It has an integrated GPS with SBAS differential corrections and an external positioning system can be connected.
The system is delivered with a dedicated software package to be run on a laptop computer connected via Ethernet to the deck unit. It allows the user to plan and conduct the survey and acquire sonar data with embedded positioning information. The data can be processed, visualised and interpreted in the software package and exported for use in other programs.
01/14/2015