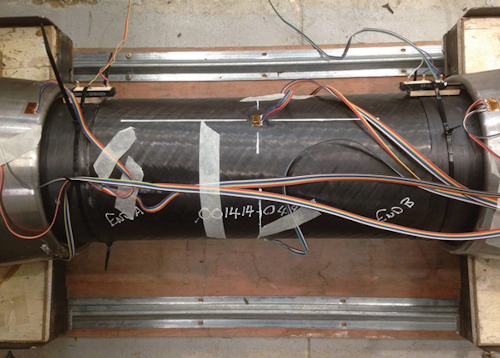 HWCG, adeepwater oil and gas emergency response consortium for the US Gulf of Mexico, has commissioned Magma Global to qualify m-pipe for a 350°F (177°C), 15,000-psig rated riser to augment its emergency well containment system.
The lightweight, flexible m-pipe section, HWCG claims, will enable a quicker response in shallow waters and for floating production facilities where vertical access may be a challenge.
The flexible riser would remain in a ready-for-deployment mode on the US Gulf Coast for deployment following a subsea well blowout. When installed to capture hydrocarbons it could remain in place for up to six months while a relief well is drilled.
The company says the design envisions approximately 800 ft (244 m) of m-pipe connected on one end to a rigid riser and on the other end to the incident well. The m-pipe will form a lazy wave between the two rigid ends thereby decoupling motions and improving operability. Using a temporary flowback solution, hydrocarbons are processed via the riser system and then collected in tankers for transportation.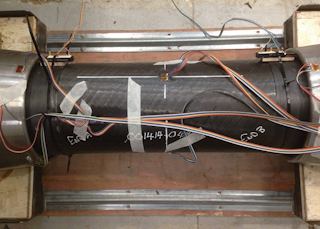 This sample of Magma's m-pipe is about to undergo a burst test and has been fitted with strain gauges to record effects as pressure inside the pipe increases. Displacement transducers will record any movement of the end fittings relative to the pipe. (Courtesy Magma Global)
The consortium requires the flexible section to be lightweight and easy to handle offshore to enable rapid deployment. It must also be resistant to degradation with continuous exposure to hydrocarbons at temperatures up to 350°F, pressures up to 15,000 psi (1,034 bar) and water depths of up to 10,000 ft (3,048 m). Magma will qualify a 6-in. nominal ID m-pipe specimen to meet the specified project requirements before manufacturing the final pipe order.
The consortium's members have identified a range of potential demanding containment scenarios requiring high-pressure/high-temperature performance. HWCG selected m-pipe for its pressure and temperature performance, its lightweight and flexible properties which enable heave compensation at the base of a steel riser, because it is suitable for a wide range of fluids, provides low frictional resistance, and is resistant to abrasion.
Andy Butcher, Test Engineering Manager at Magma Global said: "The m-pipe design has already undergone extensive testing, both to assess materials properties and performance of the carbon fiber composite pipe, and the interface of end fittings to the pipe under typical operating conditions. The operational requirements for the HWCG applications are at temperatures above the normal test conditions. Therefore, Magma will carry out additional testing to confirm m-pipe performs satisfactorily at elevated temperatures for deployments of up to six months.
"These additional tests will include assessing the performance of the pipe and end fittings while subjected to the pressure and higher temperatures required for HWCG. Burst tests will be used to determine the pressure that failure occurs. There will also be tests to assess the long-term effects of pressure combined with the HWCG high temperature requirement. This will involve test items being subjected to a constant pressure while also being maintained at high temperature for six months." •