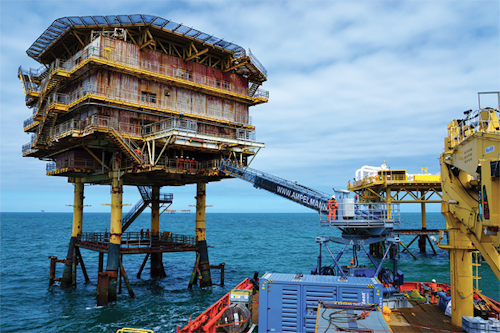 Vincent Thönissen, Ampelmann
Decommissioning donesafely and efficiently is what clients expect, especially so in the North Sea. Ampelmann, an offshore access solutions and services provider, has seen a rise in the demand for its technology to enable the safe and efficient transfer of personnel, utilities, and cargo during the late life and decommissioning of offshore platforms.
Over the past year, the company has worked together with a heavy-lift marine contractor to help prepare an offshore platform in the southern North Sea for decommissioning. With the use of the Ampelmann A-type gangway system, the client was able to reach the multiple landing locations necessary to remove the platform in parts. The A-type also provided a safe escape route in the case of an emergency.
More recently, the company worked on and completed a short shutdown campaign to allow production-enhancing work to take place.
The main challenge in the late life and decommissioning stages of a platform is maintaining efficient operations. Production is decreasing steadily, while it still takes resources to keep all utilities functional. The key is in finding innovative offshore solutions that can keep the last two aligned.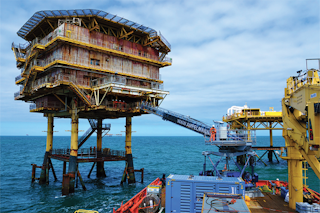 An Ampelmann gangway system assists decommissioning of an offshore platform. (Courtesy Ampelmann)
One of the largest decommissioning expenses for an asset owner is the operation of the facility, including power generation and utilities, also known as 'life support' systems, from when it ceases production to completion.
With full motion compensation technology, operational costs are optimized by extending the weather window, decreasing the duration of campaigns, and providing alternatives to capital-intensive assets, such as jackup rigs and heavy-lift vessels.
Ampelmann is working with the Oil & Gas Technology Centre (OGTC) to develop a life support solution that enables clients to keep operational costs low during late life and decommissioning. Launched in February 2017, the OGTC is a not-for-profit, research and knowledge company, which aims to become the go-to technology center for the oil and gas industry in the UK and globally.
The concept that the two companies are working on essentially uses motion compensation to provide a host of services year-round to maintain aging and dormant facilities awaiting final lift preparations. Utilities such as water, high pressure air, diesel, and power can be delivered with personnel on a dedicated vessel. It is a scalable, modular, and a re-useable system along with being capable of providing piece meal decommissioning services also by use of its innovative motion compensated lifting platform.
OGTC and Ampelmann are in the feasibility stage of the project actively looking for industry input and potential partners. Decommissioning as well as most of the offshore access industry is becoming increasingly collaborative. It is plugging in the right solution at the right time. By working together, various industry stakeholders can combine innovative solutions and services to get the most out of their decommissioning operations. •