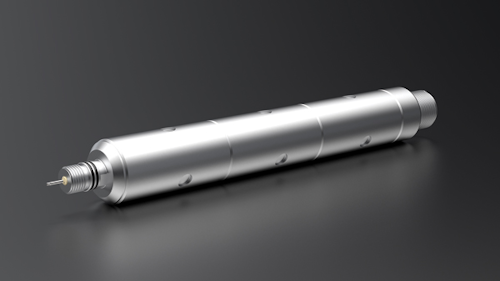 DynaEnergetics reportsthat it has achieved a 100% success rate on field trials of its new DS Trinity perforating system. The company says that DS Trinity, which features three charges on a single plane, is a member of the DynaStage family of factory-assembled, performance-assured perforating systems. The field trials were conducted in six-inch casing using a four-inch OD (outer diameter) DS Trinity system. 
The patent-pending DS Trinity was designed to deliver a cost-effective, length-optimized solution that provides operators with greater flexibility in designing their oil and gas well completions. At eight inches in length, DS Trinity is up to 3.5 times shorter than conventional perforating guns, enabling much higher gun counts per stage.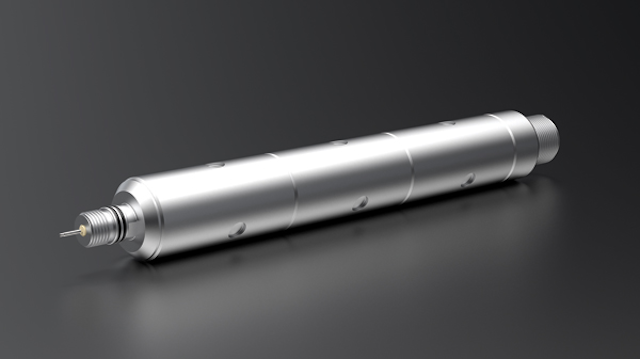 The DS Trinity has been designed to deliver a cost-effective, length-optimized solution for oil and gas well completions. (Courtesy DynaEnergetics)
The reduced length was achieved by aligning the charges on a plane, versus the traditional spiral placement of charges down the length of a gun. The system also eliminates the sub adaptor typically used to connect adjacent guns in a string. The optimized length enables customers to run more guns per stage or reduce the required height of rig-up cranes and pressure control equipment.
In one of the recent field trials, the customer successfully shot 32 stages in six-inch casing. The customer utilized 25 4-inch DS Trinity systems per stage and perforated in 10-ft increments. The trial was completed with charges that provided the caliber equivalent of a four-shot gun.
The four-inch guns were used in lieu of typical 3 1/8-in. guns to minimize the gap between the gun body and casing. This created more consistent perforations and improved overall fracture stimulation. The system also enabled accelerated pump down operations and reduced water usage. Based on the success of the trials, the operator said it plans to complete additional jobs in the coming months using the 4-inch DS Trinity system. •