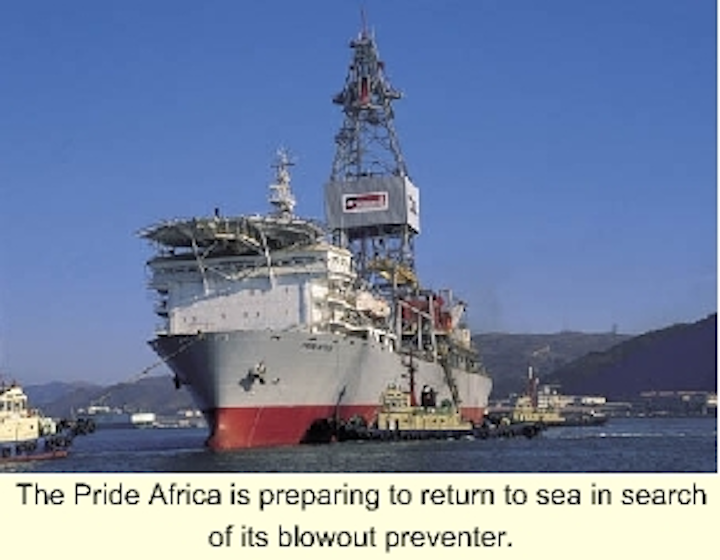 Pride Africa preparing for riser recovery
The Pride Africa ultra-deepwater drillship has received several lucky breaks in the wake of its loss of BOP and riser in early November last year. Gary Casswell, Vice President, Eastern Hemisphere for Pride International said the vessel has completed minor repairs in a shipyard in Cape Town, South Africa. Some of the vessel's damaged top drive system (TDS) rails were replaced.
In addition, the drillship underwent a rigorous inspection. On December 23 the Pride Africa launched recovery efforts for the BOP stack and riser joints lost due to an equipment failure. The BOP stack and one and a half joints of riser are resting in the silt bottom, 25 meters below the seabed. There are 28 joints of riser, which also fell to the seafloor, in 5,300-ft water depths, but did not sink below the seabed.
He said a variety of excavation and recovery methods are being considered for the job, but Pride is not relying on the success of these operations. Replacement parts are already on order or en route to the vessel. "We've prepared for the worst and are hoping for the best," Casswell said.
He explained that the traveling equipment and substructure were re-certified by DNV to ensure they are fit for service. The vessel will complete recovery operations in Angola before returning to Cape Town to install the TDS and blowout preventer (BOP). Pride expects the vessel to recommence drilling operations in April. Casswell said the company was fortunate to get several key replacement components that were already under construction, rather than starting at the back of the line.
Pride will install a new top drive, already under construction, and a BOP stack and control system that was built for another project. Replacement joints of riser pipe are being delivered. Casswell said other contractors have been very helpful in assisting Pride.
Riser-in-storage being considered
Recent deepwater riser accidents have focused increasing interest on a plan by Kvaerner Baker to develop a deepwater riser on speculation. As currently conceived, the system could take the place of a dropped riser on a temporary basis. Apart from the expense of the hardware, which is insured, the biggest loss for a contractor dropping a deepwater riser is the lost time waiting for the manufacture of a replacement.
Because risers are unique in design, it is rare that replacement components are readily available. If it takes too long to acquire a replacement riser string, the contractor may run the risk of losing his contract under a "Force Majeure." Such a loss in day-rate revenue for one of the new generation ultra-deepwater vessels would be catastrophic.
One proposal Kvaerner is discussing with clients is to have an emergency deep water riser string on the beach waiting in case an accident occurs. Although both recent riser accidents occurred in November of last year, Kvaerner was working on this project before there was a sign of trouble. Neal Prescott, Vice President of Engineering for Kvaerner said, as drilling moved out into ultra-deepwater, his company saw an opportunity to apply its pre-installation expertise, developed in pre-instalation of production risers, to drilling risers.
The speculative riser would be welded up and ready to mobilize on short notice. Prescott said the system would have to be customized to some extent to accommodate the specific depth and location of the well where it would be installed, but this activity would take little time, compared with the length of time required to build a riser system from design.
Using patented technology it developed for pre-installing production risers, Prescott said Kvaerner could bottom tow the riser out to the well site, and install it using a rig hired for that purpose. Once the riser is installed the vessel could continue drilling operations.
Once a replacement riser was available, the spec riser could be removed and stored again for future use. Several issues are still under discussion including who will finance the construction of the riser and how it would be contracted out. Prescott said Kvaerner is in the process of meeting with operators and contractors to see what the industry needs are.
Gemini takes Texaco deep
After the difficulties of the Petronius compliant tower installation, Texaco has maintained a low profile in deepwater, but all that changed this summer when the Gemini subsea development came on line. While not as breathtaking as the giant Petronius tower, which incidentally should begin production in the second half of this year, this project represents a significant step out in depth for Texaco.
Petronius, Texaco's deepest project to date, weighed in at 1,740-ft water depth, while Gemini is situated in 3,393-ft water depth. Located in Mississippi Canyon Block 292, Gemini consists of three wells and ties back an impressive 27.5 miles to an existing platform on Vioska Knoll 900.
The $185-million Gemini project is operated by Texaco at 60% ownership, with Chevron holding the other 40%. Project Manager Gene Coleman said Gemini was completed on June 2 with initial flow rates of 77 MMcf/d of gas and 1,500 b/d of oil. Three subsea wells are connected to a subsea manifold via 4-in. flowlines, which in turn are connected to a termination skip. Flow back to the platform is through 4-in. jumpers from the wells to the subsea manifold and twin 12-in. lines to the platform.
Coleman said this was a fasttrack project - sanction was in January of 1998 and first oil in mid-1999. The key was locating a renovated host facility. VK 900 is a typical 8-pile production platform devoted mostly to oil processing. In order to upgrade the 25-year-old facility to handle a fasttrack, subsea development took a lot of up-front work. The platform had to be capable of handling 240 MMcf/d of gas and export equipment. There was also a need to expand the liquids handling capabilities, a new pigging system, injection system, control system, and two new modules, each weighing about 700 tons. This last meant adding 61% more deck space.
Before all these upgrades could begin the 25-year-old jacket had to undergo extensive inspections to ensure it could handle the extra load. Coleman said the field life is estimated at seven years, but with all the expensive processing equipment being installed on VK 900, it is understandable that the operators would consider tying back other projects to the same facility in the future.