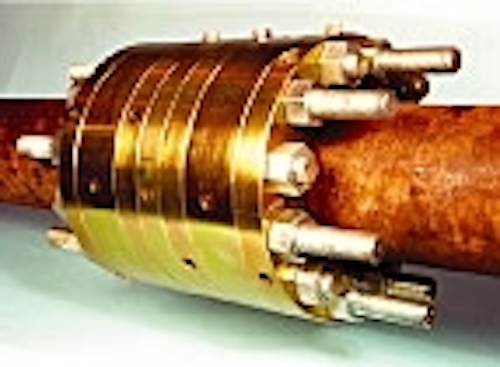 Emergency pipeline repair system
Hydratight Sweeney has introduced the Morgrip Emergency Pipeline Repair System (EPRS). Offshore operators can now repair their damaged subsea pipelines with minimum downtime and cost. The Morgrip seals use non-degradeable, graphite seals yielding an unlimited shelf life and maintained inventory for quick order response.
Oil Adsorption Filter Cartridges
Twin Filter has launched a new range of Oil Adsorption filter cartridges, designed to remove sispersed and dissolved hydrocarbons from water. Oil contaminated water is polished to allowable levels for discharge into most drainage systems. The cartridges can be used in the gas and oil production industry, marine bilge and ballast treatment systems. Features high flow rates, at a low and stable pressure drop to insure overall process economics.
VSAT Mobile voice and data network
Hughes Network Systems has developed a mobile voice and data communications solution using an HNS satellite-based private network for use in the oil and gas industry. Secured data networks allow individual remote facilities to become independent nodes within a specialized network. Improvements to realtime information updating and access to internet and email capabilities are just a few of the benefits realized with the new POGE-8000 data networks.
Hydrographic surveys support software
Trimble Navigation has released an updated version of HYDROpro software. Enhancements include more support for dredging operations, hydro graphic progress surveys, and precise guidance for the dredging operation. Other applications include better positioning and heading information on dredge boats and in the construction of seawall structures.
Safety Instrumented System Poster-Flow Chart
Moore Process Automation Solutions has produced a 4-color poster providing reference information regarding the design of a safety instrumented system (SIS), which monitors a process for potentially dangerous conditions and initiates an action to move it to a safer state in the presence of such conditions. Diagrams and charts illustrate the safety life cycle, safety integrity level (SIL), and the process for developing a system architecture.
AC cutting re-injection power control
In response to regulations limiting the discharge of contaminated drill cuttings at sea, Systems Engineering division of Siemens Industrial Services has developed a new drive and control package designed for accurately controlling positive displacement pumping equipment in cuttings re-injection systems. Anchored by a high performance AC drive, the system yields superior pump speed control and low lifetime costs.
New drilling and fishing tool brochure
The HE Group of Smith Services has published a series of technical brochures featuring its line of drilling and fishing tools. The benefits of Hydra-JarRegistered, AcceleratorRegistered, Hydra-ThrustRegistered, and TTRegistered Jar/Accelerator tools are presented.
Liquid and slurry density measurement system
Automation Products, Inc, manufacturer of DynatrolRegistered Density Systems, designs systems for the measurement of density, specific gravity, API gravity, percent solids, and percent concentration of liquids and slurries. The Density Cell is available in a full spectrum of corrosion-resistant materials and is both weather-tight and explosion-proof.
New 3,000 meter Remotely Operated Vehicle
Slingsby Engineering Ltd. has developed a workclass ROV designed to carry out construction, repair, and maintenance tasks on subsea oil installations. Capable of 3,000 meters operating depth, it includes a TA40 manipulator system, Advanced Digital Controller, and Slingsby Tether Management System.