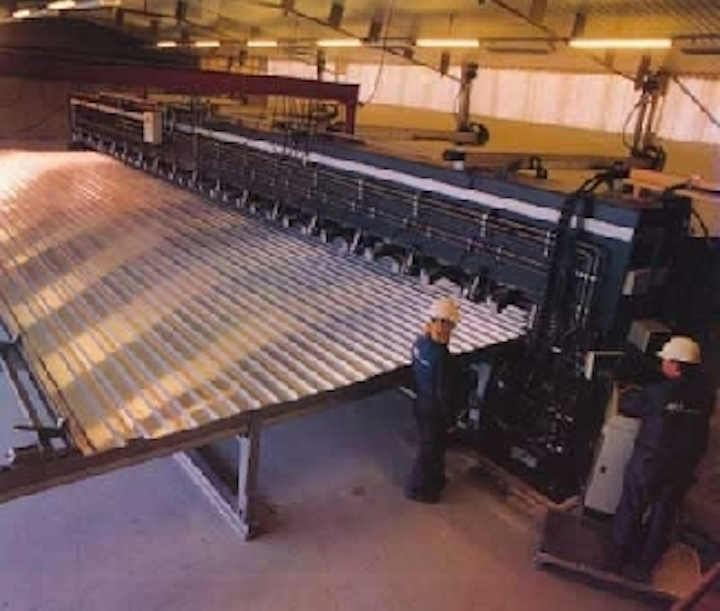 Friction stir welding (FSW) is being promoted as one of a number of relatively new techniques that can bring important benefits to fabrication of offshore structures and components. According to ESAB of Laxa, Sweden, the technique is particularly effective for joining aluminum and aluminum alloys.
FSW, which was invented in 1991 by the Welding Institute in Britain, has since been perfected by ESAB as a non-melting jointing process that has received DNV, Germanischer Lloyd, RINA and Lloyds Register approval for offshore use. In simple terms, the technique involves clamping the pieces to be joined together, following which a high-speed steel tool is rotated in contact with the interface of the pieces to be joined. The friction created by the tool and its movement over the metal serves to generate sufficient localized heat to join the two pieces.
Faultless welding
The process does not require use of consumable materials such as filler wire or shielding gas. Unlike TIG and MIG welding, it does not generate any harmful fumes or spatter. It is, however, well suited for automation since it can provide consistently high quality welds of unlimited length. ESAB particularly recommends the process for jobs such as welding panels for the offshore industry. ESAB Marketing Engineer Stefan Stoltz points out that one of its Super Stir machines has completed 200,000 meters of welding between fall 1999 and spring 2000 without a single fault.
This level of performance is achieved without the use of skilled welders, yet operators can achieve high tolerances with little or no distortion of the work piece so that large panels will remain flat throughout assembly. Unlike conventional welding methods, the process applies less heat to the joint and this ensures that the composition of the metal is not altered and consequently lengthens the component's fatigue life. By making joints that are more durable, FSW could also enable lighter structures to be designed for offshore applications.
For automated production, welding speeds of 500-2000 mm/min are being achieved. However, the actual speed will depend on the work piece, which, besides aluminum and aluminum alloys, could also be of magnesium, copper, zinc or lead. When welding is carried out on just one side of the work piece, the process can join metals 1.2-15.0 mm thick. If the process is applied to both sides, high quality joints can be achieved with work pieces up to 30 mm thick.
The equipment manufactured by ESAB is part of a range of automated welding tools available from the company. Others include Fully Automatic Narrow Gap Welding and Adaptive Butt Welding equipment which all share the advantage of being able to generate full quality documentation for each weld. ESAB also manufactures a full range of manual welding equipment. All products are backed by a global technical support service.
For more information contact Stefan Stoltz, ESAB. Tel +46 584 810 00, Fax +46 584 41 17 21, Email: stefan.stoltz@esab.se