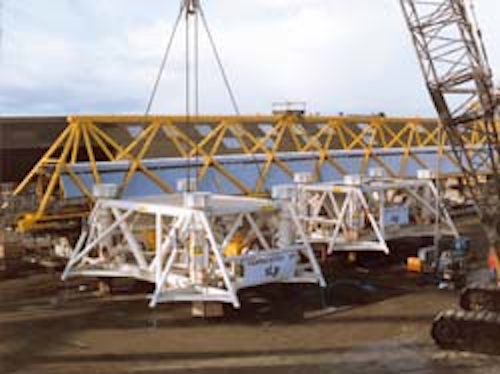 In-house and contractor teamwork, project controls,
cost planning contribute to project success
Tom Paulson
Phillips Petroleum Company (UK)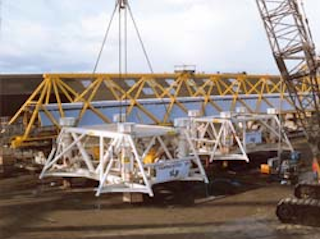 Production from the Joanne Field's subsea wellheads will be routed to the Judy platform.
Phillips Petroleum (UK) discovered the Judy reservoir in 1980 and Joanne a few years later - and in the surrounding Quad 30 area, the company made other discoveries. By the mid-1980s, Phillips was considering various development options. However, for a number of technical and economic reasons - including the fact that when the oil price was high, gas was selling cheaply, and vice-versa - we did not come up with a viable opportunity.
Although this was frustrating at the time, these studies meant that we had learned a great deal about the reservoirs. They also provided us with valuable input for very detailed front-end planning for the project. When the decision was made in 1992 to go ahead, we had a wealth of information to work with, and a very clear project philosophy, which concentrated on five main objectives:
Teamwork: The most important of these was our determination to make teamwork our
watchword. We were fortunate enough to have available as team members for the project people with excellent skills and experience, but our main concern was to ensure that everyone selected to work with us was able, and willing, to contribute to the overall team effort.
The teamwork principle has also formed an important part of our contracting strategy. Although we didn't set up formal alliances with our chosen contractors we made it very clear to them that we weren't interested in traditional, often confrontational, client/contractor relationships and that we'd all be working together to benefit the project.
Bid window: Our second tactic was to look very carefully at the market-place in which we would be inviting tenders from contractors. It was clear that by the end of 1992 utilization of oil industry fabrication and manufacturing capacity would be at a very low level, which provided a window of opportunity for us and meant the bids we received were extremely competitive.
Project controls: We set up comprehensive and disciplined project controls - by which we meant not just cost and schedule control, but also interface and risk control. We made certain everyone on the team was aware of the parameters.
Materials, changes: Phillips' procurement strategy was to make sure everything needed was on site early and ready for use. We were resolved that our fabrication schedule would never be constrained by lack of materials. Late changes in design, construction, etc. are very damaging. They wreck schedules and wreak havoc with budgets. For Judy/Joanne, I was determined there would be no surprises.
Minimize changes
In fact, there have been only a couple of major changes. One was within our control and one we had no influence on. The first was our decision to upgrade the capacity of the gas treatment module by 50%, from 300 MMcf/d to 450 MMcf/d, to give us greater capacity for tying in future developments.
Fortunately, the decision to do this was made early enough not to impact the schedule and we accommodated it with few problems.
The other major change was to run our oil directly into the Norpipe on the UK side of the median line, rather than send it via the Ekofisk Field. This option was forced upon us by the fact that the UK and Norwegian governments were unable to reach an agreement about pipeline jurisdiction across the median line.
Our major problem was time. The Norpipe carries 450,000 bbl of oil every day, so it could not be shut down for two weeks. Therefore, a Y-piece had to be installed during a two-week maintenance shutdown scheduled for August 1994. This gave us only four months to design, fabricate and transport to site. The claim it was a tight schedule would be a real understatement.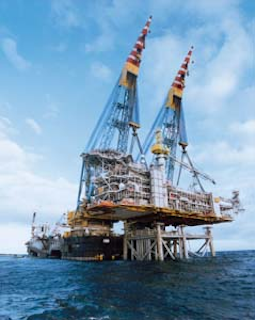 In June, the heavylift vessel M7000 lifted the Judy deck onto the jacket.
Teamwork
Real teamwork was need to achieve the installation in time - not only between the different divisions of Phillips - UK, Norway and US - but between ourselves and our contractors.
Kvaerner Humphrey & Glasgow had to make very late changes to their Judy platform design. River Don Castings had to manufacture the 18-ton Y-piece and ship it to Norway. GMC in Stavanger had to assemble it for transportation to the field.
These tasks had to be done within an incredibly short time frame. Fortunately the Y-piece project caught the imagination of everyone involved and they pulled out all the stops to make it happen.
Without exception, all of the contractors, which include KH&G, AMEC, Trafalgar House Offshore Limited, CIO, Lewis Offshore, Santa Fe, Saipem, Allseas, and SLP-Aker, have made a significant contribution to the Judy / Joanne project.
We have encouraged them to tell us their ideas and use their considerable experience to suggest ways of doing things better. I could quote dozens of instances where their input has been extremely valuable.
For example, the drilling contractor, Santa Fe, achieved some incredible results. The drilling team, led by Norm Omsberg and John Willis, struck up an immediate rapport with the rig manager of Santa Fe's Galaxy I and the Phillips/Sante Fe drilling team responded enthusiastically to the ever-more demanding stretch targets that were set.
The drilling unit, Galaxy I, achieved several world speed drilling records while drilling the Judy development wells. However, there was never any question of speed for the sake of it and the rig maintained an excellent safety record throughout the drilling operations.
The results were exceptional by any yardstick. The original plan was to drill eight wells in this first phase of drilling and another four later. But, we were able to drill all 12 wells during the same period. We did this at considerably less cost than we had budgeted for, with a net saving of around 18 million.
Cost savings
There was an even larger savings on our Joanne development wells, drilled by another Santa Fe rig, Magellan. By drilling horizontal, rather than vertical, wells in many cases, we were able to achieve the same results with fewer wells and complete that part of the project at an amazing 45 million under budget. In fact, we were under budget in virtually every area:
$35 million saved on the platform construction costs, mainly through our procurement strategy, change control, contracting philosophy and control of materials;
$9 million on the subsea facility, largely because we were able to reduce the size of the manifold and therefore the weight.
We anticipate bringing this project in at least 15% under the budgeted figure of 767 million. Some of the savings have resulted from our use of new materials. Glass reinforced epoxy (GRE) piping is an example.
We have used this material extensively, especially where there is a potential corrosion problem, since GRE is far more resistant to corrosion than steel. It is also much lighter, which has helped us keep down the weight of the deck. Other innovative equipment includes the compact heat exchangers on Judy and the use of lateral production trees for both the Judy and Joanne subsea facility.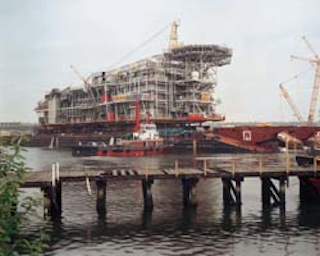 The Judy deck is shown just after loadout at AMEC's Wallsend yard.
Operations participation
We always intended commissioning as many of the systems as possible onshore and we succeeded in our plan to complete all fabrication and precommissioning before the modules left the yards. We brought the operations team - the people who are actually going to live and work on the platform - onboard at a very early stage in the design phase of the project. They have all worked closely with the fabrication site teams on pre-commissioning, preparation of procedure manuals, and the operating systems.
So the operations team already know every nut and bolt of the platform and contributed a great deal during the design and construction phase. This is a great improvement on the days when none of the operators saw the platform until it left the fabrication yards. Under such circumstances, it was far too late to suggest any changes which their experience told them would make for more efficient offshore operations.
One of the main advantages for Phillips is the presence of a multi-skilled workforce. The members worked together as a team before the platform goes offshore. Once offshore, there should be very little demarcation. Operations personnel can do some maintenance work, and vice-versa. On a platform with only 40 people on it, this is of great importance.
When the Judy/Joanne facilities are in place, they can be used to develop some of the many prospects in the Quad 30 area.
Other possibilities
Whilst doing development drilling for Judy, Phillips also drilled the Jocelyn prospect, with excellent results. The company will now produce Jocelyn through Judy. It was to facilitate development of these, and also to allow for third-party processing, that we increased the gas treatment capacity by 50%.
Looking back at the objectives we set in 1992, it appears we have achieved most of them.
The contract and project control strategy, relationships with contractors, construction philosophy, procurement plan, defined engineering responsibilities, early use of site representatives, overall communications and the early involvement of the operations and maintenance personnel have all worked well and paid dividends.
There are always lessons to be learned. Some of the areas where I think we could have done even better include further elimination of changes, awarding the marine installation contract earlier, and giving the project team more and earlier training on our in-house materials applications. There is scope to simplify some of the control systems we used.
Indeed, as technology constantly moves on, new options and methods of working become available. Phillips and KH&G used computer-aided drawing for all the design work. Terminals were installed at the sites, so the design and construction teams could work closely together, avoid clashes, and ensure that Judy was a construction-friendly platform.
There appears to be scope for even more widespread use of that kind of technology in the future.
Had we started the project today, we would not have needed the Joanne facility. Horizontal drilling is now so advanced, that we could have reached all the reservoirs from the Judy platform.
So, no project remains a benchmark forever - the industry is constantly evolving and the ethos of continuous improvement means every company is striving harder to do things better. We did do some remarkable, and at the time, unusual, things on Judy/Joanne - and we did them first and very successfully. These will certainly impact the way Phillips runs its future projects and the entire J-Block team is proud of that.

Judy/Joanne specifications:
JUDY
Location: UK Block 30/7a
Jacket weight:7,800 tonnes
Pile number: 14 (581 tonnes each)
Pile length: 115 meters
Driving depth: 92.5 meters
Deck weight: 9,400 tonnes
Installation: June, 1995
JUDY/JOANNE
Joanne installed: May, 1995
Liquids output peek: 95,000 b/d
Liquids output avg: 65,000 b/d
Gas production: 260 MMcf/d
Liquids export: 24-in. line
Liquids destination: Norpipe
Natural gas export: 20-in. line
Gas destination: CATS line