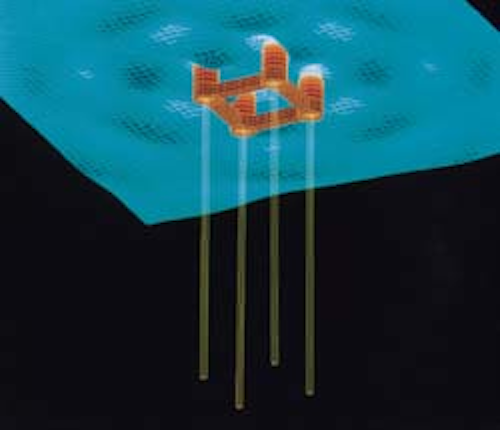 Oceanos graphic output: simulation of TLP and sea motions.

---

A new company has been created by French classification society Bureau Veritas to promote advanced engineering software for large marine structures. Bureau Veritas Software & Systems is initially offering four programs which are also available in an integrated suite known as Oceanos - Online, Control, Engineering & Analysis of Offshore Systems.
Individually, the programs are Isymost, an alternative graphic modeler from Caltec; NSO, a structural design package from Caltec and BV; Diodore, a hydrodynamics and fluid dynamics program from BV and Principia; and Bureau Veritas' own Ariane program for mooring analysis.
Last year, Bureau Veritas formed a joint venture with Caltec and Principia called Hydro-Structure to enhance and integrate these programs under a $6 million project. The new company, headed by Pierre Besse, will establish a global marketing and technical support network for the products.
Besse says: "Our aim is to provide the latest tools to assist all phases of the design process, from first conceptual work to the detailed validation of structures. The programs already available feature a range of new capabilities, including enhanced animation and simulation of structural behavior over a wide range of sea states."
Satellite measurements
Other R & D activities by Bureau Veritas include a project addressing the springing and ringing behavior of TLPs, and a new instrument monitoring system for offshore installations and transport barges, based on satellite transmission of motion and fatigue stress data. Various French companies have participated in the project, called SAAD, including Meteomer and ETPM.
Over the next few years, up to 2,000 aging offshore structures will have to be requalified by classification societies to confirm their structural and mechanical integrity. The challenge is to specify rational procedures and decision aid tools for this process to gauge the effect of weather and environment on these installations.
In a paper given at OMC Ravenna this March, authors J.Labeyrie of Ifremer and P.Lasnier of Meteomer stated: "Consid-ering input variables such as meteocean conditions, there is a need for site specific, probability distributions based on stochastic models of which the parameters are to be identified from observations.
"The operating conventional buoy systems or radar installed on offshore structures are time and cost consuming. So reliable information is almost non-existent around the globe. The significance and the non-uniform space/time scales of ship observations make this data source far from ideal.
"It is well recognized that ships attempt to plan their routes so as to avoid the most severe conditions. A new data source appears recently with satellite data, for instance the Geosat, ERS-1 and Topex ... they offer a dense coverage of the world's oceans, they are unaffected by bad weather conditions and they are well adapted to construct a local climatology."
The coverage satellites provide by criss-crossing the same area at regular intervals gives a comprehensive picture of the conditions over a route planned for transporting a jacket or deck to its field location.
The sensors comprise an altimeter, which measures significant wave height to within 10cm; a second device which measures precisely wind speed and direction; and a third device which measure the energy of the wave according to direction and period. Meteomer and Ifremer developed the procedure and software to corroborate and exploit these data.
According to Pierre Besse, the original idea with SAAD is to measure motions onboard the barge and simultaneously the sea states along its route. The system was applied last summer to monitor transportation of a jacket from Brazil to West Africa, traveling over 24 days at 5 knots in sea states often in the range of 3-6.
Previous attempts at instrumentation were cable-based and therefore unreliable. The SAAD sensors, however, are standalone units independent of current.
During the 1994 jacket transport monitoring, satellite-based sea state data was picked up by a directional waveriding buoy supplied by Dutch company Datawell, then transmitted by radio to the accompanying tug. The data was received and stored by a PC on the tug. Using the SAAD software, the captain could then call up on his screen data on instantaneous motions and analyze how these correspond to a given sea state.
According to Besse, the software calculates the spectral motion from the sensor data. "Then you compute the motion obtained from the sea state using engineering software." Last summer's exercise showed a good correlation with the satellite data for pitch and heave in particular and allowed the software to be calibrated for roll.
Initially, says Besse, the significance of SAAD is to show whether satellite data is reliable and accurate. But ultimately it could be used to plot a better course for platform transport. Being able to change the vessel's course 10 degrees to calmer waters might be a cheaper alternative to reinforcing a structure with steel for sea-fastening.
"Another purpose," says Besse, "is to provide a cheap way of monitoring the transportation. This system gives you feedback on fatigue and stresses on the structure."
The system has also been applied to monitor transportation of an ETPM-built jacket from the Middle East to West Africa. Currently CEIS TM, a specialist in beacons and satellite data collection based in Toulouse, is designing a commercial version of SAAD which could be available late this year.
Copyright 1995 Offshore. All Rights Reserved.