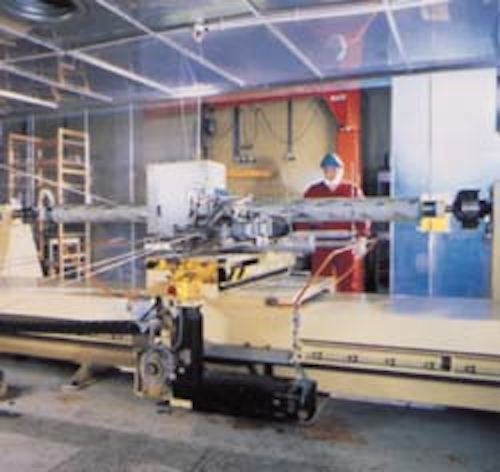 Dramatic weight saving achieved through use of composites in drive shaft
At a time of new initiatives in the UK and Norway to cut costs of offshore production, attention is increasingly turning to the potential offered by new materials.
One would-be provider to the offshore sector is Applied Composites, which since its formation in 1988 has supplied components in composite materials to weapons manufacturers, the Swedish Navy, shipbuilders and the aerospace industries.
According to the company's programme manager for marine products, Mats Eklund, the advantages offered by composite materials to the offshore sector are easy to identify. They include light weight, virtual freedom from corrosion, and minimal maintenance.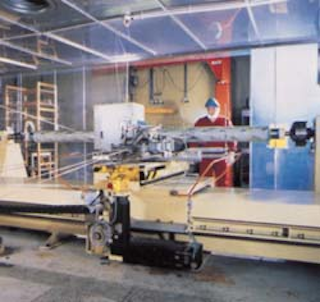 Composite shaft manufacture at Applied Composites' Linkoping plant.
9 tonnes less
One of the company's most successful composite products is drive shafts. For example, a 2.6tonne shaft which it supplied to an Australian shipyard would have weighed 11.5t in steel, according to Eklund.
Fatigue tests have also shown impressive results. A shaft was tested for one million cycles after being loaded to nominal torque with an alternating load. No deterioration in performance was detected, and when the test run was over, it was decided to break the shaft by loading it to ten times the nominal load. "Nothing happened to the shaft, but eventually the test equipment broke down," says Eklund.
Composite shafts are non-magnetic and non-conductive, and because of their lighter weight require fewer bearings. Installation costs can be reduced by 20% and maintenance by 30%. These qualities also make composites suitable for pipe systems, says Eklund. The company has supplied some for use in torpedoes.
Persuasive powers are needed to combat the sceptics. When Applied Composites was asked to supply one of the drive shafts for the Swedish Navy's stealth vessel Smyge in 1991, the captain was unhappy. But now that he has seen the composite shaft in action, he wants to see them used for future projects, says Eklund.
At present, composites are commonly made of carbon, aramid and glass fibres,with epoxy or vinylester resin as the bonding agent. Production of shafts and non-symmetrical components such as vent valves takes place on a filament winding machine consisting of a rotating mandrel round which the impregnated fibres are guided into place by a delivery eye.
This method gives substantial freedom for varying the location of the fibres in the X, Y and Z axes of the shaft, enabling the mechanical and strength properties of components to be optimised for different applications. For example, whilst the stiffness of a steel shaft cannot be influenced, the fibre make-up of a composite shaft can be adjusted to produce elastic qualities, Eklund says.
This in turn means that some elastic couplings needed to dampen vibration in a steel shaft are not required for the composite component. Complex shapes can also be produced. The company supplies both helmet shells and cockpit canopies to the Swedish Air Force.
"It is important to know how to design composite materials," says Eklund. "If the design is highly optimised and you load them wrongly, they can break." However, if designed, fabricated and implemented correctly, their reliability and longevity are impressive. For instance, composite parts have been used in aircraft since the 1960s, but there has never been a critical accident caused by their failure.
Easier repair
Composite materials have also proven their worth as a repair medium for both composite and metal structures. In the case of a damaged composite part, the affected area is removed and replaced by new material moulded into the correct shape and bonded into place.
Metal components made from hardened steel, stainless steel, titanium, aluminium and magnesium can all be repaired with composites. A crack in an expensive forging can be repaired with a composite patch bonded into place, restoring the part to its original strength and avoiding the need to buy a replacement.
For more information contact Mats Eklund, Applied Composites Aktiebolag: telephone +46 13 299148 or fax +46 13 299550.
Copyright 1995 Offshore. All Rights Reserved.