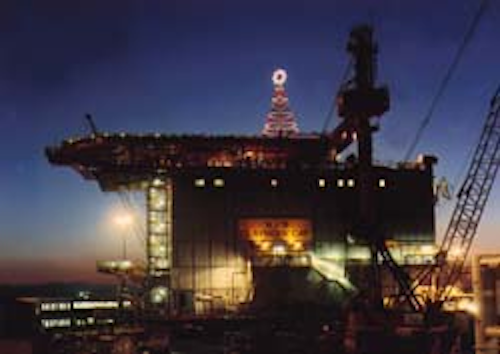 The CAP topsides module at night in SLP's yard in Lowestoft, UK.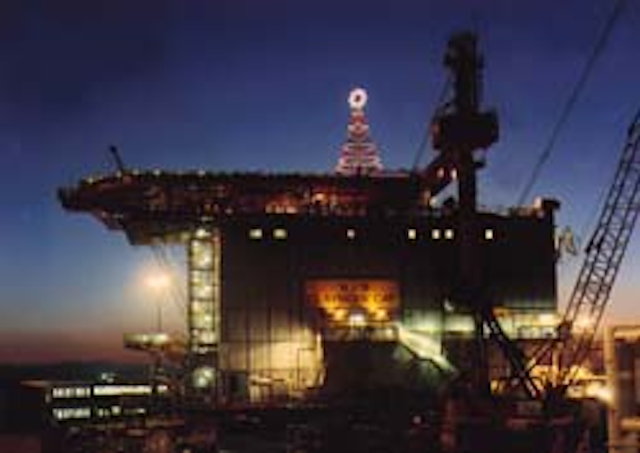 Elf venture's newbuild installation solves problems of aging North Sea facility.
Tinkering with homes is a late 20th Century obsession. If you want more space in your property, you either build upwards or simply bulldoze the lot and start all over again.
Oil companies might feel the same way about their older offshore platforms. Some of the hulking structures installed in the 1970s are already antiquated in terms of today's production, safety and comfort needs; but refurbishing, or building replacement platforms, can only be justified on giant fields with decades of life ahead.
Elf Enterprise was faced with this dilemma in its UK North Sea Claymore Field. It chose another option: to build an extension.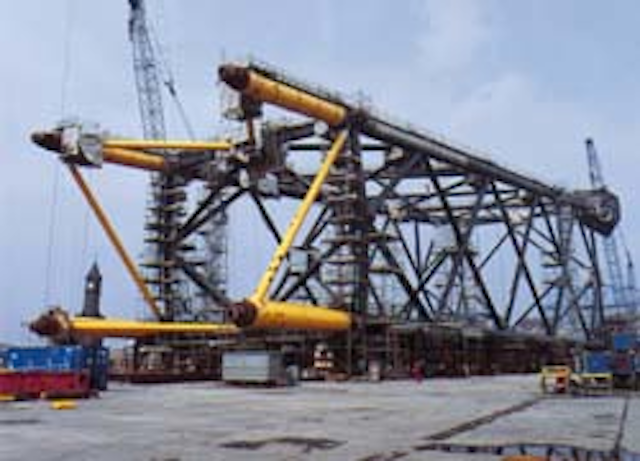 Claymore accommodation platform (CAP) jacket at Teesside, UK.
Development background
Claymore lies in block 14/19, 100 miles northeast of Aberdeen and in 110 meters of water. The field was discovered in 1974 and produced first oil in 1977. To date, 410 MM bbl have been extracted, with at least 145 MM bbl still to be produced.
Development is through the central Claymore `A' production platform (CPP), a 35,000 ton installation with 36 well slots. CPP also handles production from its subsea satellite Scapa: the combined daily rate from the two fields is 95,000b/d, which is sent via the Flotta pipeline system to Orkney.
These assets have been managed by Elf Enterprise (EE) since 1991, when this alliance (Elf 66.7%) was created following the acquisition of Occidental's North Sea interests.
Two of those interests, the Piper B and Saltire fields, have since come onstream through modern platform and process facilities. According to EE's executive vice-president, operations Emmanuel Vollaire, "We wanted the same high standards on Claymore."
The problem was, where to enact these standards. Claymore's CPP, as a first generation North Sea platform, had limited capability for taking on additional weight. It was also stuck with four-man accommodation cabins and rather basic recreational facilities compared with today's new installations.
Roger Jackson, EE's Claymore project manager, says there were three improvement options. "The first involved upgrading the facilities on the CPP - removing or altering the existing accommodation, which would mean adding a fair amount of weight to the structure and causing disruption to the platform's ongoing operations.
"The second option was to have a flotel permanently moored on the north face of Claymore, away from the flares, and where it would be less susceptible to wind changes, which in that area are from east to west. However the flotel itself traditionally had a high operating cost." (Until recently, the Port Regency accommodation unit was moored alongside the CPP.) "Our third option was to have a separate accommodation platform."
Prior to the takeover, Occidental itself had spent a year evaluating these options. In 1992 Elf Enterprise chose number three, setting a budget for the project of £ 138 million. Three years later, and close to completion, the actual figure is nearer £ 120 million.
EE's philosophy on the new Claymore Accommodation Platform (CAP) is to put as much responsibility for managing the project as possible onto its main contractors. UK engineering group SLP is the EPC contractor building the facility; Saipem is installing the jacket, deck and bridge connecting the two platforms.
Both companies are responsible for auditing their own subcontractors, and for quality management. EE keeps a watching brief, says Jackson, liaising with them, ensuring they adhere to set specifications and standards, "but not managing individual contracts. This isn't an innovative project - it's cost-driven."
The liaison takes the form of employing a small team of EE people at the deck and jacket construction sites (SLP's yards in Lowestoft and Teesside, England). "We can't hope to review all the drawings produced," Jackson says, "so we do a selective review of documents. Mainly we want to satisfy ourselves that this is being done OK."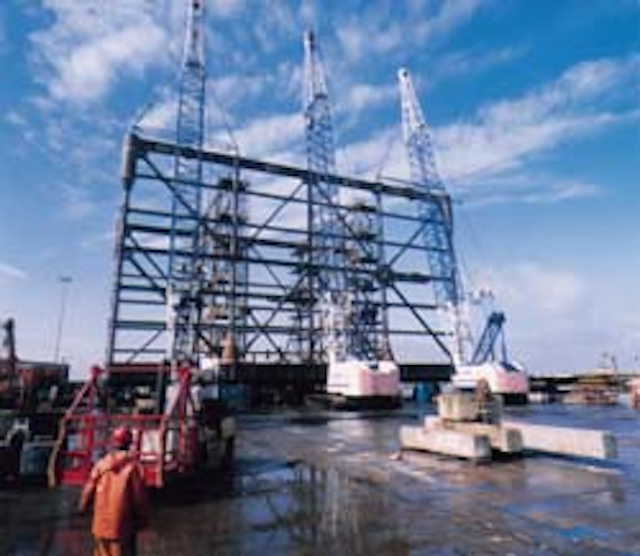 Assembly operations for the new Claymore accommodation platform.
EPC bidding
Ideally, EE would have awarded a lump sum turnkey EPIC project, but this was not possible at the time, he says. Bidders for the EPC job were asked to produce a five-volume, detailed technical specification, but were reimbursed for their work. "Design safety was an area we felt should be goal-setting: this is not an inherently hazardous facility, being 105 meters from the CPP platform."
The new accommodation platform's topsides module will act in an emergency as a temporary refuge for the Claymore complex. It will offer two hours' endurance (the time taken to shut down the CPP and get staff to the protected area for evacuation and rescue), maintaining normal climatic conditions during this period. In such a case, the module would also act as the main center for communications and control, including if necessary shutting down the CPP.
Normally, power would be supplied from the CPP, but in a crisis, an emergency generator on the CAP would restore supplies. Five TEMPSC lifeboats have been installed.
The topsides, weighing 4,500 tons, feature 121 two-man and eight one-man cabins on two levels, along with a switchboard room, mess room and galley. "Recreational and accommodation facilities are much improved, to contemporary standards," says Jackson. Above these are the radio room, OIM's and other offices, topped off by an aluminum helideck. The CPP's helideck will be decommissioned.
Kvaerner Earl & Wright designed the jacket, with SLP Teesside handling construction. The two companies worked closely at the design phase, says SLP's John Gage, "ending up with something that was simple to fabricate, lightweight and fit for purpose." The four-leg jacket weighs 3,300 tons, with two 84-in. skirt piles per leg.
SLP also built the mud mats and the pile sleeve assemblies, but subcontracted welding of the piles to McDermott's yard in Ardersier, northern Scotland. And it commissioned the Lewis Offshore yard in west Scotland to manufacture, weld, and paint the jacket tubulars. (SLP bought the steel plate then shipped it to Lewis' rolling facilities.) The tubulars were then shipped back on two coaster loads for SLP Teesside to perform final assembly, along with critical node can welds.
Bridge link
The 105-meter long bridge that will extend from the north face of the CPP platform to the new platform's east side was designed by ISC, a joint venture in Aberdeen between AOC and Brown & Root. As well as providing access, this 240-ton, steel truss design, aluminum-coated structure carries potable, industrial, and fire water, drains, power and signal cables.
The bridge will be slotted in to connection points on the two platforms. But seabed conditions can't be predicted with total accuracy: when the CAP platform is installed, it may not be as aligned with the CPP as EE might wish.
To cater for this, a facility has been incorporated to allow the span of the bridge to be adjusted to within 3.83 meters. The walkway's canopy of stainless steel panels is designed to protect personnel, reduce drag and "clean up air flows", according to Jackson.
Saipem is due to tow the structures to site and install them probably by the end of July. In March the piles barge was in Ardersier, and last month two other barges were due to collect the jacket and deck.
Around Claymore, a system of pipelines fan out to the north, west and south carrying oil also from Texaco and Amerada Hess fields. According to Jackson, CAP's jacket will go between the main pipeline corridor, and will be installed within 10 meters of the Scapa template bundles. That will necessitate a couple of shutdowns, to cover for a pile being dropped, and also to allow Texaco and Amerada to plan for their affected fields.
The jacket has been designed for the lifting operation, with four lifting parts, two trunnions and two padeyes on its legs. It will go onto the barge horizontally: to keep weight down, there are no conductors or guide-frame structures.
CAP's eight, 75 meter long piles will be driven 55-60 meters into the seabed. Then the jacket, transferred horizontally to the bow of the M7000 crane vessel, will be maneuvered in five further stages before being lowered onto the piles. A Smitbarge will transfer the deck to M7000's bow for installation under a four-stage exercise.
Safety costs
Claymore's safety case was submitted to the UK's Health & Safety Executive in March. This involved a large number of risk reviews and input studies - something which is becoming the norm these days, Jackson says.
However, project costs did not escalate as a result. The £ 18 million saved from the initial budget figure was due to contingencies which, as it turned out, weren't needed. Some of the £ 120 million was spent removing cabins, generators and transformers from the CPP platform. In addition, over £ 60 million has been spent modifying the CPP over the past few years, says Emmanuel Vollaire, which includes installation of subsea valves and riser work.
Copyright 1995 Offshore. All Rights Reserved.