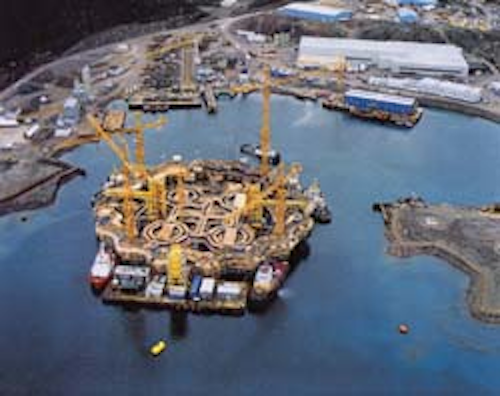 The Hibernia gravity base structure was floated out from dry dock in Newfoundland last November.
Doris Engineering's expertise in concrete designs for the offshore industry will be tested early next year, when Norway's Troll Olje project comes onstream.
Norsk Hydro and its partners aim to produce a thin oil layer of about 25 meter thickness from the west portion of the giant Troll gasfield 70 km northwest of Bergen, using subsea wells and the first ever concrete semisubmersible as a floating production unit. Water depth is 325 meters.
Doris performed basic engineering of the concrete concept in 1992 through its association with Kvaerner, KDOC. Once concrete was selected by Norsk Hydro over steel, Doris then performed detailed engineering of the substructure from November 1992 to April 1994.
This tight schedule was necessary, because the driving force behind oil extraction at Troll is the upper gas layer. The oil had to be exploited before the gas was extracted, which would have led to loss of pressure within the reservoir.
Troll Olje's platform is anchored by 16 conventional catenary moorings. The substructure is a semi-submerged concrete hull, built by KCC in Hanoeytangen. This consists of four pontoons with rectangular cross-sections topped by four cylindrical columns, 30 meters in diameter. Prefabricated modules containing process, utility and living quarter facilities are supported by a fully equipped module support frame.
Platform displacement is 193,000 tons, with a total concrete volume of 43,700 cu m. These quantities remained unchanged from the feasibility study right up to final construction. The platform is due to be towed to the field this summer.
Doris' other main concrete job offshore at present is for Newfoundland's Hibernia Field. Doris is responsible for detailed engineering of the gravity base structure (GBS), including mechanical outfitting and preparation of the marine operations. The GBS is fitted with an anti-ice wall consisting of a series of triangular, regularly distributed teeth to withstand impact from icebergs with a mass of over 4 million tons.
Work started in September 1990 in Doris' Paris office, before switching to St John through Canadian subsidiary Doris Development Canada. Engineering is expected to be completed at the end of next year.
Last November, the GBS was floated out from dry dock. Currently, fabrication of walls and shafts is under way at the deep water site, and will continue up to mid-1996. Six months later, the GBS will be structurally and mechanically complete.
Bongkot Phase II
On the other side of the world, Phase II of Total's Bongkot gas and condensate development in the Gulf of Thailand is scheduled for a January 1996 start-up. Having performed engineering and procurement for Phase I, which came onstream in summer 1993, Doris performed similar services last year over 50,000 manhours at its Paris offices.
Bongkot is developed currently through three drilling platforms, one production platform, one living quarters platform, an FSO and sealines. The Phase II extension caters for five further platforms, and upgrading of the in-place production platform to boost capacity up to 350 mcf/d.
Doris performed basic engineering for this upgrade, as well as the new sealines, flare platform, riser platform and associated bridges. It also carried out detailed engineering of the riser platform structure (an 860t jacket and 1,440t topsides); the flare platform structure (tripod: 430t, tower, and equipment); and the two bridges, respectively 100m, 400t, and 140m, 410t.
In addition, Doris provided technical assistance and procurement of long lead items. The platforms are due to be installed at the end of this year.
Finally, Doris has performed turnkey engineering and construction of a new living quarters and helideck, which are due to be installed on the ASPF3 drilling platform in the Ashtart Field offshore Tunisia this spring. The field is located in 66 m water depth, 76 km southeast of Sfax in the Gulf of Gabes.
The QH-H ASPF3 living quarters will be installed on the upper deck of the platform to accommodate 60 people. It comprises three substructures. The main four-story M1 LQ module consists of a technical room, offices and laundry on the first floor, catering facilities on the second floor, bedrooms on the third and fourth floors and an outside gabled stairwell. Lifting weight is around 180 tons.
A second substructure takes in four adjacent and superimposed modules, each with four double rooms and each weighing around 25 tons, with a second outside stairwell. Third substructure is the aluminum helideck, designed for Bell 212 type aircraft.
The living quarters will be installed on the ASPF3 platform during the drilling phase, at the end of which the onboard 28t crane will be used for dismantling of the four adjacent modules and repositioning of the helideck on the platform's upper deck. ACMH in Honfleur is currently building the main module, with the rest handled by SACNA in Sfax.
Copyright 1995 Offshore. All Rights Reserved.