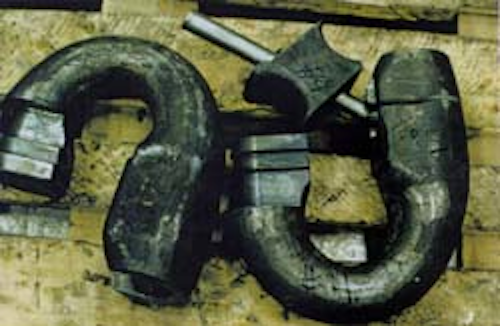 Weight and inspection savings show particular promise for deepwater fields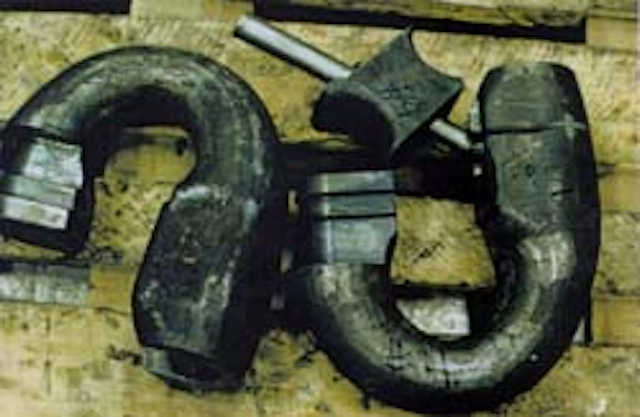 Ramfor connectors following fatigue tests at the Royal Institute of Technology in Stockholm.
The shape of anchor chain for long-term mooring applications could be about to change following the introduction of a new studless link by Ramnas Ankarkatting.
Having just completed a two-year development programme, the anchor chain manufacturer has two studless designs to offer: a standard link with straight sides and one with a slightly pinched waist.
Like the stud link, the studless links have a length six times their diameter. But the width is slightly smaller: 3.4 times the diameter compared with 3.6 times for the stud link.
Full-scale fatigue testing of the studless links at the Department of Solid Mechanics of the Royal Institute of Technology in Stockholm showed that both had the same fatigue life and prior to this, tests at Ramnas showed that they also withstood the same breakload and proofload as a stud link with the same nominal diameter.
The development programme attracted the very sponsors which the company was hoping to interest: classification societies DnV, Lloyd's and ABS. Sofec also joined the project in its later stages. DnV has already given formal approval to Ramnas for the manufacture of studless chain grade NVK3-RIG to a maximum 152mm dia. and NVK4-RIG to a maximum of 157mm dia.
Ramnas will now propose an international standard for studless mooring chain to the International Association of Classification Societies (IACS). As far as applicable, this will be based on the IACS' W 22 regulation covering unified requirements for offshore mooring chain, according to Ramnas' technical manager Par Ohlsson.
The results of the test programme accorded well with the findings of a recent joint industry study led by Noble Denton which examined the fatigue life of stud chain, Ohlsson added.
Absence of the stud means that the studless link can deliver the same performance in terms of static strength and fatigue life while offering a saving of some 9% in weight. This is a substantial proportion considering that a typical floating platform will have mooring lines totalling over a km in length in conventional water depths.
For deepwater applications, there is a potential reduction in weight, and consequent cost saving. There is a school of thought which favours moorings over dynamic positioning for deepwater activities precisely because of the cost factor.
The benefit can be taken in another way, Ohlsson points out. Instead of going for the same fatigue strength as stud chain and enjoying a weight saving, the weight can be kept constant and fatigue strength correspondingly increased by opting for a larger diameter chain. This option also gives a greater margin of safety against the incidence of corrosion.
Other advantages arise from use of studless chain. Periodic inspection of stud chain being used for long-term mooring is difficult - at times impossible. Studless chain is easier to inspect and, being a simpler structure, requires less inspection.
With stud chain, the studs can work loose and leave the links vulnerable to corrosion. Again, this is a problem which does not affect studless chain.
The main reason for using stud chain is that it is not liable to kink, and thus makes handling easier. But Ohlsson says that if studless chain is handled carefully, such difficulties are unlikely to arise.
In parallel with the studless chain test programme, Ramnas also had comparative full-scale fatigue tests performed on Ramfor connectors and Kenter joining shackles for 3in. dia. grade NVK4 RIG/RQ4/R4. Results showed a significantly better fatigue life for the Ramfor connectors than for the Kenter shackles, a confirmation previously performed testing.
For more information contact Par Ohlsson, Ramnas Ankarkatting: telephone +46 220 22000 or fax +46 220 35837.
Copyright 1995 Offshore. All Rights Reserved.