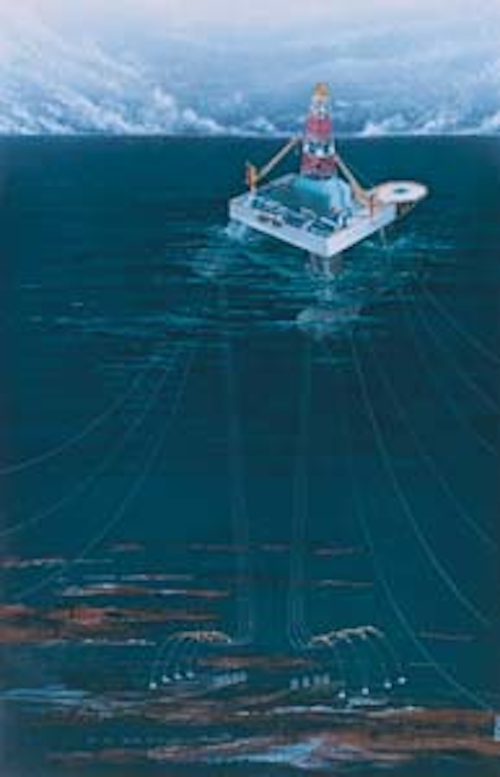 Bill Hunter
Reading & Bates Development Co.

This fifth generation semisubmersible drilling unit can be converted for production quickly and inexpensively.
Within the confines of proper consideration for safety and environmental protection, the single most important factor impacting the value of a deepwater development project is the pace at which it is executed.
This has generally been recognized by the industry, although some still insist on engineering and studying projects almost indefinitely rather than getting the field on stream. By conducting engineering and planning for a deepwater field development in parallel with exploration and appraisal drilling, so called fast track developments are now accepted methods of doing business.
There is, however, an opportunity for exceptional performance in the execution of a deepwater development. By contractor and operator working together, using joint vision and taking a more aggressive position in regards to the development plan, an ultra-fast track development scheme can be implemented. This will permit the time from discovery to first oil to be slashed from three to four years for fast track, and five to seven years (or more) for conventional developments, to less than two years for an ultra-fast track development.
Drilling to production
This calls for construction of the eventual deepwater field development production system prior to field development plan approval. This production system consists of a deepwater
semisubmersible vessel that conducts the exploration and appraisal drilling. The vessel is constructed such that it can be rapidly transformed into a production vessel through features such as:
Large deck area and load capability
Mooring system designed for upgrade from drilling to production mode
Drilling system configured in removable modules for additional flexibility.
The semisubmersible can operate in water depths from 4,000-6,000 ft and beyond with process capacity as high as 200,000 b/d with gas compression and water injection if required.
Interestingly, the cost of the system is partially offset against drilling expenditures reducing the overall cost to the operator, while at the same time guaranteeing access to a deepwater drilling rig now in short supply.
Design overview
In 1985, Reading & Bates built the Jack Bates, one of the worlds largest and most advanced semisubmersible drilling units at IHI's yard in Japan. This rig defined the standard for 4th generation semisubmersible drilling units and features large deck load capacity and deck area, significantly improved vessel motions, deepwater mooring capability up to 7,500 ft and a heavy duty drilling system. A significant achievement by the R&B/IHI team was that the vessel was delivered in only 18 months. Construction from cutting steel to delivery was a remarkable 12 months.
Following from the success of this project R&B and IHI began work on the next generation of drilling units. In 1990, the ultra-deepwater drilling unit RBS 10,000 design was presented to the industry. This unit represents the fifth generation of semisubmersibles and has an operational water depth capability to 10,000 ft, a deck load capacity of 10,000 tons, large open deck area, simplified configuration to reduce building costs while maintaining very low motion response, and steel weight and displacement the same as the Jack Bates. The design consists of a box type upper bull, four columns slanted transversely, large dumbbell shaped pontoons and a column outer belt (COB) feature at the operating waterline.
With the greater interest and acceptance of floating production over the last few years, R&B and IHI adapted the design and a combination drilling and production version was developed. This unit, designated RBS 10,000 FPV, can be arranged with production facilities for up to 200,000 b/d, along with gas compression and water injection. The unit can operate in water depths in the 4,000-6,000 ft range and beyond, and in the production mode is designed to be moored permanently on location meeting 100-year storm criteria for a 30-year design life.
Mooring system
The mooring system has been arranged in such a way that it provides an economical relatively light duty eight-point self contained drilling configuration that is easily convertible to a heavy duty externally deployed 12-point floating production mooring system- This mooring arrangement, referred to as the Econmoor system, is one of the features that will allow rapid transformation of the unit from the drilling mode to production.
The drilling mooring system, which is designed for five-year environmental criteria, consists of eight windlasses, power units, chain lockers, chain stoppers and wire rope winches. The anchors are 15-ton units and each leg consists of combination 90-mm chain and 102-mm wire rope.
The permanent mooring system for production mode utilizes the same on-vessel components augmented by four additional windlasses. The externally deployed off-vessel components consist of 30-ton anchors, along with combination 140-mm and 120-mm chain, and 115 mm wire rope. The system is designed to meet or exceed site specific 100-year storm environmental criteria in likely areas of operation.
Drilling system
The drilling system is designed for deepwater drilling and workover service, including efficient handling of subsea production trees. The system has been arranged in modules so that they can be removed during the conversion to production if desired. This provides tremendous flexibility to the operator for the installation of additional process equipment either at conversion or for future capacity upgrading.
The hoisting and rotating system consists of a 185-ft dynamic derrick rated at 1,500 kips, top drive, motion compensator, rotary table, 3,000 hp drawworks, iron roughneck, and derrick pipe handling system. The mud system has three mud pumps, bulk mud and cement storage, an advanced mud treatment system, and a total of over 5,000 bbl of mud pit capacity.
There are six dual 125-kip tensioners, with a total capacity of 1500 kips, upgradable to 1750 kips for 6,000 ft water depth. The drilling BOP is an 18 3/4 in. by 15,000 unit psi, with up to 6,000 ft of 21-in buoyant drilling riser in 75 ft joints. Pipe racks are located on the main deck level on top of the removable drilling modules with sufficient space for all of the drilling riser and the required casing strings and other tubulars.
Process system
The process system has been designed for 100,000 b/d oil, with 100 MMcf/d gas, and 150,000 b/d water injection. The system is arranged toward the aft end of the rig and is segregated from the accommodations by the drilling system and modules. The system is built in large single-lift modules rather than being assembled in-situ from individual equipment skids. This allows the modules to be completed and mechanically tested at the builders facilities rather than onboard the rig in a shipyard which is not ideal for process system construction. The system design can be adapted for field specific applications.
The vessel can operate with flexible, free standing, or hybrid production riser systems. A key feature of the vessel is that the very low motions of this new design may permit the use of directly connected steel catenary risers. Additionally, the very low heave response significantly reduces fatigue on all types of riser systems.
Case study
A case study demonstrating the enhanced commercial benefit of this ultra-fast track approach to deepwater field developments has been done. The study is for an exploration prospect in about 4,000 ft water depth in the Gulf of Mexico. The logic applies and the equipment can be adapted for any deepwater/harsh environment location worldwide. It is assumed the target prospect is expected to contain 200 million bbl oil with the potential to produce 100,000 b/d and 100 MMcf/d of gas.
CASE I: In this case, a decision is made to build a new RBS 10,000 FPV in order to conduct the exploration and appraisal drilling of the prospect in place of an existing deepwater MODU.
When a discovery is made and proved up, the unit is rapidly converted to production mode.
Commercially, the construction of the new unit can get underway by a number of schemes, but for simplicity, a conservative fifth-year contract at a dayrate of $220,000/day is assumed.
The new rig drills the prospect and a discovery is made (if no discovery is made the unit moves to the next prospect). The rig goes on to drill two further appraisal wells and conduct an extended well test (EWT). Planning is started for the rapid conversion of the unit to production mode with any schedule-critical elements identified and planning for the procurement of those started.
Following the EWT, the production equipment, permanent mooring system and subsea equipment is ordered. During the procurement phase, additional appraisal/development wells are drilled until the process equipment is ready for installation. The rig is brought into a shipyard for a short period to allow installation of the process system and returns to the field for hook-up and commissioning.
CASE 2: In this case, an existing deepwater drilling rig is used for the exploration and appraisal drilling. Such units are now in short supply with very high dayrates, however, it is assumed one is available at $100,000 per day. These units cannot be rapidly converted to floating production service as they are not designed with this in mind. Following the same exploration, EWT and appraisal program as case 1, construction of a TLP or Spar type permanent deepwater production system is started.
The analysis indicates that having an almost ready made production system available to the project results in a significant increase in the value of the project even taking into account the higher dayrate of a newbuild semisubmersible compared to an existing unit (this differential will reduce in time as rig scarcity continues to increase dayrates of existing units). The pace of the project can be accelerated to such an extent that the value of the project in real terms is much higher.
Conclusions
The new design RBS 10,000 FPV significantly enhances the value of a deepwater development by allowing an ultra-fast track development program. Such a program permits first oil to be produced within two years of discovery, compared with three to four years for previous fast track projects and seven to ten years for conventional projects.
In addition, the production system cost is partially offset against drilling, reducing the overall cost to the operator. The unit can operate in water depths in the 4,000-6,000 ft range and beyond, and can produce 100,000 b/d of oil with gas compression and water injection. Considerable flexibility is provided through the use of removable drilling modules in the design. This vessel is available to the industry through an alliance or other mechanisms which allow contractor and operator to bring their own particular skill set to a project and jointly share in the risks and rewards of such a venture.
AUTHOR
Bill Hunter is the technical director of Reading & Bates Development. In 1990, he help establish Reading & Bates floating production group. He holds an MS degree in petroleum engineering from Heriot-Watt University.
Copyright 1995 Offshore. All Rights Reserved.