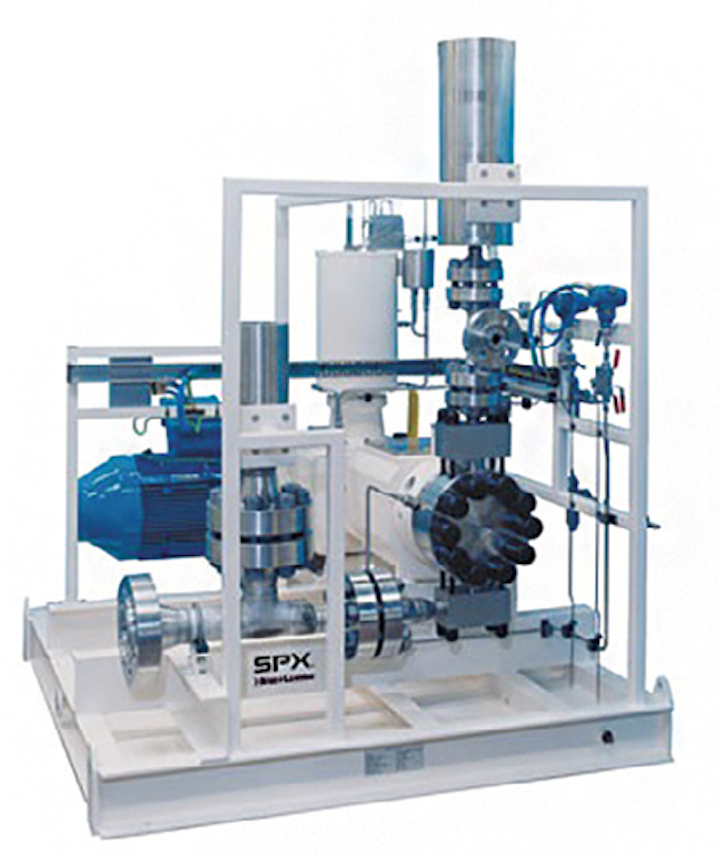 Harish Mistry
SPX Flow Technology
Operators in the North Sea have, in recent years, had to contend with rising maintenance costs on their maturing production facilities as they seek to tap further offshore oil and gas reserves. At the same time, their operations need to run 24/7 without interruption, and this has led to growing scrutiny of equipment that keeps production running smoothly, including chemical injection packages (CIPs).
A typical North Sea chemical injection skid. (Image courtesy SPX Flow Technology)
Requirements for CIPs in the offshore industry are very diverse - depending on the application, location, number of chemicals, implementation of multi-point injection, planned increases in production output, or changes in production conditions.
The design of a CIP and skid needs to be as compact and light as possible to suit the confines of typically space-constrained North Sea platform decks. However, adaptation of CIPs to the operational environment must not compromise efficiency. It is no good making a CIP unit half the standard size if it loses half the power.
SPX Flow's Bran+Luebbe double acting, double diaphragm pumps can provide twice the flow rate on a single gearbox compared to conventional duplex pumps, while maintaining the same accuracy and occupying a lesser footprint. Double diaphragm pumps provide one of the best safeguards against leaks on CIPs. Alongside drip trays or base frames with built-in bunds, they ensure safe handling and containment of hazardous materials.
Another priority for offshore operators is multi-functionality – equipment that can vary the amount of chemicals pumped, and the pressures and flow rates accommodated during the life of the equipment under the extreme conditions of the North Sea. Flexibility, too, is a major advantage: Bran+Luebbe CIPs can be altered, depending on where they might sit on a platform, by designing the system to facilitate dismantling of the skid so that it can be taken through restricted access and then assembled once it reaches its eventual location.
With eventual maintenance or repair in mind, operators should also insist on the provision of expertise and advice from the pre-order stage of the CIP through the system's entire life cycle, in order to minimize operational disruption and, ultimately, long-term costs.