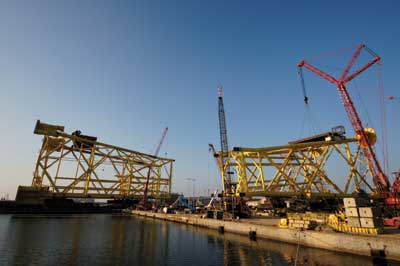 Rosetti supplied the jackets for ConocoPhillips' Jasmine project.
All photos courtesy Rosetti Marino.
Jeremy Beckman
Editor, Europe
Most northern European fabrication yards rely on work from offshore projects at their doorsteps. The same used to apply to yards in Italy, until environmental legislation brought the country's offshore field activity to a virtual standstill.
The situation caused some engineering groups to fold. However, Rosetti Marino, based in Ravenna on the Adriatic coast, was not dependent on the domestic sector alone, having supplied topsides and jacket modules and structures to fields throughout the Mediterranean Sea and offshore West Africa. At the same time, the company was not wholly reliant on platform construction, having also been established since the mid-1920s as a naval and commercial shipbuilder, including offshore support vessels.
During the mid-2000s, the company decided to pursue fabrication work elsewhere, capitalizing on the growing offshore activity in the Caspian Sea by forming two joint ventures in the region. This led to several contracts ranging from a living quarters barge to piperack and manifold modules, and culminated in 2009 with involvement in the hook-up and commissioning of the "D" drilling island for the ultra-shallow water Kashagan project offshore Kazakhstan, and fabrication of associated offshore pig launch systems. Around this time, Rosetti also bid successfully for the living quarter and process platforms for DUC's Halfdan development in the Danish sector. This was the company's first North Sea job since the early 1990s, when it supplied the drilling module for Agip's Tiffany platform, now operated by Canadian Natural, in the UK northern North Sea.
In 2009, Rosetti won a contract to build a 3,300-ton topsides with drilling module for Talisman's Auk field redevelopment in the UK northern North Sea. However, the project was cancelled after design changes meant the planned new facilities would be too heavy for the existing Auk A platform to support.
More recently, the company has won contracts for large platform structures for UK central North Sea projects. Two of these - ConocoPhillips' Jasmine and Total's Elgin/West Franklin expansion - are high-pressure, high -temperature (HP/HT) developments. Rosetti's experience manufacturing piping systems to withstand Kashagan's ultra-corrosive wellstream was a factor in gaining both awards. The company has since secured further platform construction or refurbishment work for other projects in the southern UK North Sea, the Mediterranean, and West Africa.
The main reasons for the run of contract successes, according to Rosetti's general manager Marco Deserti, were the board's decisions to focus strongly on the North Sea market; to position the company better for bidding for work by integrating all its engineering, procurement, and construction resources; and a series of facilities investments to make the company more competitive in offshore construction.
Harsh environment upgrades
Rosetti's oil and gas business unit today can build complete platforms on an EPC basis or individual platform structures. It additionally performs sea transport, offshore hookup and commissioning, and upgrades to existing platforms. The 200-strong multi-disciplinary engineering team is split between the engineering department in Ravenna and the Basis Engineering and Fores Engineering subsidiaries in Milan and Forli. Between them, they cover all typical offshore design and fabrication needs.
The company operates two large facilities for offshore construction in Ravenna harbor. One, spanning 32,700 sq m (351,980 sq ft), is used mainly for rolling of tubulars, prefabrication of structural components, and assembly of pressure vessels. Its prefabrication workshops are equipped with overhead cranes (up to 40-ton capacity), while the open storage area is served by a 35-ton gantry crane.
The much larger Piomboni yard occupies 110,000 sq m (1.185 million sq ft) on the harbor front, with a 450-m (1,476-ft) long reinforced quay facing sheltered waters and with clear access to the Adriatic Sea 6 km (3.7 mi) away. The site is used for assembly of integrated decks, process and utility modules, living quarters, and jackets weighing up to 10,000 tons.
"We are continuously investing in our production facilities in order to upgrade them to face the new technological challenges of field development in harsher environments," Deserti said. "The significant recent work involved mainly investment in new paint shops, covered areas and assembly hall as well as buying two new 500-ton crawler cranes."
ConocoPhillips' £1.9-billion ($2.9-billion) Jasmine field development in the central North Sea is by far the biggest new project due onstream in the UK sector this year, designed to access potential reserves of 1.1 tcf of gas and 131 MMbbl of condensate. It will also form the operator's second HP/HT production hub in the region, connected to the existing center at the Judy platform.
Rosetti fabricated the jackets for the three new platforms for the project, including a 24-slot wellhead platform on the Jasmine field bridge-linked to a new 38-bed quarters installation. Production will be sent via an 8.2-km (5-mi) bundled pipe-in-pipe system to the third new facility, a riser platform bridge-linked to the existing Judy installation. The riser platform will additionally house a 12-slot wellbay for drilling infill wells on the Judy field, according to North Sea field analysts BritBoss. The three jackets and piles have a total weight of 23,200 tons. Saipem's crane bargeS7000 installed the wellhead jacket in spring 2011 and the other two structures in 2012. Installation of the topsides was delayed from 2012 to 2013.
Topsides under construction for West Franklin and Elgin B.
At the Elgin-Franklin complex in the same region, operator Total has commissioned a new wellhead platform for the Elgin field, Elgin WHP B, which will be connected via a bridge to the existing WHP A facility. It will have nine well slots, with initial plans to use six.S7000 installed the four-leg WHP B jacket in October 2012, built at Saipem's yard in Arbatax, Sardinia, while Rosetti has fabricated the 2,866-ton topsides. The completed structure is due to sail out of Ravenna in mid-summer for a single-lift installation by Heerema's crane barge Hermod, followed by hook-up and commissioning. Total aims to start operations at the new platform in late October.
The same two yards were responsible for the associated new 12-slot West Franklin wellhead platform, which will be connected via two bundled 6.2-km (3.8-mi) production pipelines and an umbilical to the Elgin WHP B platform. WHP B will be connected to the existing PUQ processing platform.S7000 installed the Arbatax-built 3,638-ton jacket for the new West Franklin platform at the offshore location in September 2011, and this summer Hermod will set down the 4,080-ton topsides that Rosetti fabricated under an EPCI contract. The topsides equipment will include a high-integrity pressure protection system and a multi-phase flow meter. West Franklin Phase 2 is designed to recover 85 MMboe of reserves.
West Franklin is a HP/HT reservoir. "To reduce the welding activities on the production manifolds we opted for the solution of using sintered integral manifolds made of superduplex steel," Deserti explained.
Mediterranean revival
Currently the Ravenna yards are working on a new living quarters to replace the existing module at Shell's Clipper gas complex in the southern UK North Sea. This is due to be installed at the offshore location in mid-2014. "Shell's aim is to provide an improved level of safety for the personnel onboard as well as to improve the standard of living and comfort," Deserti said.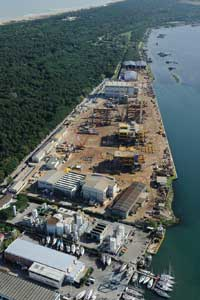 Rosetti Marino fabrication yard in Marina di Ravenna, Italy.
Norway's field development surge is on par with the UK's. The high volume of new projects has left the main Norwegian yards operating at full capacity, allowing larger competitors in the Far East with lower overheads to take on some of the high-end jacket and topsides jobs. Rosetti is also interested in this market: "The main difficulty for us in penetrating the Norwegian sector is the high cost of transporting structures from the central Mediterranean Sea," Deserti added.
However, new opportunities are emerging closer to home. "After years of inactivity in the Mediterranean market, and in particular the Italian sector, we are now experiencing an interesting re-start of activities in this region," Deserti commented. "We have been awarded a contract in Croatian waters and numerous other projects in the Adriatic Sea are in the final bidding phase, making us optimistic for the future. Our strategy in the Mediterranean Sea is to establish strong partnerships with local yards through joint ventures or other forms of strategic alliance."
The Croatian sector IKA JZ project, for the Eni-Ina joint venture Inagip, involves construction of a small gas wellhead platform comprising a conventional topsides, jacket and piles with a total weight of 1,800 metric tons (1,984 tons). This is due to be completed by year-end.
In the southern part of the Mediterranean Sea, Rosetti is performing two facilities modification programs. One involves replacement of two chemical injection skids and dismantling works for Mellitah Gas' DP3 and DP4 platforms offshore Libya. The other is for SEREPT Tunisia and involves revamping the PF2 and PF3 platforms.
Offshore Côte d'Ivoire, the company is involved in Foxtrot International's shallow water Marlin gas field development in block CI-127, to be sent by pipeline to the West Vridi terminal. Rosetti is building a four-leg jacket and three-deck platform that will be connected via two subsea pipelines to the onshore gas terminal at West Vridi. The facility is due to enter service in 2015.
Outside Italy, Rosetti Marino has workshops and construction yards in Akshukur, Kazakhstan, and a partnership in Astrakhan, Russia. In the latter case, Rosetti would provide engineering, project management and overall coordination while the Russian partner Krasnye Barrikady focuses on construction, with the two parties splitting procurement activities. At present they are not working together on a Caspian Sea project, although Krasnye Barrikady is involved in Lukoil's Vladimir Filanovsky development in the Russian sector.