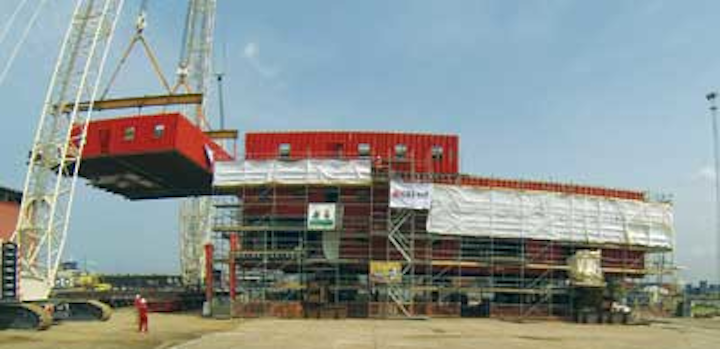 Nigeria's most "home-made" living quarters platform to date should sail out later this year to Total's Ofon field. Although Eiffage Construction Metallique's yard in Fos, southern France, is contributing three levels of the deck, the remainder is under construction by indigenous fabricators Aveon Offshore and Niger Dock.
ECM was awarded the $420-million engineering, procurement, construction, and commissioning contract for the OFQ facility in November 2011, as part of a consortium also involving EIFFEL Nigeria Ltd. and Nigerian design company OOPE. It is one of four new platforms that Total has commissioned for the Ofon Phase 2 development in Oil Mining Lease 102, 65 km (40 mi) offshore southeast Nigeria. Water depth is 40 m (131 ft).
OFQ will comprise an 800-metric ton (882-ton) jacket fixed to the seafloor by 1,200 metric tons (1,323 tons) of piles, supporting a six-deck topsides weighing 5,000 metric tons (5,511 tons). The latter will include technical/control rooms and accommodation for up to 140 crew members.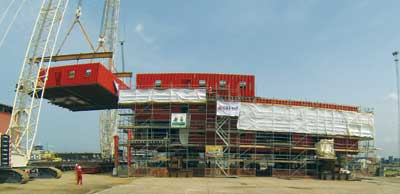 Construction of the decks for the Ofon OFQ platform at Niger Dock, Lagos.
The Fos yard is working on the intermediate deck, the lower deck modules, and the central control room. All structures are due for load out in September and will be installed with Saipem'sS7000 construction vessel. The facilities will be connected to other new production and processing platforms forming the Phase 2 complex.
Niger Dock in Lagos is working on the OFQ deck's three upper levels, containing the accommodation, while Aveon's yard in Port Harcourt is responsible for the helideck, spider (cellar) deck, jacket, and piles. These should be loaded out in October.
The degree of Nigerian engineering and construction content is unprecedented for a living quarters platform, says ECM's offshore energy director Arnaud de Villepin.
Coordinating the various activities has been challenging, he says: "It is difficult to manage three different sites for fabrication. Usually there are one or two yards responsible for the topsides and jacket, but because of the need to increase local content, the topsides in this case are being produced in three separate packages.
"To ensure things run smoothly, we have built an integrated team with Niger Dock personnel, and we have sent more supervisory personnel from ECM to monitor organization of work programs and schedules."
ECM is now looking to bid for living quarters platforms on other new shallow-water Nigerian projects. This could involve working with the same Nigerian design/construction partnership. There are also prospects for new wellhead platforms, not just in Nigeria, but offshore Cote d'Ivoire, Congo-Brazzaville, and Angola. "Targeting these projects is in line with the new policy of our parent company Eiffage to develop business in Africa generally," de Villepin points out.
More Offshore Issue Articles
Offshore Articles Archives
View Oil and Gas Articles on PennEnergy.com