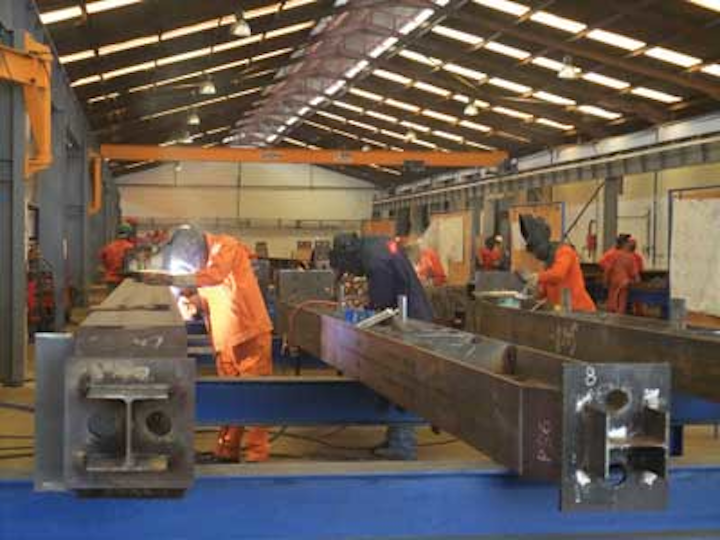 Total's Ofon Phase 2 project offshore Nigeria calls for construction of four new platforms for the shallow water Ofon field. Additionally, the company is modifying existing facilities which have been in service since 1997. The goal is to monetize the field's gas, which will be compressed and sent to shore, and to develop oil reserves and increase production.
The Ponticelli Frères Group has been awarded the $200-million contract for tie-ins and modifications on existing facilities. Its previous major overhaul job was on Total's Girassol FPSO offshore Angola, to prepare the facility to receive production from the satellite Rosa field. But the work on Ofon is the company's most complex and demanding offshore assignment to date, according to Jean-Philippe Cau, oil & gas business development manager of the Ponticelli Frères Group, based near Paris.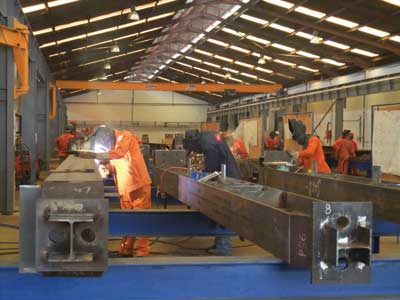 Structural steel prefabrication at Ponticelli Nigeria's Silhouette yard.
The workscope includes installation of 300 metric tons (330 tons) of piping and equipment, 200 metric tons (220 tons) of new steel structures, 100 km (62 mi) of electrical wiring, and instrumentation/telecommunications work on the existing Ofon OFD1 and OFP1 drilling and production platforms in 40 m (131 ft) water depth, 60 km (37 mi) offshore Nigeria. The upgrades are needed to accommodate production from new wells that will be drilled from two new drilling platforms and one new platform, and to connect the installations to the new bridge-linked OFP2 production platform that Hyundai Heavy Industries is building in South Korea.
Ponticelli is EPC contractor for the program. As with all new Nigerian offshore projects, the emphasis is on maximizing local content. Ponticelli has subcontracted detailed engineering locally to ISEL in Lagos, with the support of Doris Engineering.
Since the contract signing in September 2011, the main focus has been on procurement of items such as valves, motors, vessels, and pipes, cables, and instruments. Prefabrication of replacement piping and steel structures started in late 2012 at the Ponticelli Nigeria-owned Silhouette yard in Port Harcourt. Work offshore started late last year, and Ponticelli specialists will probably be based on the installations for a further two years, beyond the planned start-up of Phase 2 in 2014.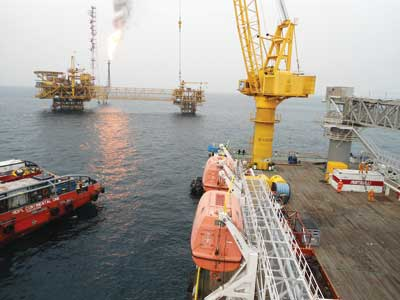 Otto 5.">
Total Ofon II project/OFP1 platform, early stage of offshore works, approach of floatelOtto 5.
"This is a SIMOPS (simultaneous operations) situation, a field in which we are specialists," Cau says. "We have to maximize the amount of hot work that can be done offshore without disrupting normal operations, and organize tasks on the facilities during the various shutdowns planned later this year and next year during marine operations, i.e. jacket installations. A lot of the platforms' primary structures have to be changed, and we have to reassess the structural conditions due to all the new equipment that has to be put in."
An overall reassessment of the facilities' structural integrity is also planned. Some structural elements will likely have to be replaced to meet long-term production requirements.
"On the existing OFD1 drilling platform, Total plans to drill three new wells," Cau said. "We will modify the jacket structure to support three new conductor pipes by installing a frame below the water line. We will also put in new cable trays, with electrical installations subcontracted to Group SNEF, and we have to adapt the existing pipe network to the gas-lift system on the new production platform. And due to Total's commitment to stop gas flaring, the nose of the existing flare on OFP1 will be modified for depressurization – again, this job will be subcontracted to a specialist company."
Rosa, although a 2-million man-hour job offshore, basically involved tie-ins of a few large modules. "For Ofon, however, we are installing and changing out a large number of small pieces, and each section of pipe or structure has to be integrated. Doing this requires a careful assessment of the associated risk and involves a lot of paperwork, and very heavy preparations. The same level of preparation, in fact, for a 50-ton module as for a single piece of pipe weighing less than 1 ton."
Ponticelli expects to maintain a crew of 50-60 specialists on the two platforms working on a SIMOPS basis, with most of the work completed by mid-2014, when the new production platform is due to be installed and the bridge links are in place. The team is deployed from a floating accommodation barge stationed close to the platform.
More Offshore Issue Articles
Offshore Articles Archives
View Oil and Gas Articles on PennEnergy.com