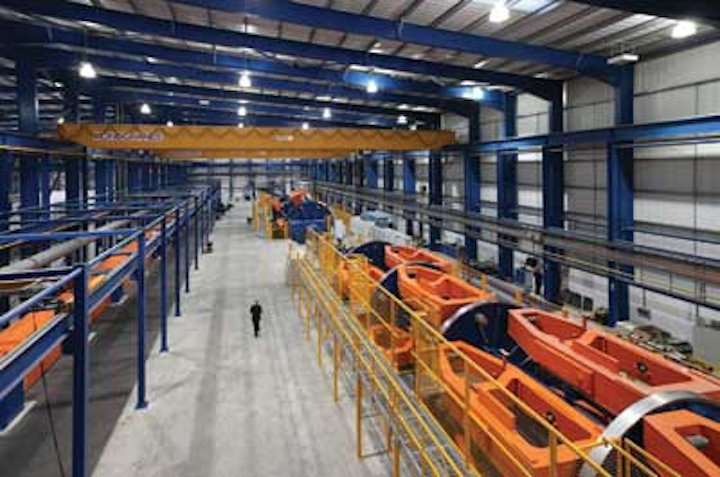 Jeremy Beckman
Editor-Europe
As offshore exploration and production heads beyond 3,000 m (9,842 ft) water depth, the industry will need longer and stronger ropes for mooring and subsea installation systems. Bridon International has responded by investing in new rope manufacturing and research facilities at two sites in northern England.
Bridon Neptune Quay (BNQ) on the River Tyne in Newcastle was officially opened this past November. Although not the world's largest facility of its type, it is equipped to produce the largest and most complex offshore ropes, the company claims, and has already delivered its first anchor ropes. In February, Bridon opened the Technology Center at its headquarters in Doncaster, which incorporates a variety of new machines and equipment for rope analysis and strength tests.
BNQ, which increases the company's global manufacturing capacity by 9,000 metric tons/yr (9,921 tons/yr), is designed to produce multi-strand ropes in package weights of up to 650 metric tons (716 tons). Bridon committed to investing £30 million ($45 million) in building the complex in April 2011, and chose the Neptune Energy Park partly because of its location in an area strong in offshore construction and engineering. Lower logistical costs and a grant from the UK's Regional Growth Fund were other factors.
The stand-out features of the 7,200-sq m (77,500-sq ft) facility are the closer and strander, two machines purposely-designed and built by Germany's SKET Verseilmaschinenbau for manufacturing ropes for a variety of applications, in diameters ranging from 50-250 mm.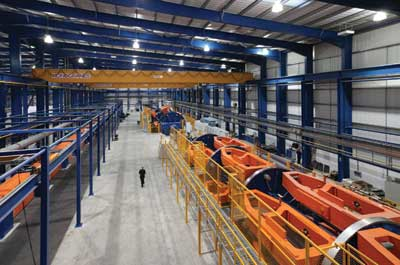 Closer machine at Bridon Neptune Quay.
The closer, said to be the world's largest, includes 24 bobbins. It can manufacture six-/eight-strand wire ropes, suitable for mobile offshore drilling unit (MODU) anchor lines, and six-/eight-strand and multi-strand ropes for deepwater deployment, i.e. via A&R winches.
"Wires used for these kind of ropes are of high carbon steel," said a Bridon spokesman, "in diameters from 1.5 mm up to 5 mm, mainly with a galvanized surface finish and with a tensile strength in the 1,770 to 2,160 grade range. There is a tendency in the rope industry to upgrade closing capacity to achieve greater piece weights. The Neptune Quay closing capacity has increased our previous finished gross package weight limit from 367 metric tons to 650 metric tons [404 tons to 716 tons]."
The 45-bobbin SKET stranding machine is dedicated to the production of spiral strand ropes for permanent mooring, and comprises wires of up to 7 mm diameter and strands up to 45 mm. The Dyform unit, said to be the world's most powerful, provides compaction of the strands, depending on the degree of deformation and number of wires in the strand. The machine is around 110 m (361 ft) long, from pay-off to take-up, with a 38-metric ton (42-ton) take-up capacity. Its connected load is close to 600 kW, with a rotation speed of up to 600 rpm, and linear speed of up to 80 m/min (262 ft/min). "We are ISO 9001 certified," the spokesman explained, "and on every run we measure wire quality, lay length and diameter, and check construction plus lubrication. The machine can measure length via two independent methods."
Produced ropes are transferred to vessels at the quayside via 130-metric ton (143-ton) take-up and pay-off stands. "These too are new designs," said the spokesman, "essentially combining both crane and reeling in one machine. Sub-300 metric ton [330-ton] products go on a conventional trailer to the recently upgraded hammerhead crane at Walker Quay. Above 300 metric tons, the take-up stands travel down rail tracks to the quayside where consignments are then transferred using one of four options:
Heavy-lift crane mobilized to transfer to a sea-going vessel
Self-propelled modular trailer onto barge, then onto quays at Rotterdam or Antwerp, both of which have 700-metric ton-plus [771-ton] fixed cranes
Jumbo vessel with its own lifting equipment picks up directly from Neptune Quay
Reel-reel facilities (a future option under study).
The first offshore rope to be produced at Neptune Quay was a six-strand anchor line. More anchor lines are due to follow, with the first deepwater moorings scheduled for delivery this August.
"The new plant and its machine capacity are needed to cover future customer demand," the spokesman added. "We took the investment decision following extensive market research and information gathered through close relationships with engineers working in the offshore construction sector. The rope designs are a result of product development work carried out at our Technology Center in Doncaster.
"There we have refurbished and extended existing facilities. We have improved control, remote monitoring, and measurement for tensile testing via 125-metric ton [138-ton], 200-metric ton [220-ton] and 800-metric ton [882-ton] machines, the latter based in Willington Quay. We have relocated our existing test machines, for 30-metric ton [33-ton] torque turn, bend fatigue etc, plus we have brought in new wire tensile test rigs, better microscopes for examination, new large (up to 100-mm) bend fatigue machines, multi-layer spooling, and 150-metric ton [165-ton] torque turn machines."
Another focus of the center will be to develop ways to inject lubricant into lifting ropes to avoid blobs falling onto the crews of heavy-lift vessels, which can be a hazard offshore. "Appropriate lubricant retention is clearly important - a wire rope can be considered as a working machine with many wire components moving relative to one another. Hence lubrication is as essential as within, say, a car."
More Offshore Issue Articles
Offshore Articles Archives
View Oil and Gas Articles on PennEnergy.com