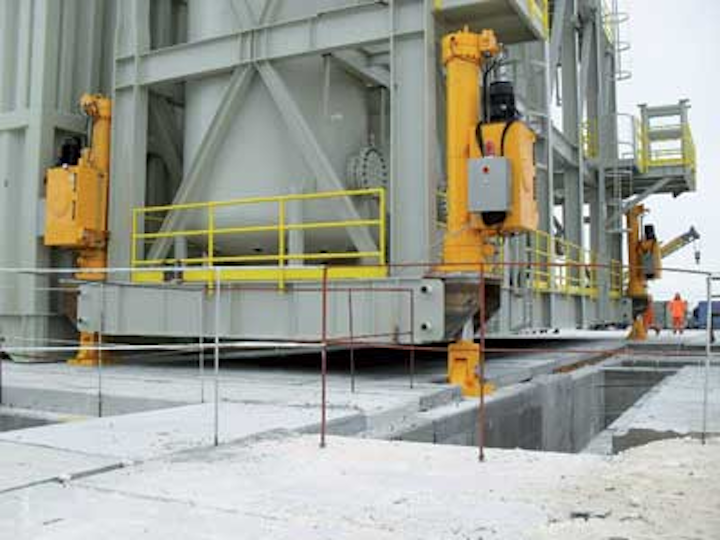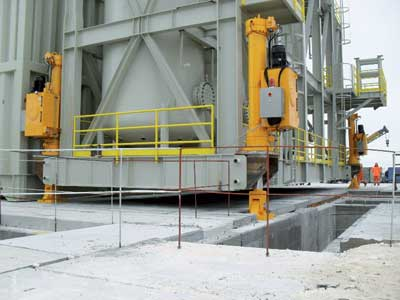 Drilling mud tank handling using the Atos jacking system.
The system division of Italy's Atos has developed a compact jacking system for offshore handling operations on platforms, drilling rigs, and vessels. Applications include handling of drilling mud tanks. The system comprises four digital servo-driving systems which are controlled and synchronized through a PLC control unit integrated into a rugged AISI 316 stainless steel control console with IP 65 protection.
Each electrohydraulic system features:
Servocylinder certified to ISO 6022, with built-in magnetostrictive position transducer and load cell, manufactured from high strength materials suitable for low temperatures, with low friction PTFE seals and guide rings to withstand high radial forces
Power pack, certified according to Machine Directive 2006/42/CE, and equipped with low-temperature devices, internal gear pumps, filtering and cooling system suitable for high temperature variations
Control manifold integrating ruggedized servoproportional valves with digital electronics for alternated close loop control of position, speed and force, incorporating inductive proximity sensors and pressure relief devices conforming to Machine Directive 2006/42/CE for load compensation, and designed to secure the system in emergency conditions.
The control firmware processes the feedback signals from the position transducer and load cells installed on the servocylinders and is designed to offer precise synchronization of the four servoactuators (+0.1% of max working stroke), with a barycentric damping function to compensate oscillations during the load motion.