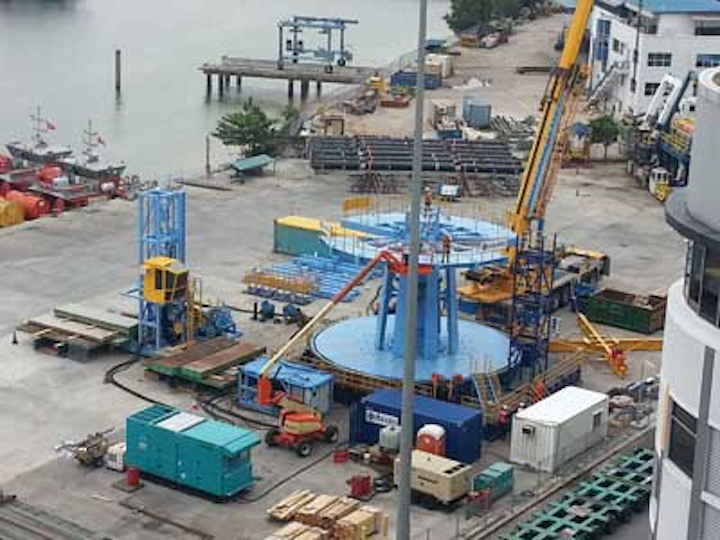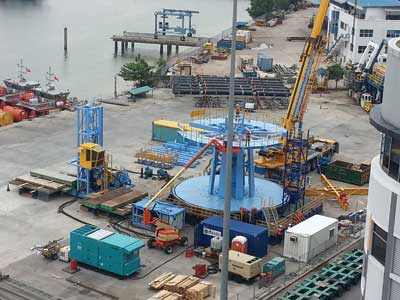 Aquatic Engineering & Construction's new modular carousel system.
Aquatic Engineering & Construction, an Acteon company, has introduced its 1,500-metric ton carousel (AQCS‐01‐1500), which Aquatic describes as a powerful, modular drive system representing a significant capability extension for customers requiring installation or replacement of flexibles, umbilicals, power and telecommunication cables, and wire rope products.
Installation, replacement or recovery work in deepwater requires specialist equipment to accommodate the increasing length and weight of the items being installed. Aquatic says the new carousel system provides the strength and stability that can withstand the installation of the heaviest equipment in deepwater. The system is also applicable in long subsea tieback projects.
The carousel can handle a product load up to 1,500 metric tons, has a maximum reeling speed of approximately 1 km per hour, and uses a built-in tensioner with a maximum line pull of five metric tons to maintain product tension on the horizontal reel at all times. The tensioner is mounted on a level-wind tower, which ensures proper spooling on and off the carousel. It has a reel diameter of 12 m and a variable hub diameter, which means that it can handle multiple products and can be mobilized onto most vessels of opportunity.