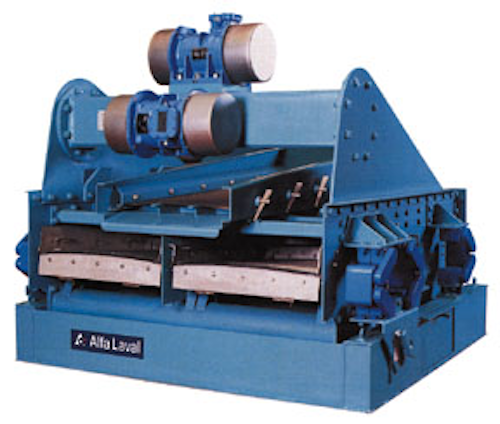 Alfa Laval's new dual motion, variable-angle shaker.
As part of its drive towards offering a complete integrated solids control package for the offshore drilling market, Alfa Laval Oilfield has developed a new dual motion, variable angle shaker. A number of special features make it easy to operate efficiently while handling all types of drilling returns.
Even before its official launch, Alfa Laval has received an order for five of the new shakers from Dolphin Drilling in Norway for use on the Bideford Dolphin rig and one unit has already been installed on Danish Transocean's Shelf Driller rig.
A key feature of the machine is that the screen is pneumatically tensioned which allows an even screen to be maintained in all directions and under all conditions, and also ensures an extended screen life. "Since the mesh is cut in exact squares all over, the drilling mud has a much better chance of passing through without clogging the mesh," says Alfa Laval's international marketing and technology manager Goran Strom. "As a result, the life of the screen is prolonged which provides considerable cost-efficiencies for our customers."
Elliptical or linear
Another patented feature is the dual motion action, providing a choice of elliptical or linear motion at the turn of a switch. According to Alfa Laval, this makes operational optimization for different mud types a simple task.
The shaker is supplied in a modular form ready for installation, complete with starter and pneumatic control panels. Multiple installations can be easily linked and, in the event of restricted access, can be supplied in component form. The specially selected vibration mounts are extremely durable, providing a virtually kick-free start/stop action while almost totally isolating the sub-structure from unwanted vibration. The unique mounting arrangement ensures easy retrofitting to existing installations.
The machine's drive system is provided by two self-contained synchronized vibratory motors. The simplicity of the system means that it is virtually maintenance-free and the complete absence of belts, pulleys and other moving parts makes it extremely reliable - an important factor when operating in remote locations.
The shaker's basket is adjustable through a range of 6! to optimize the angle of the screens. Adjustment can be performed while the machine is running by a simple jacking system. The screens themselves consist of one scalping screen tensioned with steel wedges on the upper deck, with four lightweight automatically tensioned screens on the deck.
Other main components in the complete solids control package are decanter centrifuges and hydrocyclones. "Previously we sold or rented out our equipment with our own service engineers," says Strom. "With our complete solids control package we can now offer our customers a solution to their process problems."
For more information contact Lars Lundberg, Alfa Laval Oilfield: telephone +46 8 530 65831 or fax +46 8 530 60165.