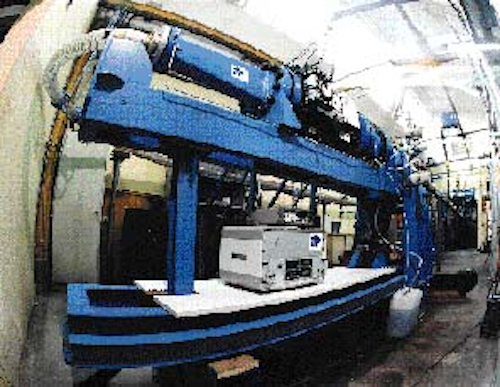 IFP's multiphase flowmeter test facility in Solaize.
Deepwater and high temperature production are two of the big challenges facing France's oil and gas service sector. The Institut Francais du Petrole (IFP) intends to address these problems more closely with different oil companies, and through hopefully gaining admission soon to the Deepstar consortium in Houston, involved in technology development for the deepwater Gulf of Mexico.
Last December, chief executive officer Perre Jacquard also went to Brazil to discuss new technology projects with Petrobras. IFP's co-operation with Petrobras to date has been mainly in geology and geoscience.
IFP dedicates three-quarters of its budget, currently Fr1.8 billion, to petroleum industry R & D, with around 15% of this sum invested in bringing new technology to the market. Its research activities are organized into 12 different units, the programs of which are managed by four core Objective Divisions. These are Exploration-Reservoir Engineering, Industrial Production Systems, Refining-Petrochemicals and Engines-Energy.
To the offshore sector, IFP is best known for its work on multiphase technology, gas processing and downhole measurement systems. Much of this is synergistic with the efforts of the entire oil and gas industry, but closer links exist with other French companies. IFP has a 57% share of the ISIS group, which in turn has stakes in major companies such as Coflexip, CGG, Geoservices and Technip.
FPSO evolution
According to Olivier Appert, executive vice-president of IFP, FPSOs are evolving so rapidly that it is questionable whether there will be any new platforms 10 years from now. However, most recent developments have been in smaller, mid-depth fields. IFP has been planning ahead for the new problems expected to arise from deepwater production.
For remote offshore oilfields, one of the anticipated difficulties is how to deal with associated gas in an area with little gas infrastructure or sufficient population to demand it. As a possible solution, IFP has been collaborating with an industry partner on a concept involving gas liquefaction plant on a floating vessel.
IFP is also examining design of the different links between the seabed and surface, namely risers, umbilicals and moorings. "This is more difficult as production gets deeper," says Appert. "We have been working on deepwater risers with Coflexip, but also looking at the dynamics of all the moving pipes." Software has been developed to simulate dynamic behavior of flexibles at great depths, he adds.
One of the in-house finite element programs, Flexan, has been under development since 1980 for flexible riser dynamics simulation. IFP is currently aiming to commercialize the software, which is certified by Bureau Veritas. A new simulator is now being developed that would integrate numerical modeling of the dynamic behavior of all types of risers, moorings and lines with floating structures. This model has already been used to verify new deepwater concepts for the Gulf of Guinea.
Another challenge is HT/HP production. Appert cites Elf's new Elgin/Franklin development in the North Sea, where reservoir temperatures reach 180degC. However, the maximum workable temperature for flexibles currently is just 120degC. HT/HP is also becoming more important in the Gulf of Mexico, he points out. IFP has been involved in several studies aimed at extending the workable temperatures of materials and equipment. For instance, with Coflexip it has evaluated new polymers for HT/HP conditions.
Multiphase trials
In multiphase production, IFP is an acknowledged world leader. The Poseidon pumps, developed in partnership with Statoil and Total, have worked successfully on an onshore field in France operated by Elf Aquitaine and on Statoil's Gullfaks complex off Norway. Licences have been issued to Sulzer and Framo, and serious commercialization of the pumps is under way.
However, there are other areas of multiphase technology that IFP is pursuing. Among these are the Institut's multiphase flowmeter, which combines the simultaneous measurement of phase volume fractions and velocities (gas-oil-water) through use of microwaves and ultrasonic techniques.
The meter is designed for installation on a production flowline downstream from the wellhead or at the production manifold. It is rated for 100bar and 120degC, and can withstand sour fluids as well as abrasion by sand and hydrates. A prototype has been tested at IFP's three-phase loop facility in Solaize, France, and a fuller application is planned on Agip's Trecate Field in Italy, under a European Community-funded program.
Tacite, IFP's transient multiphase flow simulation program developed with Elf and Total, is being integrated with Simulation Sciences' pipeline simulation program, Pipephase, under a newly concluded agreement. The integrated system should improve design of multiphase pipeline networks and slug catching facilities.
In the past, says ISIS executive vice-president Jacques Burger, "multiphase was only used when there was no alternative. But now there is an evolution in the way oil companies are thinking, partly through their practical experiences with this technology. Now when they design a development, they design a classical solution, but also a multiphase solution."
Another IFP product coming to the market is Polyseis, a flexible radio/line telemetry system for 3D seismic data acquisition, developed jointly with Syntron in the UK. The system offers an alternative to cumbersome cable deployment in hard-to-access areas such as lakes and swamps. Tests have been performed in transition zones in Louisiana.
IFP is also working with industrial partners on different approaches for reservoir monitoring, including high resolution seismic and 4D seismic techniques. These could be adapted for offshore use.
Copyright 1997 Oil & Gas Journal. All Rights Reserved.