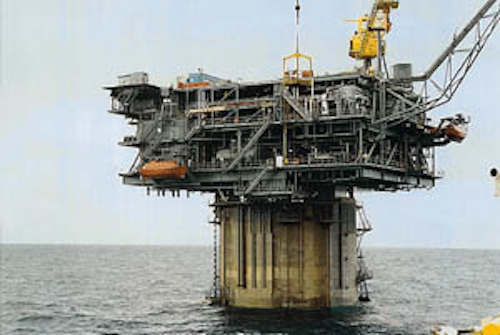 Oryx's Neptune development features the first spar production platform.
With the start-up of production on Oryx's Neptune spar platform, Aker Maritime now has the full range of its deepwater floating production concepts in action - semisubmersibles, tension-leg platforms, production ships and spars.
Following the marriage between Aker and the Maritime Group last year, the new merged company can claim an impressive share of the floater market: twenty per cent of all production semis are built to an Aker design; and the company has been involved in all TLPs, including those currently under development, except Hutton; in 50% of all purpose-built FPSOs; and in both production spars ordered to date.
Oryx's Neptune platform, which was installed last autumn in 590 meters of water, is the first production spar to come into operation. Delivery was on time and within budget, according to Ola Johannson, vice-president of Spars International, the 50/50 joint venture with J Ray McDermott for spar platform production. The Neptune platform has been through a couple of storms and performed above expectation.
The second spar platform is for Chevron's Genesis development. Unlike the Neptune platform, this one includes drilling facilities. Indeed, its drilling capability is one of the main reasons why it was selected. "The platform is an efficient drilling machine," says Johansson. "It has lower motions than a semi, which results in better uptime, and the active mooring system allows lateral movement over the well, which is impossible for a TLP."
A leading Gulf of Mexico operator put a value of $10-15,000 a day on the spar's drilling capability compared with a semi, he says.
In February the hull for Chevron's Genesis platform was about 40% complete at Aker Rauma Offshore's Pori yard in Finland. The hull, which will be 37.2 meters in diameter and 215 meters long, is due to be dry-towed across the Atlantic in April next year in two or three sections. There is no storage.
Meanwhile deck fabrication has got under way at McDermott's Morgan City yard. The 18,000-ton topsides will have processing capacity of 55,000 b/d of oil and 2 MMcm/d of gas. Twenty wells will be drilled.
The platform will be installed in a water depth of 800 meters, similar to those found west of the Shetlands or in the Voering basin, Johansson points out.
"When you move to water depths of 2,000 meters plus, there's no competition to the spar for a dry wellhead platform," says he . The spar concept is currently under evaluation by Petrobras, one of the world's leading deepwater operators, apparently because of its dry wellhead capability. Aker Maritime is also talking to operators with deep-water discoveries in West Africa.
In the North Atlantic, where lack of infrastructure will necessitate storage facilities, the concrete-hulled spar is likely to prove an attractive proposition, Johansson says - concrete becomes more competitive as the hull size grows. A 50-meter diameter hull would provide storage of some 630,000 bbl.
Meanwhile Aker Maritime has also developed a newbuild production semi design. Conversion has been the most popular solution adopted by deepwater operators in the Gulf of Mexico to date, but now the supply of suitable drilling rigs has dried up and their price has gone up.
"The new concept is a cousin to the Aker P45," says Alan Cordy, senior engineer, structures and marine technology at Aker Engineering. "We've developed the design for as easy fabrication as possible - it's adapted to Gulf of Mexico ways."
The design features split deck and hull fabrication. The module support frame is integrated into the hull in the splash zone, creating a flat deck area onto which modules can be mounted. This arrangement gives flexibility for modifying the topsides layout during the design phase, and even into the construction phase.
In the light of both water depth and cost considerations, steel catenary risers are specified, for the first time in a semisub design.
The hull itself consists of four columns and two pontoons. These are all box-shaped, thus making for simple and speedy fabrication. The fabrication savings, compared with the conventional rounded pontoon and column, more than compensate for the greater outlay required on the mooring system because of increased current drag loads.
When a cost comparison was made between the new design and an Aker H-3 conversion, for an 80,000 b/d unit moored in 3,000 ft of water, with no drilling facilities, there was little to chose between the two - the newbuild came out at $148 million and the conversion at $141 million.
A version of the newbuild semi with further enhancements has been under consideration by a well known GoM operator for a development in some 1,500 meters water depth. Processing requirements call for some 300 MMcf/d gas and 25-30,000 b/d oil.
For this application, the deck of Aker Maritime's proposed platform would be small enough to fabricate on the ground with almost all the equipment on it. By removing the need for lift modules, it would be possible to knock 1,000 tonnes off the topside weight, Cordy said.
Copyright 1997 Oil & Gas Journal. All Rights Reserved.