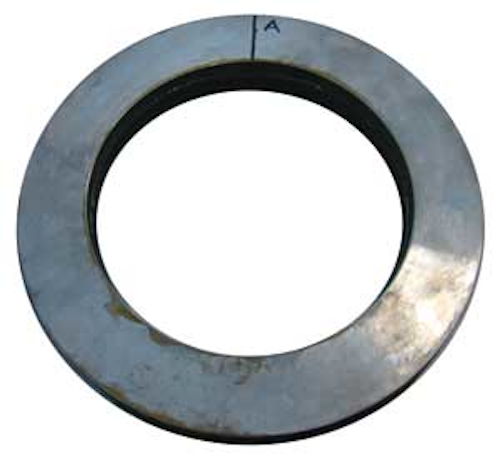 Sander van Nieuwenhuijzen
Exova
Mark Seiwald
John O'Brien
Chevron Energy Technology Co.
The application of automated ultrasonic testing (AUT) for the construction examination of pipeline girth welds has grown dramatically in the last decade. The use of AUT has primarily been driven by the need to identify critical lack of fusion flaws in narrow-gap, shallow-angle groove welds, difficult to detect with radiographic (RT) methods.
In addition, the adoption of fracture mechanics-based acceptance criteria has created a need to accurately determine the size of these flaws and the potential AUT inaccuracy around this.
The process of qualifying AUT system performance is well documented in numerous publications. For offshore pipeline construction, this process is outlined in Det Norske Veritas (DNV) documents OS-FS 101 and RP 118. However, the application of immersion ultrasonic testing (IUT) is not as well covered as many other components of the process.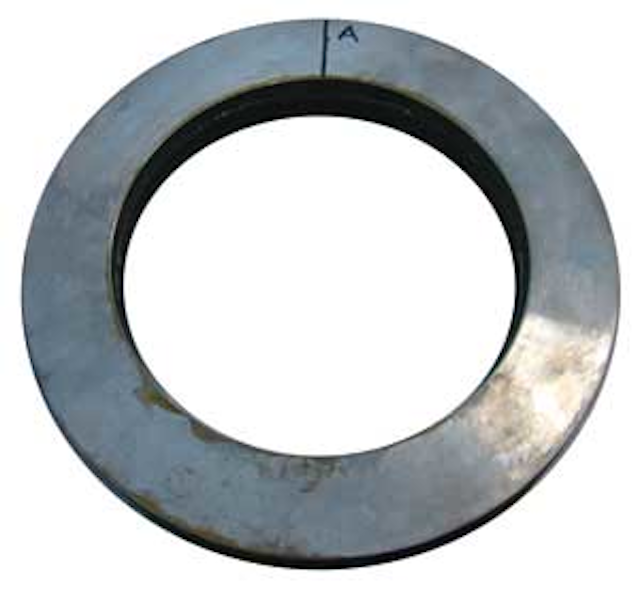 A carbon steel girth weld, before being scanned by the IUT machine.
The IUT technique is something that has been recently introduced by Exova, as part of the AUT validation procedure for girth weld inspection.
An IUT C-scan of the carbon steel girth weld.
The testing service is particularly relevant for discovering smaller defects as a result of the high accuracy robotics and enhanced immersive testing environment.
An increased number of defects can be identified with this service. These include cracking, porosity, incomplete penetration, inclusions, lack of sidewall fusion, and related defects that can compromise the pipeline's girth weld strength.
It is vital that any defect in the welds are detected, accurately located, sized and reported quickly. It was for these reasons that Chevron began working with Exova to ensure enhanced inspection detection and sizing capabilities. The new technology delivers confidence that the pipeline welds are free from critical defects.
The IUT technology can be placed between the examination of deliberately flaw-seeded test welds examined by the AUT system under qualification; complementary non-destructive examination (NDE) techniques such as RT; and physical sectioning of the known flaws.
This whole process can be time consuming and expensive, and will often become a critical path activity during pipeline design and qualification. In the past, lack of diligence in the process, unexpected results and limited availability of qualified facilities often led to project delays; or even the need to waive critical tasks (such as the IUT) in order to meet construction timelines.
As IUT has been around for decades and is widely used for aerospace forgings and other applications, it was surprising that so few facilities were in a position to offer this particular service to an acceptable technical standard for the offshore market.
Exova has extensive IUT experience throughout the world, meeting the requirements for these industries. There are however some oil and gas requirements that are unique for this sector. It was clear that this was perceived as a niche requirement, and that few saw it as a business opportunity.
Additionally, there seems to be a lack of clarity about the role IUT plays in the AUT qualification process, and it almost seems that some people fear that the differences between the two ultrasonic approaches will diminish the accepted performance of AUT in some manner. We see IUT as filling two functions:
It confirms the length of the flaws for sectioning, and provides a second data point to ensure sectioning takes space in the correct locations
Standards talk about sectioning "white space" areas where no AUT calls have taken place to validate detection performance. The IUT approach allows us to "see" any potential flaws that may not be detected by the AUT, and section those areas so that the pipeline operator can better understand what may be missed (and left) in constructed girth welds by any particular AUT system.
As a global operator, Chevron needed to identify more qualified assets around the world to ensure that it could access the services it needed. Exova as a global provider of independent laboratory services was already engaged with the operator at multiple locations, providing flaw sectioning and reporting services.
Exova also had IUT experience related to other industries and applications. It made sense for the parties to work together to develop, qualify and establish available IUT facilities at multiple locations close to where a lot of pipeline qualification work was taking place.
Work initially began in the Netherlands and test rings were submitted for examination.
Exova took the Chevron requirements and performed a structured qualification effort, initially for carbon steel pipe and welds. This effort resulted in a standardized and qualified procedure that meets the Chevron requirements; but, more importantly, serves the functionality required of the AUT qualification process.
In addition to the base qualification, time and effort was allocated to experimenting with ring thickness to demonstrate that this does not have the impact in sensitivity that many believe. A calibration process was also designed that constructs signal characteristics and thresholds closely mirroring those used in the AUT system to ensure as near possible like-for-like examination conditions.
The available procedure can be applied for any kind of girth weld diameter and wall thickness as well as any material, carbon steel or CRAs.
Once the facility in the Netherlands was qualified, the standardized qualification approach was transferred to the Exova Houston laboratory and repeated.
The actual IUT hardware was not standardized, since its qualified performance allows flexibility for different global facilities to access suppliers that may be closer to local markets. This will be the process as the company seeks to qualify additional facilities in Singapore and elsewhere. It has dedicated the Spijkenisse, Netherlands, facility as the development center for future procedures and AUT validation expertise.
More Offshore Issue Articles
Offshore Articles Archives
View Oil and Gas Articles on PennEnergy.com