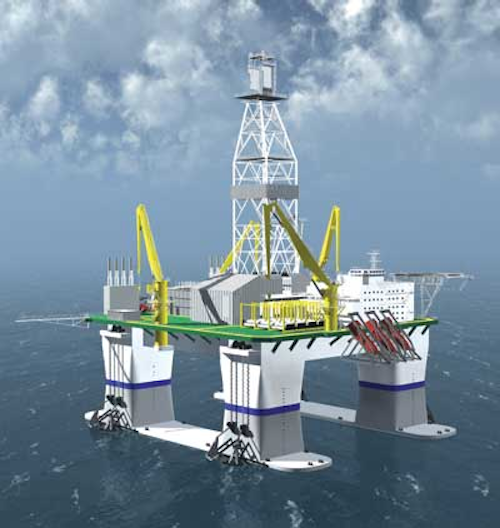 Nick Terdre
Contributing Editor
The new GVA 7600 semisubmersible drilling rig design is intended to offer improved operability and flexibility allied to high HSE standards. It draws on Gothenburg-based GVA's experience with the GVA 7500 and the development of Statoil's Category D rig project.
Currently GVA has three projects under way with drilling contractors, and the concept has also elicited interest from oil companies and shipyards, according to business development director Peo Svärd.
Although many new rigs have come onto the market in recent years, oil companies' high expectations and the authorities' ever-more stringent HSE requirements are keeping demand for newbuilds high, he says. There are around 150 rigs that are over 25 years old which do not comply with the latest HSE rules and standards, let alone emerging ones – nor do they satisfy the oil companies' desire for tailor-made units.
There is scope, therefore, for new designs. GVA's feedback was solicited from operators and owners of GVA 7500 units – with six units in operation and a further three on order, this is now a proven design. The latest semi ordered, for Norwegian contractor Odfjell Drilling, will work under a seven-year contract for BP in the harsh environments west of the Shetlands and in the Norwegian Sea.
Another important background source was Statoil's Category D rig project, intended for production drilling in mid-water depths on the Norwegian continental shelf (NCS). This project, in which GVA worked closely with 13 drilling contractors, four fabrication yards and two drilling package vendors, resulted in the GVA 4000 NCS design.
"We learned a lot from the different participants, as well as receiving valuable input from Statoil," said Svärd. "Now we have merged these two experiences into the improved design that is the GVA 7600."
Improvements include major geometrical changes in the hull, which has different columns from those on the GVA 7500. Performance is also better, with heave motions, for example, reduced by up to 15%.
Much of the learning from the Category D project related to operability, especially of the drilling equipment. This has found expression, for example, in improved ways of moving heavy equipment around through use of multi-skidding systems and lifts. These are less sensitive to motions, leading to a reduction in downtime. And to a greater degree than before, equipment handling and moving is performed by remotely operated machines, which reduces the risk to personnel and the rig itself, Svärd claims.
The design also incorporates an innovative x-shaped moonpool, the size of which can be varied. When heavy equipment is being deployed through the moonpool, it can be set to the smaller size, allowing for better control of the operation. And when the drilling riser is in place, it can be opened up to minimize the likelihood of interference between the riser and the hull, thereby accommodating a higher degree of drift-off.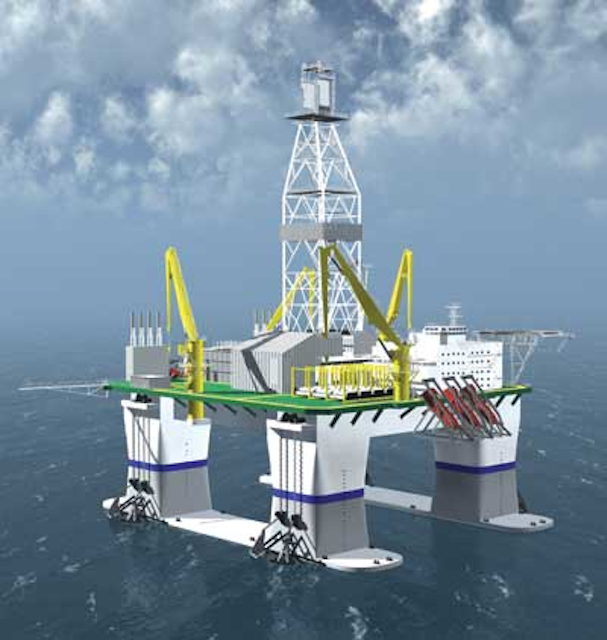 The new GVA 7600 semi incorporates wide-ranging design enhancements.
Environmental performance, and the introduction of ever tougher standards, is another priority. The GVA 7600 takes into account the coming Tier III standards on emissions to air that will take force in 2016. The design includes space allocation for the additional equipment likely to be required.
Tightening requirements on emissions to sea have been accounted for by two additional drain systems, so that there are now three: for waste from non-contaminated areas; non-polluting hazardous waste; and hazardous liquids.
Flexibility is another feature, Svärd says, allowing rigs operating under long-term contracts to be deployed in different locations or for different types of job without requiring major work. The flexibility comes from the rig's large deck area, and the high variable deck load makes the rig less sensitive to extra equipment.
The new design retains traditional features of the GVA semisubmersible concept. The topsides, for example, is located within a deck box, which gives stiffness to the hull/topsides structure and creates greater buoyancy – a factor which helped to keep BP's Thunder Horse platform, a GVA 40000 unit, floating after it was damaged by a hurricane in 2005.
Dividing the rig into several blocks within yards' lifting capacity eases fabrication. So does welding accessibility – GVA's solution provides connections between columns, wing pontoons, deckbox and pontoons. This not only gives welders ease of access, but through the use of a cast steel product, ensures an efficient load distribution, limiting fatigue factors. The design approach also allows inspection of these critical details from inside which helps bring down operational costs.
GVA's close relationships with yards, not least through its custom of having representatives accompanying construction on behalf of the owner, allow it to keep abreast of fabrication issues.
The GVA 7600 comes in two versions: for mid-water, up to 1,500 m (4,500 ft); and deepwater, from 1,500 to 3,400 m (4,500-10,000 ft). Both have a drilling depth of up to 12,000 m (40,000 ft). The main difference between the two versions is the heavy weight of the riser needed for deepwater drilling – there are some significant differences in the layout of the main deck due to riser considerations, Svärd says.
More Offshore Issue Articles
Offshore Articles Archives
View Oil and Gas Articles on PennEnergy.com