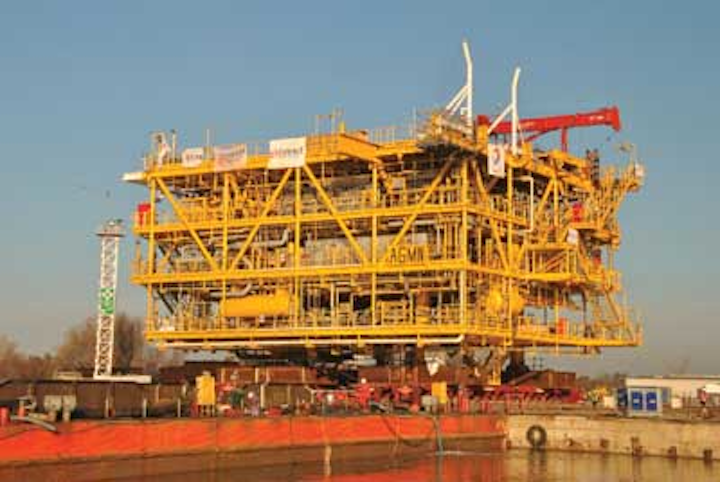 Development drilling was due to start in April from Total's new AGMN wellhead platform offshore Gabon. The unmanned facility will be connected via a pipeline to the existing AGMP production platform on the Anguille field as part of an ongoing redevelopment program.
Eiffage Construction Metallique (ECM), formerly known as Eiffel, built the 2,150-metric ton (2,370-ton) platform and associated piles at its yard in Fos-sur-Mer, southern France. These were delivered to Gabon on schedule this January, with the platform's three main sections – the jacket, deck and vent stack – fully assembled by Feb. 7 and installed by Saipem's heavy-lift vesselS3000.
"We had no measurable difficulties," says ECM's Offshore Energy Director Arnaud de Villepin. "Everything went well because we were well prepared." In March, the company was also undertaking commissioning of the new 15-slot facility, which will allow a total of 21 wells to be drilled. Power for AGMN will be supplied via a 23-km (14.2-mi) subsea cable from a new onshore plant.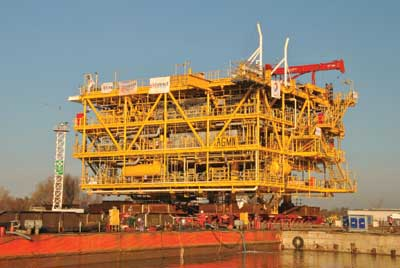 The new AGMN wellhead platform for the Anguille field redevelopment.
Over the next 18 months, ECM's focus will be on a much larger new platform for Total's Ofon Phase 2 project off Nigeria, the 7,000-MT (7,716-t) OFQ living quarter facility. ECM was awarded the engineering, procurement, construction, and commissioning contract last September as part of a consortium with its subsidiary Eiffel Nigeria and indigenous subcontractors Nigerian design company OOPE and fabricators Aveon Offshore and Niger Dock. OFQ will feature a six-deck topsides weighing 5,000 MT (5,511 t), including technical/control rooms and accommodation for 140 crew; an 800-MT (882-t) jacket; and 1,200 MT (1,323 t) of piles.
Although Fos is fabricating the three "technical" levels of the platform, the aim is to maximize Nigerian engineering and construction content. Aveon's yard in Port Harcourt is building the jacket, spider (cellar) deck, helideck and piles, while Niger Dock in Lagos will deliver the three upper levels of the deck, containing the accommodation. "This is the first time that a single yard in Nigeria has been so involved in fabrication of an offshore living quarter platform," De Villepin claims.
"The construction itself is not so complicated, but the difficulty lies in coordination of all the different trades and disciplines. The current focus at Niger Dock is on structural work for the jacket and the box for the three levels for the accommodation, an activity which the yard is accustomed to managing. For the accommodation outfitting phase, Eiffage will bring in its international specialists to develop the consortium's capacity for such high-level activity."
The jacket and spider deck should be delivered early next year, followed by Fos' consignment and the topsides in 3Q-4Q 2013. Altogether around 1,000 personnel will be involved at the two sites in Nigeria and 300 in Fos, with the project providing 1 million man-hours of work to the consortium.
De Villepin says the longer-term goal for ECM and partner OOPE is to become the leader in living quarters in Nigeria and a supplier of accommodation modules or platforms for future Nigerian offshore projects. They hope to bid for upcoming field developments planned by Total, ExxonMobil, and Chevron. ECM is also interested in taking on refurbishment work for existing facilities in the North Sea, West and North Africa, the Middle East, and the Caspian Sea. If it is successful in a current bid for a jacket and tower for a new wind farm in France, it would build a new jacket factory in northern France, either in Brest or Cherbourg.
More Offshore Issue Articles
Offshore Articles Archives
View Oil and Gas Articles on PennEnergy.com