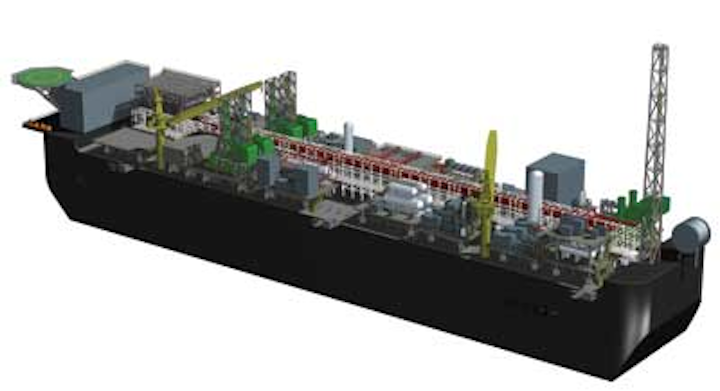 Offshore project management is a new and developing activity for Doris Group. "There is more and more demand from operators for assistance," says CEO Loïc des Déserts. "Although there had been a slowdown in new offshore projects in recent years, now [because of the oil price] the industry has to act more quickly to monetize its fields. And operators of all sizes are stretched in this regard and need help."
Probably the world's busiest in terms of major new programs is Petrobras. The company has ordered eight FPSO hulls from Brazilian shipyard Engevix for its near-term developments in the presalt Santos basin, all under construction at the Rio Grande do Sul shipyard. Doris Ltda in Brazil was awarded the FEED and follow-on project assistance services for the topsides.
"Petrobras has now received bids from different contractors for fabrication and integration into the hulls," des Déserts explains. "We will assist the technical supervision of the project, from detail engineering to fabrication and later integration in the yards."
Initially Petrobras looked to bring down costs by commissioning eight standardized FPSOs. Subsequent appraisal drilling and extended well tests, however, have revealed variable reservoir characteristics. This has necessitated adjustments to the topsides in one or two areas, but otherwise the basic design remains the same, des Déserts says.
"Petrobras will award four contracts for fabrication of the topsides modules – each Brazilian contractor will build eight sets of two or three modules, with separate contracts for integration of topsides modules on hulls, and we will oversee integration through to delivery."
Doris Inc. in Houston has been active in project management services for many years, having engineered and led all facilities engineering activities for Murphy's Azurite field development in deepwater offshore Congo, which employed the world's first FPSO. The company is presently building a similar relationship with Maersk, supporting the Chissonga field development off Angola. A Doris team is working in Maersk's Houston office, providing PMT support, while another Doris team is working in parallel from the company's own Houston base performing engineering activities.
Ichthys support
On the other side of the world, the Clough Doris Joint Venture (CDJV) was awarded a A$250-million ($259-million) contract last August to provide offshore integrated project management support services for the Ichthys LNG project. Gas-condensate from the Ichthys field in the Browse basin, 200 km (124 mi) offshore Western Australia, will be partially processed on a central processing platform under construction by Samsung in South Korea. The separated gas will be sent to Darwin (for conversion to LNG) via a new 885-km (550-mi) subsea pipeline, to be installed by Saipem. Condensate stripped from the well stream will be stored on a newbuild FPSO, provided by DSME, before being offloaded to tankers.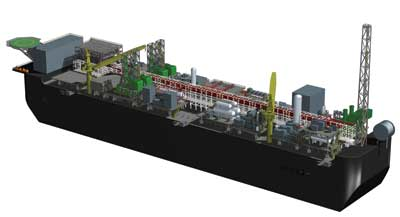 Illustration of the generic Brazil FPSO ordered by Petrobras.
Currently more than 80 CDJV engineers are part of operator Inpex's project management team, initially working out of Houston and London before moving on to Malaysia and South Korea. Ultimately the CDJV will provide 300 personnel during the project's fabrication phase. CDJV's role includes overseeing detailed engineering design, procurement, fabrication, at-shore commissioning, tow to site, and offshore hook-up of the central processing facility and FPSO.
Elsewhere, Doris has performed a conceptual study for the Kairan field in the Kazakh sector of the Caspian Sea, and the company plans to bid for FEED and project management for other planned new offshore field developments with a local contractor.
In the Norwegian North Sea, Doris is supporting Aker on the topsides FEED for Total's Hild field platform. "My understanding is, Norway is short of resources to do engineering work for all the country's new offshore projects," says des Déserts. The cooperation with Aker could lead to the two companies working together in other parts of the world.
Offshore Angola, Doris was instrumental on Total's Pazflor project in block 17 which entered production last fall. After completing the pre-FEED for the subsea separation system, Doris assisted Total in managing implementation of the subsea controls with supplier FMC. At present, Doris is undertaking FEED for the subsea part of Total's next major Angolan development, Kaombo, in ultra-deepwater block 32. Two converted FPSOs will be deployed which will drive up Angolan construction content. These will each be located above one of Kaombo's two well-separated reservoirs, which contain two different types of oil.
Over the past two years, Doris – as part of the Angola Deepwater Consortium working for Angola's deepwater operators – has been performing conceptual and front-end engineering and design (FEED) work for a pipeline/flowline repair system that would be available to all operators in the region. The current final phase is designed to put in place all agreements and a technical dossier to launch an invitation to bid for delivery of the equipment, ideally in 2013.
"Today Angola is a country with a lot of subsea developments in a small area," says Pierre-Yves Burban, Doris' VP Sales & Marketing. "There is not enough return on investment for one single operator to finance such an undertaking on its own. The cost of developing and building the new equipment, logistics, and storage could be $70-100 million. The objective is to set up an organization that would own, store, and maintain the equipment in Angola." There could be a need for a similarly pooled repair system on Nigeria's deepwater fields, he adds.
More Offshore Issue Articles
Offshore Articles Archives
View Oil and Gas Articles on PennEnergy.com