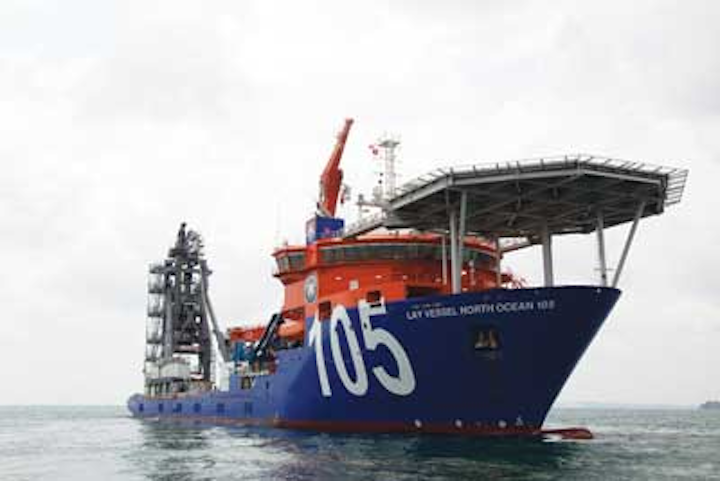 Wendy Laursen
Contributing Editor
From initial project design to refurbishment of existing facilities, progress demands industry best
McDermott's project involvement grows
McDermott International was awarded its first subsea, umbilicals, risers, and flowlines contract in Australia in mid-2011 for BHP Billiton's Macedon gas project. McDermott is carrying out detailed engineering, procurement, fabrication, transportation, and installation of a 77 km (48 mi), 20-in. diameter pipeline. The company will also install subsea umbilicals and flexible flowlines in water depths up to 180 m (591 ft) using vessels from its globally diverse fleet includingDerrick Barge 30 for the pipelay, North Ocean 102 for the umbilical lay, and lay vessel North Ocean 105 for the in-field SURF installations and tie-ins.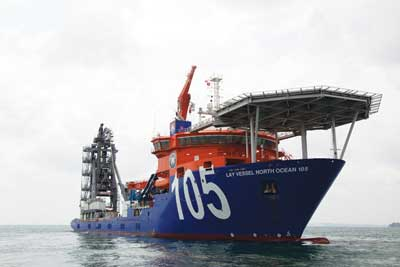 North Ocean 105 will perform the in-field SURF installations and tie-ins for BHP at the Macedon gas project.">
McDermott'sNorth Ocean 105 will perform the in-field SURF installations and tie-ins for BHP at the Macedon gas project.
The Gorgon project is currently McDermott's largest subsea fabrication project. Awarded in late 2010, the scope of work includes the fabrication and assembly of 14,000 Te of structures, comprised of 79 manifolds, CDU, PLETS, and PTS, and respective foundations. The heaviest unit weighs more than 1,300 metric tons (1,433 tons). The company will also provide 63 jumpers and spools with total weight of 2,300 Te. The project has proved to be a significant challenge to available technology, because of the high-quality requirements and 50-year field life. The project has achieved its first milestone with the load out of four sets of PLET foundations. The structures will be installed in 1,350 m (4,429 ft) water depth.
The Ichthys umbilical, riser, flowline project is the largest subsea contract McDermott has been awarded to date. The project includes EPCI and pre-commissioning of production flowline systems, MEG distribution flowline system, condensate transfer and fuel gas transfer flowline systems, flexible risers, umbilicals, and associated SURF elements in water depths up to 275 m (902 ft). McDermott has begun engineering and procurement work and is expected to start fabrication of more than 16,000 metric tons (17,637 tons) of subsea equipment at its Batam Island, Indonesia, fabrication facility in 2013.
The complex offshore installation campaign will see McDermott undertake the installation of subsea hardware, moorings, risers, umbilicals, and flowlines utilizing its specialty subsea vesselsEmerald Sea and North Ocean 102. McDermott is working with Heerema Marine Contractors for transportation and installation of a portion of the offshore scope by using the heavy-lift, J-lay, and reel-lay capability of Heerema's newbuild vessel Aegir.
"We have earned a reputation for reliability in the oil and gas industry, based on disciplined project execution, proven processes and procedures, superior safety culture, and ethical business practices," said Scott Cummins, McDermott Asia Pacific senior vice president and general manager. "To ensure that we get the job done to the client's satisfaction, we assemble the specific services, skills, and resources needed for each project. In recent years, we have restructured our fleet to focus on subsea capability for the next phase of offshore production. New subsea construction vessel additions and enhancements to our fleet support our growing subsea capabilities ranging from subsea engineering to deepwater installation as the industry moves into ultra-deepwater development, such as that occurring off the coast of Western Australia."
Fairways designed to reduce collision risk
Australia has established a network of shipping fairways off the northwest coast that are designed to improve the safe movement of ships and to protect the marine environment.
Large vessels such as bulk carriers and LNG ships will be directed into pre-defined routes to keep them clear of offshore infrastructure. The new shipping fairways are based on similar ship routing arrangements in Australia and overseas that have proven successful in reducing the risk of collision, said Anthony Albanese, minister for infrastructure and transport. "With an expected doubling of shipping activity by 2020 we are planning for the future while protecting what we have today."
Vessels will begin to use the shipping fairways when electronic and paper navigational charts are progressively updated from August 2012 onward.
Industry funds spill response kit
Australia currently has about 80 offshore production wells, and a consortium of 12 companies has initiated the setup of a Subsea First Response Toolkit (SFRT) to enable rapid response to an incident. The kit is designed to clean the area around a wellhead, enable intervention, and prepare for relief well drilling and installation of a capping device.
The consortium of companies that are each providing at least A$2 million ($2.1 million) are Apache, BP, BHP Billiton Petroleum, Chevron, ConocoPhillips, ENI, ExxonMobil, Inpex, PTTEP, Santos, Shell, and Woodside. The kit is expected to be available in 2013, and all Australian offshore operators will be able to access the SFRT on an affordable basis. The location of the SFRT is yet to be decided, but it will be operated by the industry-funded Australian Marine Oil Spill Center in conjunction with an expert service provider.
The kit does not include a capping device because the global oil and gas industry has agreed to locate capping stack systems in Singapore, Brazil, South Africa, and Norway. A system would be called for immediately and would be expected to take 9 to 11 days to mobilize. Meanwhile, the time needed to prepare a well for a capping stack is estimated to be 14-21 days, which is what the SFRT would be used for.
The tasks undertaken using the kit involve the ROV work that must be completed before a capping stack can be engaged:
Intervene on the existing BOPs and function hydraulically
Conduct area surveys, maps, and video recordings
Set sonar arrays for equipment guidance during deployment
Apply subsea dispersant at the well to make the surface of the sea safe for work
Clear debris and equipment from the wellhead area to allow intervention tooling to be deployed i.e. capping stack engagement.
Therefore, the kit will include:
Subsea dispersant injection system and dispersants
Torque tools and hot-stab tools that allow BOP override with any workclass ROV
Subsea hydraulics to allow for tool use and faster BOP closure
3D sonar to give an image of the site
Sonar buoys to mark specific hazards of safe zones
Subsea tools such as shears and saws to clear the site.
The kit would not have been suitable for use in response to the Montara incident because gas was being released at the surface making it highly flammable. Deploying a capping device may have posed an unacceptable risk. However, since Montara the industry has significantly enhanced its capacity to rapidly and effectively respond to an offshore incident. New mutual aid arrangements have been developed to enable sharing of response equipment, facilities, and experts. The industry has also expanded its stock of response equipment including dispersants and targeted wellbore intercept tools. The industry has also doubled the core response group that is coordinated by the Australian Marine Oil Spill Center.
From a prevention perspective, the industry, in conjunction with the Australian Petroleum Production and Exploration Association, has implemented proactive tools such as the Self Audit Checklist and the Common Safety Training Program.
The government is also supplying about $13.5 million worth of equipment to respond and clean up oil spills more quickly and effectively to the National Resource Centers in Sydney, Melbourne, Devonport, Adelaide, Perth, Dampier, Darwin, Townsville, and Brisbane. The rollout includes 18 dispersant spray systems, 31 skimmers (oil recovery systems) and 13 km (8 mi) of boom (oil containment systems). Six new oil sweep systems have also been purchased, which will allow for oil spills to be cleaned up in a wider range of sea conditions.
Record order for riser buoyancy modules
Matrix Composites & Engineering is currently fulfilling an order for 12,000-ft (3,658-m) API 16F compliant riser buoyancy modules that will be delivered in 2013. The company claims to be the first company in the world to receive an order for 12,000-ft riser buoyancy modules and is also developing 13,000- to 15,000-ft (3,962- to 4,572-m) riser buoyancy modules for use in ultra-deep subsea environments.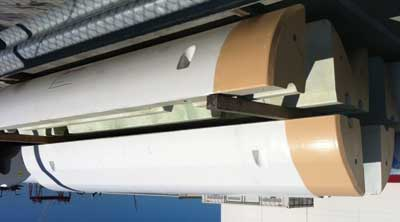 Compliant riser buoyancy modules for 12,000 ft are under development by Matrix Composites & Engineering for delivery in 2013. The company is also developing 13,000- to 15,000-ft (3,962- to 4,572-m) riser buoyancy modules for use in ultra-deep subsea environments.
The order is to supply new drillships being built at a Korean shipyard capable of drilling in 12,000 ft of water. Already having a large number of rigs rated to 10,000 ft (3,048 m) with more than 100,000 ft (30,480 m) of riser, the client wanted to keep the equipment identical so it was interchangeable between the new and old drillships, and to negate the need for a large investment in spare risers.
The issue centered on the fact that the earlier rigs were equipped with a 60.5-in. rotary table and had buoyancy with a maximum 54-in. outside diameter. As the new rigs required greater uplift to deploy 12,000 ft of riser, the client needed 58-in. OD buoyancy. Use of buoyancy with a larger OD would be limited to 12,000 ft rigs equipped with a 75-in. rotary table. The client requested that the new buoyancy be interchangeable between rigs with a 60.5-in. and 75-in. rotary table, which would reduce the need for spare riser joints and lower costs.
Matrix was able to design the riser buoyancy to obtain the largest possible uplift required for 12,000 ft while maintaining the 54-in. OD through the use of its ultra-light syntactic foam systems. The solution allowed the Korean shipyard to use the same derrick and tensioner system as the 10,000 ft rigs, thereby containing the overall cost of the project.
The company has launched a new distributed buoyancy design that includes a lightweight, robust module, and a flexible riser clamp that can be used across a range of flexible risers and umbilicals. The design differs from its competitors as the system's clamp is extremely lightweight and can be quickly installed by one individual saving the client time, labor, and money. The clamp can be installed in about three minutes by one individual with simple installation tooling and no lifting equipment.
Versa Slab is another SURF ancillary product that the company has recently released. Versa Slabs are blocks of buoyancy that can be used in their natural state or cut into varying shapes as required. Matrix developed the product to meet the growing demand for standard, "off the shelf" buoyancy required within short timeframes. Versa Slab is predominately used to make custom shapes for ROV skids, installation buoys, installation aids, and for any requirement for small quantities of buoyancy ranging in depth ratings from 2,000 to 12,000 ft (610 to 3,658 m). Matrix stocks Versa Slab in its warehouses in Houston and Australia.
Versa Slab comes in 2,000- to 10,000-ft rated syntactic foam systems manufactured into pre-set dimensional slabs of 1.2 m x 3.0 m (4 ft x 10 ft) with thicknesses from 150 mm to 350 mm, in 25 mm increments. The Versa Slab is available with a PgU skin system and/or a fiberglass and Aramid skin.
The company has also released two new patented, low friction composite drilling and completion centralizers for use in extremely challenging directional and horizontal wells. The centralizers are designed to convey well screens, completion tool strings and typical casing and tubing strings into highly deviated and challenging horizontal wellbores. The new centralizers are suited to the rapidly growing well construction market as it continues the trend toward construction of directional and horizontal wells.
The two new composite and completion centralizers include low friction composite centralizers for applications that demand a heavier duty solution while retaining the benefits of a non-metallic centralizer. They also include an ultra-low friction composite centralizer designed specifically for extremely challenging, longer deviated wells. The centralizers are made using very low friction materials and have a 50% lower dry static coefficient of friction than competing technologies. This means that screens or casing tubing experience a significant reduction in torque and less horizontal force is required.
Matrix Composites & Engineering is involved in the design, testing, manufacture, distribution, and service of a range of engineered products used in the oil and gas industry. The company manufactures technically advanced products using composite and polymer materials that originate from the aerospace and defenae industries. It operates out of the world's largest, most technically advanced composites syntactic plant, and has a distribution and service network spanning five continents, including new sales offices in Rio de Janeiro and Houston, as well as a warehouse in Houston to stock and supply clients in the Northern Hemisphere.
Matrix manufactures and supplies a diverse range of products and services including drilling products, well construction products, and upstream SURF ancillary equipment.
With its hydrostatic pressure testing facility that includes the largest deepwater simulation chamber in the world capable of testing buoyancy systems to a service depth of 17,500 ft (5,334 m), the company is positioned to service the industry as it moves toward deeper water drilling.
Modular platform saves inspection, repair, and maintenance time
The patent pending Neptune modular work platform was recently deployed on an intensive program of jacket blasting and painting on the North Rankin A platform (NRA), a facility recognized for its challenging access issues.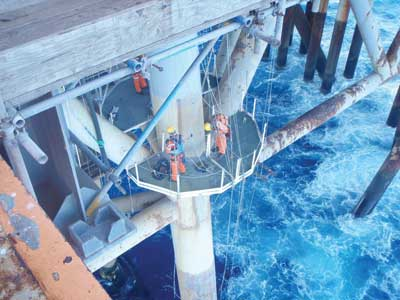 Neptune has developed a work platform that comprises a number of individual segments that interconnect to form a work area of up to 360°, suspended directly around or parallel to the platform leg structure.
Neptune's asset integrity and engineering divisions collaborated on the bespoke design, engineering, and manufacture of the work platform that comprises a number of individual segments that interconnect to form a work area of up to 360°, suspended directly around or parallel to the platform leg structure. Designed and built to Australian Standard AS1418.17, the work platforms can be applied between the splash zone and the cellar deck, with each segment installed via Neptune's IRATA (Industrial Rope Access Trade Association) qualified rope access technicians.
"The idea of a suspended work platform was born out of the need for a customized access solution that was outside the realm of more traditional methods, said Todd Cunningham, Neptune general manager. "The combination of a small window of opportunity on site and the ultra-high-pressure blasting component of the maintenance scope required a means of safe, secure access that could not be achieved using conventional methods. With these and a range of additional considerations taken into account, we sought to develop a potential alternative that could be applied to both horizontal and vertical scopes, could be rigged appropriately, and could withstand the extremities of the work area and environment."
Following a comprehensive hazard identification process and assessment of the project at all levels, the segmented modular platform concept was conceived and CAD visualizations were developed. Simultaneously, potential construction materials were investigated and the feasibility and commercial viability of the concept was compared to existing techniques.
"Initially we proposed to manufacture the work platform from aluminum based on its corrosion resistance and lightweight properties. However, we discovered there are restrictions on the use of aluminum offshore due to its potential to spark when it comes into strike contact with corroded carbon steel surfaces," said Cunningham. Additionally there are issues with aluminum's structural integrity at elevated temperatures, such as might be experienced in the event of a fire.
In an attempt to address the weight issue, a number of alternative materials such as carbon fiber and specialty alloys were investigated. However, none proved feasible when all other considerations were taken into account. Therefore, carbon steel was chosen for the frame and a rigid fire resistant plastic composite for the decking. "This of course posed a weight issue that required the rigging to be adjusted to suit, but ultimately it proved to be a good thing as we ended up with a product that is built to Australian standards and provides additional stability in windy conditions," he said.
With the prototype completed, a comprehensive program of testing was commissioned in Perth prior to its deployment offshore. On NRA, installation took two days using a three-man team, and the initial scope on the first of two legs took six days to complete using a five-man maintenance crew. Not only did the modular work platform prove to be a faster, safer, and less expensive alternative, it also resulted in a significantly reduced bed space allocation on NRA, a major consideration on offshore facilities. It was estimated that the completion of the scope using conventional combined scaffolding and coating teams would require 16 personnel. Neptune completed the job with a team of five.
After completion of the initial work, the Neptune modular work platform has now returned to NRA for a second phase of work that is expected to run until early 2013.The success of the NRA application has also generated interest from at least two other operators with offshore assets in the Timor Sea and Bass Strait.
Complex hull tests software used in Ningaloo Vision upgrade
TheNingaloo Vision FPSO is being upgraded. The project involves reassessing its intact and damage stability, and the longitudinal strength in preparation for its relocation. The Apache-operated project involves modifications to the FPSO that is operating on the Van Gogh oil field on the North West Shelf, and development of the neighboring Coniston and Novara oil fields, which will be tied into the existing Van Gogh subsea infrastructure.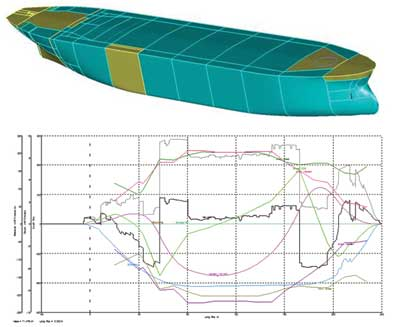 Bentley Systems' software is helping in the design work to convert the existing Ningaloo FPSO for a new life offshore Western Australia.
TheNingaloo Vision FPSO is a converted tanker that has been operating successfully for many years in the Van Gogh field in 330 m (1,083 ft) water depth. In 2013, joint venture partners Apache and Inpex intend to process oil onboard the FPSO, which will be fed to it from the expanded field. In order to achieve this, the vessel must be disconnected from the disconnectable turret moored (DTM) buoy and will transit to Singapore for upgrading.
The oil at the Coniston field has a higher final processed specific gravity that is currently being processed by the vessel and this, in combination with the minor changes to the vessel lightship, require that the vessel stability and longitudinal strength be reassessed. INTECSEA is using Bentley Systems' Maxsurf software to model the vessel hullform, DTM bouy turret recess, and the DTM buoy itself in order to accurately represent the hydrostatic properties of the vessel when connected to the buoy. Hydromax, another software tool from Bentley Systems, is being employed to assess the intact and damage stability and to determine the still water bending moment and still water shear force associated with the vessel loaded mass distribution.
"This project involved some very complex hull geometry because of the configuration of the mooring buoy inside the turret of the FPSO. This requires us to create software which is very flexible in the type of vessel or buoy geometry that it can handle," said Phil Christensen, director of product management for offshore and marine at Bentley Systems.
"The Maxsurf model allowed the naval architects involved to clearly visualize in 3D the vessel and compartment configuration as well as perform accurate calculations of the strength of the vessel. Also important in this kind of offshore work is compliance with stability regulations. Maxsurf has a very complete implementation of all types of international stability criteria to assist with compliance calculation for vessel stability in both an intact and damaged condition. These stability criteria were used to assess a range of loading and damage conditions to ensure compliance in all cases."
The Van Gogh development currently consists of 13 subsea wells including 10 multi-lateral production wells tied into two large subsea manifolds, as well as a single two-way gas injection/flow back well, and two water injection wells. The Coniston and Novara fields are located approximately 8 km (5 mi) north ofNingaloo Vision's current position. The new subsea development will consist of seven production wells connected to a subsea manifold. They will tie into Van Gogh via dual production flowlines. First production is scheduled for 2014.