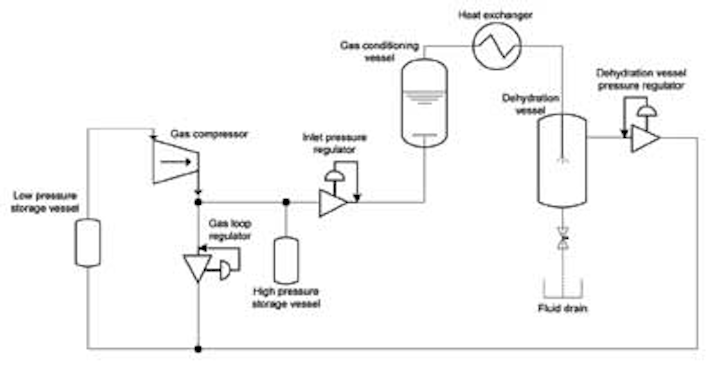 Operators, suppliers see broader market for experience gained off the west coast
Wendy Laursen
Contributing Editor
Australian researchers are pushing technology development to overcome the challenges of the region's harsh and isolated environment. Along the way, Australia could become a global center for offshore LNG advancements.
Peter Coleman, Woodside's CEO and managing director, said earlier this year: "I believe Australia has the potential to emerge as a true global center for LNG innovation in the near future. Under this scenario, we will not just be exporting our gas to customers, but also exporting high-value adding technology and services to international partners."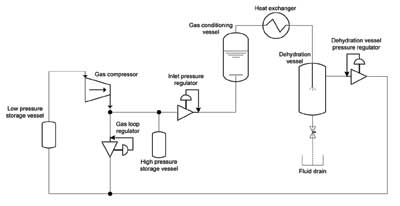 Woodside is funding research into development of a subsea gas dehydration process at Curtin University. The process uses isenthalpic gas cooling to manage hydrates formation.
Toward that goal, Woodside has created a new technology group responsible for identifying leading-edge technologies that can be applied to the company's engineering and geoscience activities. The group is led by Feisal Ahmed, executive vice president technology.
"We're going to work closely with established technology providers, especially those who are looking to grow their business," Ahmen said. "We're going to develop solutions that differentiate us, solutions that work well for our own assets, and solutions that create leverage to partner with others. The technology organization will not be folks with lab coats. It will bring together experienced engineers, project managers, commercial analysts, and supply chain experts. Our focus will be on early adoption and practical application."
Woodside was the first operator in Australia to drill and complete multi-lateral wells and the first operator in the world to drill large-bore 10 ¾-in. multi-laterals. On Vincent, in the Greater Enfield area off Western Australia where Woodside operates and holds a 60% interest, Woodside's drilling team positioned its wells to within a 1 m (3.3 ft) vertical tolerance over distances of up to 2.5 km (1.55 mi). Although Vincent contains 31 laterals, only 13 upper completions and 13 subsea trees were required. As a result, Woodside and its joint venture partners saved over A$1 billion ($1.05 billion) in capex.
In addition, Vincent is the world's first subsea development based entirely on a multi-lateral system. Using new reservoir drilling fluids, altering the well design, using new directional drilling technology, and installing new well inflow devices produced a four-fold productivity improvement. About 25,000 b/d of additional production is attributed to these new technologies.
To further research on subsea pipelines, Woodside is examining stabilization during cyclones. The company has helped fund the O-Tube facility at the University of Western Australia. This is a large-scale model that allows simulation of wave and current conditions, and it is the only one of its size in the world.
"The O-Tube facility allows us to challenge traditional design rules where we can save money while retaining pipeline integrity. The O-Tube facility will help reduce costs by optimizing the stabilization designs for long gas pipelines such as for Browse," said Ahmed.
Woodside also funded development of a new subsea gas dehydration process by Dr. David Parks of Curtin University, Western Australia. The low temperatures and high pressures encountered by deep gas pipelines can form hydrates that can block a pipeline. Typically, the problem is solved by glycol absorption, solid desiccant adsorption, or membrane permeation, but these solutions are unlikely to easily translate to unattended subsea operation, said Parks. Instead, he has developed a method that uses the concepts of isenthalpic gas cooling through expansion and the controlled formation and management of gas hydrates to reduce the water content of a saturated gas stream.
The process preconditions gas to a temperature just above the hydrate formation temperature then expands it through a nozzle. This expansion cools the gas, lowers the saturated water content and allows it to condense from the gas, thus dehydrating it.
After the gas expands and cools, the hydrates formed promote further dehydration beyond that possible by cooling alone. A pilot plant has demonstrated the technique at pipeline temperatures of 4ºC (39ºF). The reduced water content in the gas allows the specifying of lower cost mild steel pipes, said Parks. It is also relatively small, simple, and requires minimal maintenance.
Chevron Australia has a long-term technology plan and will commit more than A$125 million ($131 million) in 2012 to innovation and technology, an increase from A$10 million ($10.5 million) in 2008. One technology development has involved the use of geographic information systems (GIS) to assist environmental management on Barrow Island. The Gorgon upstream team also uses GIS to visualize simultaneous marine operations during pipelay and drilling.
As part of Gorgon's upstream effort, the Corrosion Centre for Education, Research and Technology at Curtin University is electrochemically testing corrosion-resistant alloys to meet Gorgon's standards.
Additionally, a team from Advanced Geomechanics and the University of Western Australia has developed state-of-the-art geological, geotechnical, and geo-mechanical models to determine optimum pipeline route from the Jansz field across the edge of the continental shelf to Barrow Island. This will give Chevron substantial benefits in the development of future deepwater resources, says Colin Beckett, general manager for the Greater Gorgon area.
A number of Australian companies have found a new opportunity in quarantine shrink wrapping services for Gorgon. For example, CTI supplies such services to Gorgon, which has an onshore component on Barrow Island. Barrow Island contains a Class A Nature Reserve, and the company's wrapping services include cleaning of plant and equipment, fumigation and spraying services, and sealed quarantine wrapping.
Under-Raps has established Intercept corrosion packaging protection within the oil, gas, and supporting industries in Australia. Its packaging technology is used for the storage of equipment for Gorgon. It protects the equipment and also makes handling easier because the equipment can be wrapped and protected in lifting frames or easy access to lifting points can be provided.
Tidetech is entering the Australian offshore market with oceanographic products designed to assist in offshore oil platform movement, drilling operations, and ship-based seismic surveying. The company believes knowledge of current and wave conditions will improve the efficiency of platform movements and ensure minimum time between production cycles. For seismic vessels, the system can optimize streamer towing as ocean currents can degrade the accuracy of the data they gather. Also, 3D models of drilling locations can be produced to provide accurate water movement data for different depths. Tidetech analyzes and presents visually using integrated software solutions the data acquired from satellites as well as bathymetric information.
OMC International has developed iHeave which has accuracy similar to a full DGPS set-up for measuring a vessel's wave response. The light-weight, self-contained unit, about the size of a shoebox, normally is carried onboard by marine pilots and can be set up on the ship's bridge within two minutes. It can continuously monitor vessel movements during the entire transit, and directly measure all six degrees of motion in all weather conditions. The system complements the company's dynamic under keel clearance system (DUKC) and OMC now offers this vessel measurement and analysis service to offshore clients so that ship masters and pilots can know in advance that they will have sufficient water to reduce the risk of grounding in shallow waters. In most cases, it allows large vessels to load more cargo and/or sail with wider tidal windows. The company claims that it is so accurate that, under extreme weather conditions, a 250,000-metric ton (275,578-ton) bulk carrier can negotiate a channel within a meter clearance to the seabed.
Perth-based subsea engineering and remote technology business Velocious provides tooling components and services for use in subsea work at Gorgon. Velocious is designing and fabricating buckle initiation components and tooling which will become integral to the project's offshore operations and subsea pipeline buckle mitigation.
Ezy-Fit Marine is under contract to manufacture the buckle initiator hydraulic cylinders for Velocious. The application and environmental conditions necessitate large-bore, long-stroke cylinders entirely of duplex and super duplex stainless steel. Instead of using hydraulic oil as a pressure medium, the cylinders operate using pressurized filtered seawater. The use of seawater to operate hydraulic cylinders is rare and has few successful precedents. As it is corrosive, has no lubricity, and its molecular diameter is so small in comparison to oil (only around 1/350 th of the diameter), the materials, seals and tolerances were selected to optimize the smooth operation and longevity of the cylinders.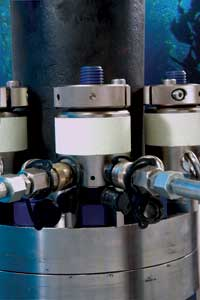 Hydratight's AquaMax Subsea Tensioner is a new tool designed to tension compact flanges as well as all standard ANSI, API, and MSS types.
Hydratight's AquaMax Subsea Tensioner is a new tool designed specifically to tension compact flanges as well as all standard ANSI, API, and MSS types. The tensioner consists of 19 bolt diameter-specific tools, with eight tools forming the core range, and is used primarily subsea. Each tool within the core range covers 100% of the standard flanges that use the bolt diameter it was designed for, and approximately 80% of flanges that use the next smaller size.
As it fits all standard flanges including ANSI, API, Taperlok, and Compact, it reduces the need for kit and total tool inventory costs. It generates up to 50% more load than traditional tensioners with a maximum working pressure of 1,500 bar (21,750 psi). A quick fastening reaction nut allows rapid tool application and removal regardless of bolt length, corrosion, or thread damage. Hydratight says the unique floating piston design tilts in any direction without loss of load to eliminate piston seizure and to aid tool retraction.
Santos has signed to use AGR's Riserless Mud Recovery (RMR) system for one exploration well 3Q 2012 in the Browse basin off North West Australia. The main reason to use RMR on this well is to be able to drill a deep, 26-in. section with a closed loop mud system. RMR enables the use of weighted, engineered mud in the tophole. All mud and cuttings return to the rig with no discharge to the seabed.
This will be Santos' first use of the RMR. AGR says experiences with operators in the Browse basin and the North West Shelf show that the RMR and a proper mud system give excellent hole cleaning and the ability to drill long riserless sections.