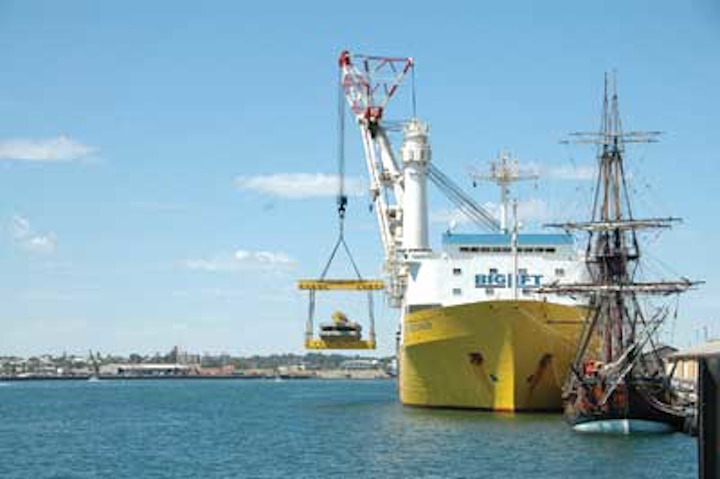 Jessica Tippee
Assistant Editor
As offshore operations advance further from shore and into deeper water, equipment and service providers are not only adtvancing their lifting and hoisting capabilities but also improving their safety practices.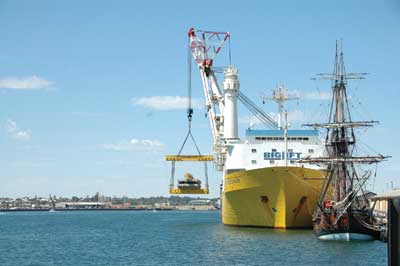 Happy Buccaneer's new super fly jib extends the crane to a maximum lifting capacity of 350 metric tons (386 tons). Photo courtesy BigLift Shipping.
DNV initiated a joint industry project to establish a unified safety approach for deepwater lifting. The company says subsea lifting standards and regulations have not kept up with the demand for deepwater challenges, the demand for greater lifting capacity, and the introduction of motion compensation. The 14 participants in the project are: Statoil, Petrobras, Lundin Norway, Marathon Oil Norge, Technip, Subsea 7, SAIPEM, Heerema Marine Contractors, Cargotec, Liebherr Werk Nenzing, TTS Energy, Huse Engineering (including Rolls-Royce), SamsonRope, and W. Giertsen Services.
The participants will present their conclusions in Recommended Practice before year end. Robert A. Oftedal, DNV's business development leader, cranes and lifting, said "The aim is to increase efficiency and safety during the equipment's design, operation, and maintenance phases."
BigLift Shipping successfully completed the first job with its new 17-m (56-ft) super fly jib onboard the heavy lifting carrierHappy Buccaneer. Designed and manufactured by Huisman, the first-ever super fly jib was equipped with special Twaron stay cables to lengthen the crane to a radius of 55 m (180 ft). The aramid fiber Twaron is lightweight and five times stronger than steel. The Twaron stay cables have a rated minimum breaking strength of 920 metric tons (1,014 tons). Happy Buccaneer's new super fly jib extends the crane to a maximum lifting capacity of 350 metric tons (386 tons) at 35 m (115 ft) outreach. The maximum outreach and height of the heavy-lift crane are increased by 50%.
Technip has contracted Huisman for a 500-metric ton (551-ton) yard crane and a 150-metric ton (165-ton) Flexlay system. Both will be designed and constructed at Huisman facilities in the Netherlands and the Czech Republic. The fully revolving yard crane will be the third of this type built by Huisman, and will be installed, commissioned, and tested at Technip's Flexi France facility in northern France in mid-2013.
Features include an electric variable frequency drive system, a low overall construction weight, and a small minimum operating radius. All the major equipment, such as hoist winches, is installed inside the enclosed crane house. Huisman claims the result is low power consumption, lower operational costs, and maximum operability.
The Flexlay system, due to be delivered end-2013, will be used to install flexible pipelines. The system can be separated into two modules, simplifying installation onboard the vessel. It will feature two open-able and retractable 75-metric ton (82-ton) tensioners for installation of components such as umbilicals, risers, and flowlines. Its deepwater lowering function allows for installation in up to 3,000 m (9,842 ft) of water.
Huisman has also been commissioned by Allseas to design and manufacture a new offshore mast crane for the pipelay vesselSolitaire. The new 850-metric ton (937-ton) crane will replace the current 300-metric ton (330-ton) model, and will provide up to 1,600 m (5,249 ft) hook travel single fall. The crane will be equipped with an active heave compensation system on the main and whip hoist to counteract the vessel's heave motion when landing a load on the seabed.
Use of a splittable block on the main hoist will allow the number of falls to be adjusted from eight to four without re-reeving - adjustment, Huisman claims, which helps optimize the lift with the required load and speed. These features should benefit installation of heavy loads for deepwater subsea production systems. Delivery is scheduled for Oct. 1 at Huisman's plant in Fujian, China.
Kvaerner has invested about NOK 250 million ($43 million) to upgrade and increase lifting and trailing capacity at its Stord facilities. The company's new Goliath gantry crane will have a lifting capacity of 800 metric tons (882 tons), and a total height of 115 m (377 ft). The crane is scheduled to be ready for operation in the beginning of 2014, in time for the major lifts for the Edvard Grieg project.
JD Neuhaus has constructed and delivered its largest-ever crane system to Westcon Lofteteknikk AS (WCL) of Norway. The semi-portal design comprises an A-frame supporting twin overhead horizontal track beams providing a 7.5 m (25 ft) span.
The crane has an approximate height of 11.5 m (38 ft) with a total weight of 32 metric tons (35 tons). It is equipped with JDN hydraulic EH 40-H monorail hoists operating on each of the twin beams. Each hoist provides an individual lift capacity of 40 metric tons (44 tons). The hoists can be operated individually or simultaneously from one control. When used in conjunction a total lift of 80 metric tons (88 tons) is possible and a 12 m (39 ft) lift height is available. A JDN Profi 6 TI-H hoist with 6-metric ton (7-ton) lift capacity is also provided to cover other operational or service requirements.
The whole energy supply system incorporates four hydraulic drives provided for the crane travel movements. An electro-hydraulic switch cabinet is also mounted on the access gangway. The primary radio crane controls have a back-up system fitted to cover any radio control panel failure. Manual operation is also accommodated to cover any unscheduled loss or failure of the electric power supply.
Volstad Marine has contracted Cargotec to supply two active heave-compensated (AHC) offshore cranes. The 250-metric ton (275-ton) MacGregor AHC subsea crane and 15-metric ton (16.5-ton) MacGregor AHC offshore crane will be fitted to a new offshore construction vessel (OCV) on order at Bergen Group Fosen shipyard in Norway.
This is an ST-259-CD Skipsteknisk design vessel, 125 m (410 ft) long and 25 m (82 ft) wide. It is due to be delivered in August 2013 and will be chartered for subsea intervention services. Last April, Cargotec won an identical order for Volstad's hull 89 OCV, due for delivery this July.
Apache North Sea Ltd. has awarded EnerMech a £6.6-million ($10.5-million) contract to supply and install four new BOP handling cranes on the Forties field Alpha, Bravo, Charlie, and Delta platforms. EnerMech will deliver four Stahl cranes, and the project is expected to be completed by 1Q 2013.
More Offshore Issue Articles
Offshore Articles Archives
View Oil and Gas Articles on PennEnergy.com