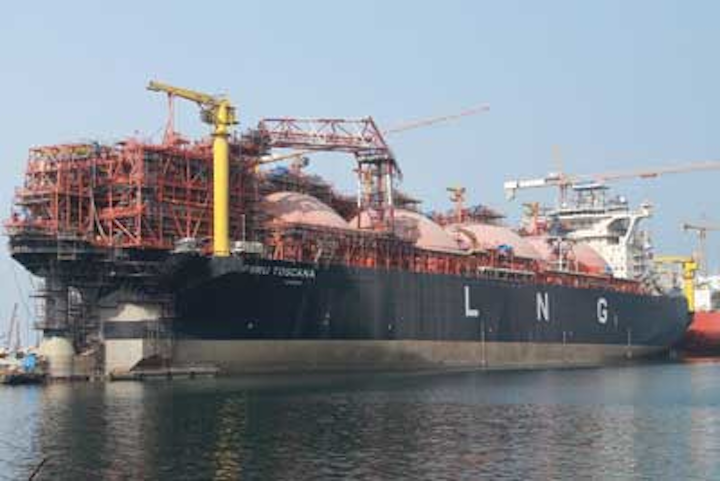 Armando Favi
Saipem
An LNG carrier is being converted in Dubai to a floating storage and regas unit (FSRU). Around the turn of the year, the completed vessel should sail to its final destination offshore Livorno, western Italy, ready for hookup and final commissioning.
The three LNG regasification units onboard will be the first installed on a ship permanently anchored in open sea. Other innovations of this project, not previously tried offshore, include side-by-side mooring of two vessels for LNG transfers; the loading arms connecting the vessels; and the static vaporizers, which are subject to pitch and roll.
Client OLT Livorno, a joint venture between IREN, E.ON, OLT Energy Toscana, and Golar LNG, commissioned the FSRU as the optimum solution for this location in terms of environmental impact and construction permits. However, the novelty of the plant in an offshore setting meant that Saipem, the engineering, procurement, construction, installation, and commissioning (EPCIC) contractor, had to devise a completely new design.
A group of developers conceived the initial idea for the project in 2002 as a way to provide Italy with greater security and diversity of gas supply. Currently the country imports most of its needs via onshore pipelines from northern Europe and offshore pipelines from countries in North Africa. Additionally, there are two regasification terminals on or close to Italy's northeast and northwest coasts.
OLT signed an agreement guaranteeing Saipem's support from the project's early phases through construction of the plant, and committing to exclusive direct negotiations with Saipem for the EPCIC contract. Saipem's brief included developing a new conceptual solution from scratch, and went through to technical definition for approval of the unit's feasibility. Additionally, the company would support OLT in all activities surrounding obtaining permits; discussions with the various regulatory authorities; promoting the project to potential partners and future clients for the gas including LNG suppliers; industrial qualification for the technological innovations; and completion of basic engineering and definition of the project's price.
The vessel undergoing conversion is the 288-m (945-ft) long, 48-m (157-ft) wide, 80,000-ton LNG carrierGolar Frost. As an FSRU it will be fixed by a rotating turret in 120 m (394 ft.) of water, 12 mi (19 km) offshore Livorno. It will receive LNG from conventional gas carriers moored alongside, with cargoes unloaded through articulated loading arms attached to the FSRU, similar to those in use at coastal LNG terminals.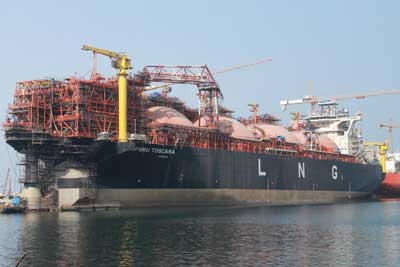 The converted FSRU in drydock in Dubai.
The LNG will be stored in four 40-m (131-ft) diameter Moss-type spheres, with a combined storage capacity of 135,000 cu m (5 MMcf), and directed to the regasification units, operating over a pressure range of 55-80 bar (798-1,160 psi).
This will be the first floating re-gasification terminal ever built to work in open sea. The design must therefore ensure a high level of availability, and safety of the unit in all anticipated sea states, particularly during side-by-side berthing and unloading. The FSRU's four loading arms have been specially designed to work in extreme conditions offshore – full-scale factory tests have been performed for their qualification.
LNG will be transferred to the FSRU at a rate of 12,000 cu m/hr (4 MMcf/hr) – unloading of the largest LNG carrier (135,000 cu m capacity) should take 12 hours, plus mooring and de-mooring time. Operations allow for one unloading roughly every six days. Between unloadings, the loading lines are maintained in a cold condition via a small recirculation of LNG in order to shorten the cool-down phase.
Main components of the regasification process are the three Tri-ex type vaporizers, manufactured by Kobe Steel in Japan, each with a capacity of 150 ton/hr, and using large volumes of seawater as the heating medium to vaporize the LNG. Seawater is pre-heated by the heat generated in the steam power generation system's main condenser. Gas resulting from vaporization will head through an offshore pipeline to the mainland, connecting to the Italian national grid. The vaporizers, too, are considered prototypes, normally used only onshore in static conditions.
Much of the fabrication and construction activities have been performed in Dubai under Saipem's supervision. Lamprell fabricated the 2,400-ton topsides modules, with Drydocks World handling conversion of the hull of theGolar Frost and integration of the modules. Most of the existing equipment has been modified to suit the needs of the FSRU: new equipment includes a 20-MW power generation system, telecommunications, radar, wave monitoring, fiscal metering, and a Wobbe index correction system to adapt all types of LNG to the specifications of Italy's distribution network.
As the FSRU is in between a ship and an LNG terminal, normal classification rules and regulations did not apply. Saipem has therefore worked closely with Italian classification society RINA to define and obtain all required approvals.
The main project team has been based in San Giuliano Milanese near Milan, working on the topsides module and main integrated systems, with a construction team in Dubai. Saipem subsidiary Moss performed naval engineering and calculations of hull fatigue issues in Oslo, Norway. Another Saipem division in Fano, eastern Italy, undertook subsea engineering of the pipeline end manifold, risers, and umbilicals. Sofresid in Brest, northern France, was responsible for detailed engineering for the hull conversion, with LMC in London designing the turret.
Following onshore commissioning in Dubai, the FSRU will sail through the Suez Canal to its final location offshore Livorno, where it will undergo installation and commissioning during the first half of next year.