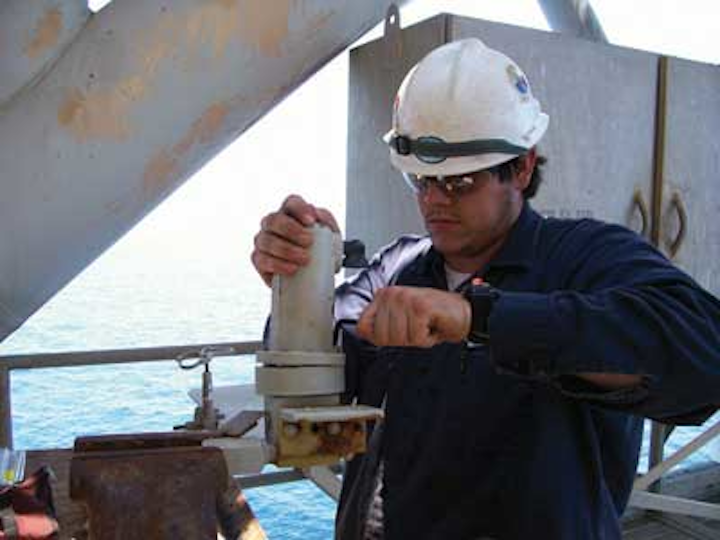 Analysis and monitoring can save thousands of dollars in repair costs and lost production
Michael A. Romano
Pentair Valves & Controls
The unique nature of offshore platforms can make servicing valves a critical issue for platform operators. The job requires a specialized workforce with offshore certifications, containerized equipment that meets strict offshore standards, and a nearby onshore workshop for change-outs. It also requires OEM spare parts and experts with experience in swapping out duplicate valves. Experts need to know how to troubleshoot valve conditions with minimal knowledge of the asset's history. And speed is of the essence, since the platform will sit idle while the right materials and experts are located, resulting in a significant loss of revenue.
Platforms operators who do not conduct regular and preventive maintenance know they can get caught with downtime or, worse, a catastrophic safety event. A valve asset management program can help them keep things running smoothly.
A maintenance program can determine how often and when valves need servicing. It can help ensure that valves are only pulled offline when they actually need to be serviced, not just according to a service schedule. In essence, executing good maintenance practices helps ensure that the right maintenance is performed on the right valve at the right time.
Defining the program
To create a valve asset management program, operators work with a service provider to determine a predictive and preventive maintenance schedule customized for the platform's specific valve population. Every individual valve's service and performance history influences this unique schedule for each operation.
Why the need for a maintenance schedule customized down to each individual valve? No two valves will need to be serviced at exactly the same time, and a typical offshore platform will house several thousand valves – pressure relief valves, ball valves, butterfly valves, triple offset valves, and actuation, control and check valves. Automatically scheduling valve maintenance on a single pre-determined cycle does not take into account the unique operating conditions or exposure to elements that an individual valve experiences. These experiences cause valves to fail sooner than expected (in between maintenance cycles) or less frequently than expected. A customized and integrated approach to valve maintenance takes these issues into consideration.
A valve asset management program uses a predictive rather than an automatic approach to planning maintenance. An operator prioritizes maintenance and service based on data that includes experience, observation, historical data, failure modes and testing, coupled with an analysis of the probability and impact of a valve failure, which determines when maintenance should be scheduled.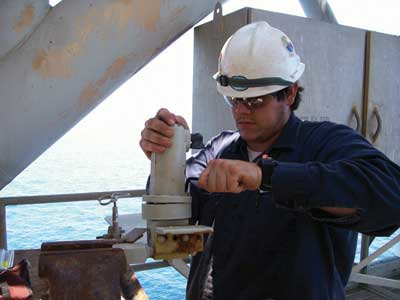 A successful program will help operators have the right mix of spare parts on hand to quickly fix issues when they arise, limiting downtime.
To prescribe a comprehensive asset management solution, an operator must pull together the following:
Platform asset data that includes testing of all assets and an ongoing service schedule for each asset
Historical performance of the assets, as well as the current condition of the assets and their components
Inventory management and planning system detailing the location and count of each asset as well as spare parts
Performance indicator report with comprehensive metrics and charts showing calibration records and trending information
Real-time monitoring and diagnostics tracking repair cycles and data on assets that will help set maintenance schedules
Proposed preventive/planned maintenance schedule detailing how often each asset should be scheduled for maintenance based on its performance.
Asset management modules
Software-based modules are customizable and specific to certain functions, which makes them useful on their own – but when used in combination to create a complete program, they can be an even more powerful tool. One example of a complete program that contains many of these modules is Pentair Valves & Controls (formerly Tyco Valves & Controls) EDGE Asset Management platform.
Some of the valve asset-management modules that companies can use to create a complete program include:
Customer inventory stock module. This keeps track of the min/max levels of inventory for all assets valve-related and beyond. It also tracks contract inventory, parts availability, customer stock levels for re-ordering, goods in and out recording and stock and/or cycle count information. This module keeps this information irrespective of valve type and manufacturer.
Workshop modules. These offer a controlled monitoring process throughout the service cycle. A valve traveler controls the process and records of the component condition along with real-time recording using portable devices. In these modules you can integrate valve certification information that is specific to the customer location, include workflow-QC sign-off controls, gate points, job costing, efficiency reporting, and resource monitoring.
Risk-based inspection (RBI) module. This module will maintain overhaul frequency against the asset and will allow for customer transparency, as it is fully auditable. This analysis should include the location, type of service, failure mode and frequency of the event.
Valve register module. This module maintains all valve records including the valve location and type of service conducted. This includes detailed lists of consumables (i.e. gasket kits), the forecasted date of the next service due date, and a look-ahead to future planning.
Gauge module. This module records and maintains calibration records.
Reporting and charting. This module allows for easy-to-generate reports with charts for trending information.
Best practices
To create a successful, comprehensive asset management program, there are several best practices. These include assembly of asset data records, valve overhaul data, a risk-based inspection predictive maintenance system, root cause failure analysis, and failure modes and effects analysis. These features are described in detail below.
Asset data records locate past valve asset data records, identifying past service done on each valve, and tracking future maintenance dates.
Valve overhaul data shows past overhaul data, provides details of what was done, and shares real time status of valves in repair. It also tracks parts for replacement at the next overhaul.
Risk-based inspection is a predictive maintenance technique often used in valve asset management; it is a key technique to achieving the optimum maintenance interval by assessing how likely the asset is to fail and how large the impact of a failure would be. Inspection detail moves forward to create an RBI path when assessing the probability of valve failure. Previous inspection history is reviewed and a revised probability score is determined. The RBI probability score is then mapped to the RBI scheme to get a low, medium or high determination of the probability of failure. It is then determined what would be considered the high, medium and low impact of failure for that valve at that point in the process.
Root cause failure analysis (RCFA) is a troubleshooting maintenance method that investigates, analyzes, and identifies the root cause of a valve failure. Identifying the root cause of valve failure and utilizing the information to make necessary changes to equipment, processes, or maintenance regimes, can prevent it from happening again. Solutions may involve replacing the valve with a more suitable option or changing a service interval.
Failure modes and effects analysis (FMEA) recognizes potential failures, evaluates the effects of potential failures in the process, and identifies the actions that could eliminate or reduce the chance of a potential failure. FMEA's ultimate goal is to enhance the operating performance of the valve and minimize failures.
A successful program will help operators have the right mix of spare parts on hand to quickly fix issues when they arise, limiting downtime. But just as operators want to have the right spare parts on hand, they do not want to store more than they need – this adds extra costs while consuming precious cargo space. Keeping good data will avoid duplication of spares, and any interchangeability between parts will optimize the spares a platform has on hand. In addition, keeping only OEM parts will ensure reliability of these products.
Asset management in action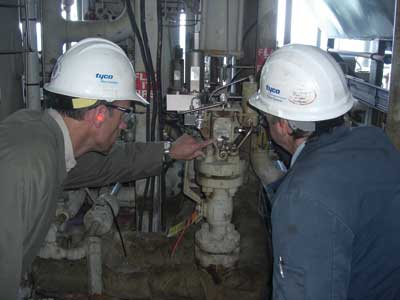 Working closely with service providers and valve manufacturers will help operators implement a customized, proven asset management program that will ultimately improve safety and ROI.
Pentair has worked with a number of clients to formulate and implement valve asset management programs on offshore platforms. The company recently worked with one platform to implement a risk-based inspection with RCFA. The scope of the project lasted 13 years, looking at pressure safety valves (PSVs) on three separate platforms. Over the course of years, problem valves were replaced, and there was a significant reduction in the required maintenance and an improvement in both safety and performance. By the end of the engagement, there was an increase in the service interval from 26 months to 43 months, which ultimately saved the customer $2 million in overhaul.
The payoff
A valve asset management program can offer improved valve reliability and less downtime, optimized maintenance planning, resourcing and spending, improved safety, and inventory control with increased availability. The most important thing for a platform operator to remember is that this does not have to be a solo effort. Working in close collaboration with service providers and valve manufacturers will help operators implement a customized, proven asset management program that will ultimately improve safety and ROI.