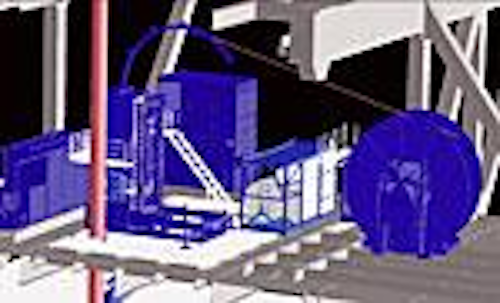 Schlumberger has launched the CT Offshore Express, a streamlined coiled tubing (CT) intervention system offer-ing compactness and more efficient operations. One of the first units is due to be installed on BP Norge's new Valhall water injection platform.
The CT Offshore Express builds on the success of the Land CT Express developed by Schlumberger three years ago, according to Roar Bekker, marketing manager for Schlumberger Oilfield Services Scandinavia. The Land CT Express met all the requirements set out initially in the user specifications: improved safety, less equipment on site, smaller footprints, faster rig-up, fewer personnel on location, and increased efficiency and reliability. To date, more than 350 jobs have been completed, and there has not been a lost-time injury associated with this unit.
Against this background, the motive behind the CT Offshore Express was to tackle problems that commonly arose in CT operations offshore, such as the enormous weight of equipment, which sometimes exceeds the platform's crane capability, and the growing number of staff required. The CT unit has been redesigned and repackaged to provide more efficient rig-up/rig-down operations, improved ergonomics, a smaller footprint, and a high degree of automation. This allows the supervisor to focus on the downhole and job requirements rather than equipment coordination and related issues, says Bekker. Manning has been reduced by 30%, from 13-14 personnel to 8-9, and operational efficiency - time taken - by 15-20%.
For both Schlumberger and clients like BP, it was important that the new system offers safety benefits. The quality, health, safety, and environment gain lies in the smaller numbers required to operate the unit. This means a smaller number of personnel exposed to the possibility of dropped objects. Also, as the footprint is reduced, the opportunity arises to locate the equipment and personnel to minimize exposure to the crane overhead.
The new Valhall water injection platform does not have its own accommodation. The crew will make use of the facilities that serve the field center as a whole. The reduction in numbers achieved by the CT Offshore Express is of significant value, says Bekker.
The system is packaged in a modular form, which provides the benefit of reduced and simplified crane lifts. It offers the same size capability as conventional CT systems, from 11/2-in. to 27/8-in. with improved pulling capacity, with a 100,000-lb continuous pull injector (systems designed for 150,000-lb injector also available), higher running speeds, and increased tubing capacity, up to 6,000 m of 27/8-in. The unit is designed to perform CoilFRAC operations with no need for extra equipment or change-outs.
The Valhall unit is under construction in the US and is due to be delivered to the platform in February 2003.