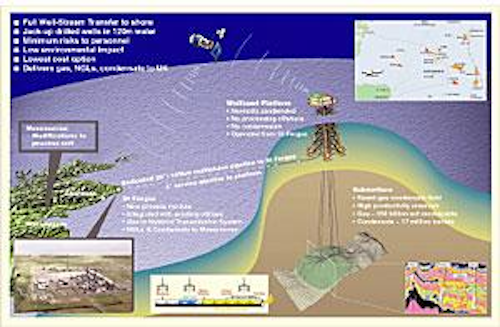 Although the Atlantic Margin is viewed as Britain's final frontier in terms of development, there are also pockets of stranded fields closer to Aberdeen. Some of these are in the Outer Moray Firth, rendered marginal by their remoteness from the North Sea trunklines.
Following a flurry of discoveries in this area in the mid-1990s, the South Halibut Basin Operators Forum formed to investigate creative joint developments. One almost materialized, encompassing BP's Atlantic/Cromarty and Shell's Goldeneye fields. But BP's decision to go its own way last year paradoxically pushed Shell toward a standalone scheme for Goldeneye.
It formulated a new plan that has emerged as one of the most innovative approaches to stranded gas in the history of the UK continental shelf, based on full wellstream transfer 105 km direct to the shore from a minimal facility, unmanned platform. At the other end, in Shell/Esso's St. Fergus gas treatment terminal, a reception module is being built that will perform typical offshore processing duties. Government sanction for the project came through this March, and production should start within 26 months.
Reservoir properties
Goldeneye was discovered by Shell/Esso in block 14/29a in October 1996. Fifteen months later, an Amerada Hess-operated appraisal well confirmed an extension into block 20/4b. Two further wells were then drilled to appraise the extent of the accumulation, which is now known to straddle four blocks.
The field lies within a structural/stratigraphic trap of largely Lower Cretaceous Captain sandstone, at a depth of 2,530 m below the seabed. Reservoir fluids comprise sweet gas and condensate overlying a non-recoverable oil rim, but also overlying an aquifer. This has the potential to cause problems with water breakthrough as the field depletes. Recoverable reserves could be up to 600 bcf and 17 MMbbl of condensate, with good reservoir permeability encouraging strong production rates.
According to Goldeneye Venture Manager Austin Hand, Shell and its partners Esso, Lasmo, Paladin, and Veba studied 20 different development solutions. These included various permutations of onshore/offshore processing, via a manned or unmanned platform, a normally unattended wellhead or full processing platform, and subsea wells tied to an existing offshore complex. There were not many platforms close by. The nearest Shell-operated installation was 75 km away, less than ideal for the project's economics.
"The key parameters for us were the process facilities, the cost, the technical risk, operability, safety, environmental issues, and economic robustness," says Hand. "What counted against a conventional offshore processing solution was the limited pipeline options. Both Miller and Sage are dry gas export systems that would have required pre-processing to dry our gas. We concluded we could save £100 million through full wellstream transfer direct to the beach."
One of the main factors in the timing of the development was Britain's imminent gas supply shortfall. Shell believes that by 2006, Goldeneye could be providing 3% of mainland supplies. "Also," Hand says, "this sits beautifully with the predicted depletion of supplies into our St. Fergus treatment plant. Without Goldeneye, one of the trains was facing closure."
Following project go-ahead in March, Foster Wheeler in Reading, UK, was awarded the £60-million contract for the onshore processing facility, which had been pre-engineered by Parson in Brentford. This will be equipped to handle up to 300 MMcf/d of wet gas and 10,000 b/d of condensate, the latter subsequently piped down the coast to an NGL plant in Mossmorran, Fife. Hand describes the concept as laid out like a stranded gas plant, but with offshore techniques. For instance, some of the modules will be built as pre-assembled units, under cover, to speed up the fabrication process."
Kellogg Brown & Root undertook the platform's conceptual design. The £13-million construction contract for the 1,000-ton, three-deck topsides went to SLP Engineering in Lowestoft, UK. Aker Verdal in Norway was awarded the £10 million contract for the steel jacket.
"This will be typical of our southern North Sea gasfield designs, although a bit more robust due to the deeper water," says Hand. It is also designed for easy removal at the end of field life. The jacket will measure 35 m at its base, with a height of 140 m and a weight of 3,000 tons. Due to the poor quality seabed soil conditions, four piles are being pre-installed this year which will serve as a temporary foundation until the main piles have been installed and grouted. The jacket and topsides will be installed next summer by the Heerema heavy lift crane vessel Thialf.
Natural reservoir drive will be used to ship the wellstream to shore for much of the field's 10-year life, although some compression will be installed onshore around year three. The 105-km, 20-in pipeline will be the UK's longest tieback direct to the shore, and the world's longest for such a rich gas line, according to Shell. A parallel 4-in. service line will be laid, conveying inhibitors and MEG to the platform and into the wells. From the landfall out to a point 6 km offshore, the two lines will be laid together as a bundle, and also trenched and buried. There are five pipeline crossings to be negotiated over the remainder of the offshore route. Both lines will be installed next summer by the Saipem laybarge Castoro Sei.
Shell points out that this arrangement minimizes emissions offshore, and continuing in this vein, production has purposely been designed to avoid produced water discharge. At the terminal, the process module will incorporate a 2.5-mw compressor, driven by electricity from the UK grid.
Following the main production hardware installations, development drilling should get under way late summer 2003. This is the main outstanding contract. It will be awarded to a "deepwater" capability, heavy-duty jackup operating in cantilever mode because the Goldeneye platform is not designed to work with a semisubmersible. The 12-m water depth will constitute the deepest to date for a production jackup in UK waters.
"We plan to drill up to five wells," says Hand, the fifth being a contingency to offset the risk of water breakthrough from the aquifer. "In my view, five wells would give us greater security in case one has to be shut in. In that case, I wouldn't expect us to go back in with a jackup. The platform and its crane are designed to accommodate wireline or coiled tubing intervention equipment." During the field's lifespan, the partners envision no more than 13 individual well intervention operations.
All the wells will have a 9 5/8-in. production casing set just into the top 60 ft of the reservoir, with the dual aim of delaying water breakthrough and also minimizing the risk of inadvertent production of the oil rim. The wells will be completed with expandable sand screens or an external gravel pack.
"I can't comment on future exploration drilling plans," says Hand. "But if our development/subsurface team identifies an opportunity, we'd look at that. We have left three slots spare in the jacket, and there is also provision for a riser pull, to handle either existing or third party gas. We have designed initial throughput for Goldeneye only, but as the full wellstream transfer pressure decreases from year four, due to depletion, we could consider other parties coming in."
This could include the likes of Atlantic/ Cromarty, now operated by BG following a transaction exchange with BP earlier this year. According to Hand, extensive dynamic flow modeling has proven that fields such as Atlantic/ Cromarty gas could be accommodated in the Goldeneye system in time, despite being of a slightly different quality. Joint studies with BG are continuing. Goldeneye is collaborating with BG where synergies may exist.
Well management
Goldeneye's wellstream fluids will be produced through the 7-in. well tubings to christmas trees housed on the platform's cellar deck, then commingled at the platform manifold on the mezzanine deck. Each well will be equipped with a hydraulically operated subsurface safety valve and also downhole pressure/temperature monitoring devices. A sample point on each well flowline will help identify which well is producing formation water, sand or oil.
Data will be transmitted to the distributed control system, located at St. Fergus. Each well will also be provided with an MEG injection point upstream of the choke, as cover against hydrate formation during start-up following depressurization of the topsides.
From the production manifold, commingled fluids will pass onto a three-phase separator dividing out gas, condensate and saturated water. Produced water inflow needs to be managed, both to prevent hydrate formation blocking the pipelines, and also because the St. Fergus facilities are designed to handle only minimal quantities of associated water. Should water breakthrough become more pronounced than exp-ected, water handling facilities may then be installed.
To assist maintenance (no more than six visits are anticipated each year), a low point will be provided on the production manifold allowing liquids collected in the manifold to be drained down to the closed drains header. The platform will have an open hazardous and closed drains systems, the former draining rainwater drip trays fitted to the diesel storage tank, pigging, water treatment and power generation packages. There will also be a vent system to depressurize gas from the wells, manifold, separator and pig handler for maintenance sessions. Visit crews will be housed in Short Stay Accommodation designed for an overnight stay.
Three 40-kw diesel generators will provide electric power, one running when the platform is unmanned, and two during manned periods. The third will be on permanent automatic standby. Separate hydraulic power units will be allocated to each well for control purposes. The hydraulic liquid will be water-based, and will not be discharged during actuation.
Shell expects plateau prod-uction of 300 MMcf/d to be sustained for the first three years, tapering off to 240 MMcf/d in year five before bottoming out at about 40 MMcf/d in 2014.