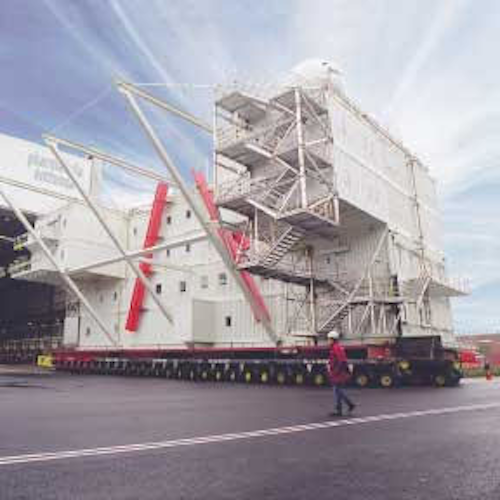 Offshore operators are increasingly speci-fying North Sea-standard accommo- dation units for projects throughout the world. This trend is helping Emtunga, part of the PharmaduleEmtunga group, to expand its market share outside NorthWest Europe.
One of the major reasons for creating a more uniform offshore living standard is that operators are moving their engineering professionals around the world to capitalize on their skills. Keeping valuable offshore employees has driven the corresponding increase in better quality offshore accommodation.
Double cabins with ensuite toilet/shower units are becoming increasingly the norm and current requirements are for 90-150 man capacities with weights of 850-1,300 tons. Emtunga's unique method of fabrication, using a module section principle that incorporates individual module sections built and prepared separately, has enabled it to become a key player in this market. The completed units are welded together into a larger module, and the full module is then fitted with necessary plumbing, electrical and ventilation systems to form the finished living quarters. The fully assembled single lift module is then transported to the field location or project site and lifted into position.
The normal life-span of offshore structures is 30-40 years, so the accommodation modules require tight construction controls and high quality materials to ensure that they withstand the same timespan. Emtunga uses a stressed skin construction with corrugated carbon steel exterior bulkheads that allow load carrying in all directions. This significantly reduces the overall weight of the units compared to the frame and heavy plate construction traditionally used in shipyards and other accommodation fabricators. Using stressed-skin methods of construction requires experience and the ability to design the structures for optimal use of the materials, which is handled by Emtunga's full-time in-house engineering and architectural department.
Emtunga's current orders include fabrication of a 1,400 tons, 130-bed accommodation unit for Norsk Hydro's Grane project, and detailed design is well under way for a 200 bed accommodation unit for the AIOC Chirag development in the Caspian Sea. Emtunga has also recently received its largest order to date for two identical 120-man accommodation modules and two barges for AGIP-KCA located in the northern (Kazak) sector of the Caspian Sea. Due to the ultra-shallow water depths, AGIP-KCA will employ man-made islands for the field development and will place the accommodation units on a barge, which could be floated to the location and set adjacent to the island. This construction will be especially challenging due to the fast-track fabrication schedule required to ship the modules up the Volga canal system before the waters freeze over in the winter.
An agreement was signed last October to provide a 1,200-ton, 150-man accommodation unit for BP's ACG field development offshore Azerbaijan. Fabrication will start in March with the units expected to be shipped to AIOC's Baku yard in April next year where they will be mated with the topsides. The low-weight requirement for this unit, driven by the limited lifing capabilities at the Baku site, has proved to be particularly demanding for Emtunga, involving reappraisal of its module engineering practices to find weight-saving solutions.
Recent deliveries include a 900-ton, 120-man module for OKIOC/Deutag Drilling, identical to the two units that will be built for AGIP-KCA. Others include a 1,280-ton accommodation module for ExxonMobil Norway's Ringhorne Field, and a 1,000-ton module for Cakerawala in the Joint Thai/Malay Development Area. Uno-cal's West Seno project offshore Indonesia.
Other projects with possible award dates in 2002 include modules for Chevron's Dibi and Delta in West Africa, and units for Statoil's Kristin Field in Norway, BP's Shah Deniz in the Caspian, the Conoco Belanak Field in Indonesia, and BP's Mad Dog and Conoco's Magnolia fields in the Gulf of Mexico. Modules are also to be tendered for Chevron Texaco's Agbami, Benguela Belize, and Olero Creek fields.
For more information contact Klas Wallin, Emtunga: Tel: +46 31 726 0335, Fax: +46 31 546 586, Email: klas.wallin@emtunga.com.