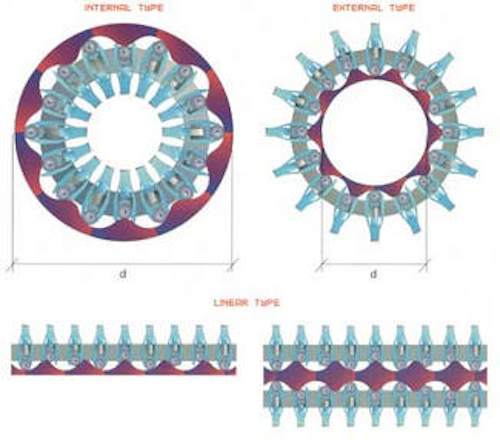 Offshore applications are being sought for what is claimed to be the world's largest hydraulic motor, with a virtually unlim-ited torque range. One of the larger in the Hercules range of motors developed by Integrated Drives of Ornskoldsvik, Sweden has a diameter of over 28 meters and is capable of producing 50,000,000 Nm of torque at 0.5-1 rpm.
The Hercules works on the principle of a circle of hydraulic pistons extending and contracting in sequence as they push wheels against the undulating surface of a cam ring. An analogue control system times the movement of each individual piston. The control sequence enables the speed and direction of the motor to be controlled continuously.
The motor can be either an internal type, which has the pistons inside the ring working outwards against inward facing cams, or it can adopt the external design with the pistons working inwards. The principle can also be applied in a linear design that could be suitable for moving very large objects laterally.
According to Integrated Drives, an important feature of the Hercules is the rugged and uncomplicated engineering involved in its construction. The drive system can be manufactured out of standard stock items almost anywhere in the world. The loss of a cylinder will only slightly affect the motor's performance, and a cylinder replacement can be effected without stopping the motor. Its sturdy construction should enable it to function at full potential in environments that would render other motors inoperative.
The offshore sector might find the power and reliability of the Hercules appropriate for jacking, turning turrets, winches or for use in fabrication projects that demand movement of exceptionally large components. Civil engineering applications might include turning bridges or opening dock gates.
The Hercules range starts with a motor measuring over 5 meters in diameter and a demonstration rig is currently in operation in the grounds of the Institute of Applied Hydraulics in Ornskoldsvik. It has been operating continuously in all weathers for over 7,000 hours and can be viewed on web cam at the company's website.
For more information contact Magnus Södersten, Integrated Drives Sweden. Tel: +46 660 786 80, Fax: +46 660 786 84, Email: magnus@indrives.com, www.indrives.com.